The maker of Kerrygold had record revenues of more than €3.4 billion last year, an increase of 36.7% on its 2021 performance.
Despite that Ornua saw its operating profit fall 17.2% to €127.2m.
"It's a fantastic set of results," said Ornua CEO John Jordon, who was speaking on RTÉ's Morning Ireland. "Ornua is a 60-year-old company and in the last five years we've doubled our sales value.
"So it's not just a 2022 phenomenon, it's successive growth over a number of years."
During the year the company purchased €2.3 billion worth of dairy products from its co-operative members.
This reflected a 40% increase in the annualised price of milk.
It also paid €72.5m as part of its Ornua Value Payment, which is made up of monthly and year-end bonuses, on top of product purchases.
"What we've tried to do, as a co-op, is ensure that we maximise return to the co-ops who are our shareholders," said Mr Jordan.
"But at the same time balance that for consumers and customers, in ensuring we still get volume growth and market share growth, and that has resulted in a small margin squeeze."
Mr Jordan said he expected to see prices ease somewhat this year, as dairy supply caught up with demand and commodity prices fell back.
"Last year was a very unique year in terms of a very high spike in commodity prices globally, we saw that in milk prices," he said. "But also, to be fair to farmers, their input costs were at record highs, whether that was feed, fertiliser, fuel.
"What we're seeing in 2023 is that commodity markets are weakening, albeit relatively slowly, we will see supply catch up with demand and we'll see some weakening through 2023 but there will be a margin squeeze."
However it predicted that input costs would remain volatile. It also cited uncertainty around the outlook for the global economy, and said its potential impact on consumer spending would "present challenges".
We need your consent to load this rte-player contentWe use rte-player to manage extra content that can set cookies on your device and collect data about your activity. Please review their details and accept them to load the content.Manage Preferences
Last year Ornua celebrated the 60th anniversary of the launch of the Kerrygold brand, which today sells 11m packets of butter and cheese each week.
Kerrygold remains the most popular dairy brand in Germany, according to Ornua, while it has also recently expanded its offering in the US and the Middle East.
Mr Jordan said that 99% of the company's revenue now comes from outside of Ireland.
"If you go to Germany, over 65% of households in Germany have Kerrygold in their fridge at any time in the year," he said. "In the US we're the number 2 butter brand.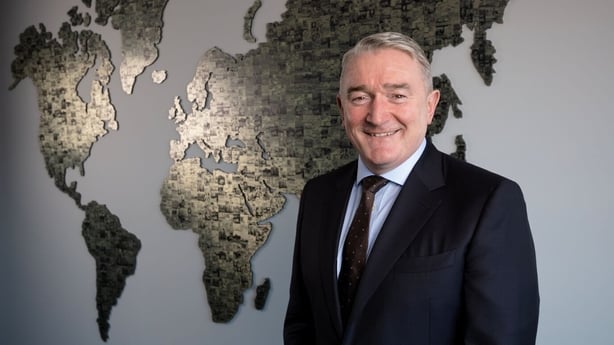 "We're selling over 11 million packets of Kerrygold cheese and butter a week around the world, which is a phenomenal success story and a testament to the quality of the milk produced by Irish farming families, and indeed the investment that co-ops have made here in processing, which are world-class facilities."
Ornua also said it was making progress on its sustainability targets, with a 4% fall in Scope 1 and 2 emissions during 2022.
Two years ago it set out a target of reducing these emissions by 25% by 2025.
Speaking on Morning Ireland, Mr Jordan defended the company's business model of shipping products to often far-away locations.
"I think we're in a very unique position in Ireland, the Irish dairy and agriculture sector is one of the most carbon efficient producers of dairy and beef in the world, so we're starting from a great place," he said.
"The Government has clearly brought in legislation around the Climate Action Bill and the Irish dairy and agriculture sector are really focused on how we drive efficiencies within the sector, particularly at farm level.
"Nobody is more up for this challenge than Irish farming families."