The Irish Farmers' Association has raised concerns over the disparity in the price of fertiliser between Northern Ireland and the Republic.
A consignment of fertiliser arrived from Northern Ireland into a remote farmyard near Monageer, Co Wexford this morning, having being purchased in Co Down.
The total cost of the 28.8 tonne load was €16,128.
The IFA said the equivalent load purchased in the Republic would cost €22,000, meaning farmers here are paying much more and would be hard pressed to make a return on their crops.
It said the southern prices do not reflect a huge drop in global fertiliser prices, despite the turmoil of the ongoing war in Ukraine.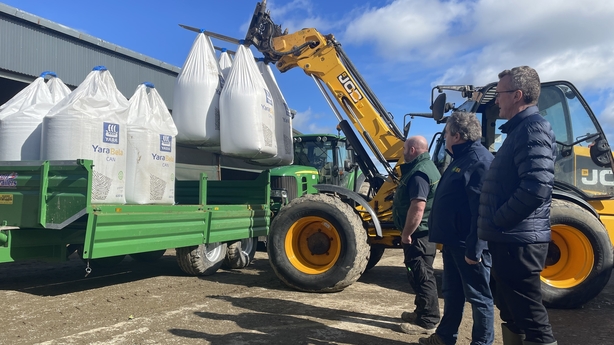 IFA President Tim Cullinan said: "We have seen a sustained significant drop in the price of natural gas of up on 85% since September 2022.
"The spike in natural gas prices was referenced as the main driver of increased fertiliser prices last year. Therefore, we should now be seeing a significant reduction in fertiliser prices in line with what is happening with gas. But that's not happening."
He said that many sectors within Irish agriculture struggled with inputs cost last year and that should not happen this year regarding fertiliser as prices drop internationally.
"A large cost on many farms is fertiliser, with much of this is bought in the spring, Therefore, I am calling on all co-ops and merchants to step up and pass on these price reductions immediately,"
RTÉ News contacted a number of fertiliser companies regarding pricing issues but none were willing to speak publicly.
However, industry sources said many of them forward purchased fertiliser ingredients last autumn, in order to ensure there were supplies ready and available this spring.
Autumn prices were very high and pricing of the current stock of fertiliser they carry is based on what they paid. Sources say they do expect prices will fall once the existing stocks have been sold.
The IFA said tillage farmers in Ireland faced with these high prices are "over a barrel" as they have to buy fertiliser now for spring planting.
Chair of the IFA National Grain Committee Kieran McEvoy said the IFA has called on the suppliers to reduce the price.
We need your consent to load this rte-player contentWe use rte-player to manage extra content that can set cookies on your device and collect data about your activity. Please review their details and accept them to load the content.Manage Preferences
Speaking on RTÉ's Morning Ireland, he said the impact is going to be "huge" because grain markets are "moving in the wrong direction, land rental is going up and the tillage farmers find themselves caught in a hoop because we can't wait for prices to realign themselves because we have to spread our fertiliser in February, March and April".
He added that most tillage farmers will be finished with fertiliser by 15 April.
Mr McEvoy said he cannot understand why the prices have not come down in the Republic.
"I can't understand why they haven't come down in the South. The reason they came down in the North is because gas prices have eased back somewhat," he said.
He said that while prices are still historically high, they are not anything like what they were this time last year.
"This product is still quite expensive, even at €560. It's probably €200 a tonne more than it was the season before in 2021. We're realistic. We understand the cost of manufacturing is based on gas and we understand that. But we can't understand why the market hasn't reflected that here," he added.