Did you hear the one about the internet chatbot that can write original jokes?
ChatGPT is a powerful new artificial intelligence (AI) system that can provide fast, human-like responses to questions and can also write essays, scripts and even poetry.
Asked to write a joke about Irish politics, it came up with the following in one second:
Why did the Irish politician resign? Because he promised to leave office in five years, and finally kept his word!
Asked to write a poem about RTÉ's Morning Ireland, ChatGPT instantly wrote:
RTE's Morning Ireland, a voice so clear
Bringing news and tales from far and near
The day begins with a tune so sweet
Starting each morning with a rhythmic beat
With hosts so seasoned, their words so wise
They guide us through each new sunrise
With tales of politics, sports, and life
They paint a picture of our world so bright
As Ireland's people start their day
They tune in to hear what RTE has to say
From Dublin to Donegal, Cork to Clare
RTE's Morning Ireland, a voice that's fair
So here's a salute to the show we love
With a tune that rises like a dove
RTE's Morning Ireland, forever young
Bringing light to our mornings, with a song so sung.
Professor Noel O'Connor is with the School of Electronic Engineering at Dublin City University and is CEO of the Insight SFI Research Centre for Data Analytics.
He said that ChatGPT has been trained on such a wealth of data that the model is complex and versatile.
"Chatbots up until recently were only able to answer very simple questions with very simple answers," Professor O'Connor said.
"ChatGPT, however, is powered by a very complex AI engine, a model with over 170 billion parameters and that means that unlike chatbots up to now, ChatGPT is able to create new textual information."
We need your consent to load this rte-player contentWe use rte-player to manage extra content that can set cookies on your device and collect data about your activity. Please review their details and accept them to load the content.Manage Preferences

"It has generated a huge amount of interest because the text it generates is very plausible and very difficult to distinguish from the text a human would generate," he added.
Poetry and jokes aside, ChatGPT has sparked concerns about copyright and plagiarism with universities and schools worried that students are using the technology to complete assignments.
Professor Orla Sheils is the Vice-Provost and Chief Academic Officer at Trinity College Dublin.
She said that rather than trying to ban or punish the use of ChatGPT, they are looking at ways of incorporating into learning and rethinking how they assess students.
"I think there is probably a certainty that some students will use this to help with assignments or possibly complete them," Professor Sheils said.
"But that is not necessarily something I think we need to be that worried about, we need to be aware of it but I think the onus is then on us to embrace that fact and challenge ourselves to assess our students differently," she added.
At software company Intercom said developers are using ChatGPT technology in programmes that allow customer service agents to reply to messages.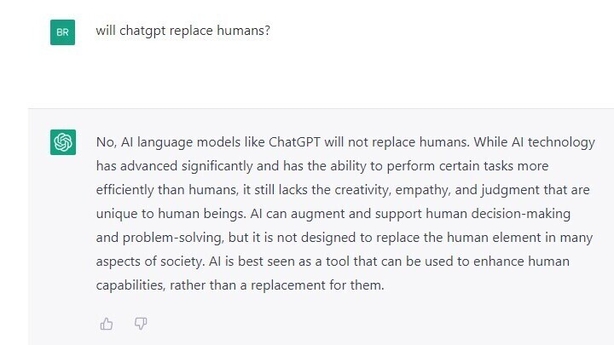 A new composer lets users write shorthand customer responses and then allows the AI to generate a complete suggested message.
Agents can also automatically change the tone of the message to more casual and happy or more formal with the click of a button.
"We're trying to use this new technology to help customer support agents be faster, more efficient and give them a better experience and not have to type the same thing again and again," said Fergal Reid, Director of Machine Learning at Intercom.
Other businesses are also embracing the technology.
BuzzFeed saw its stock price soar after it announced plans to use ChatGPT to help generate content.
Yesterday, Microsoft announced that it has integrated the technology into its Bing search engine.
The company said that the OpenAI large language model it is using is more powerful than ChatGPT and customised specifically for search.
On Monday, Google unveiled its own new chatbot called "Bard" in a bid to compete with the massive success of ChatGPT.
The technology is flawed and makes mistakes but, as it evolves, could it one day replace humans in the workplace?
Who better to ask than ChatGPT itself - here is its response:
"No, AI language models like ChatGPT will not replace humans. While AI technology has advanced significantly and has the ability to perform certain tasks more efficiently than humans, it still lacks the creativity, empathy, and judgment that are unique to human beings."