No longer the stuff of science fiction, Irish businesses are looking to the stars for new opportunities.
History will be made this year in the Irish space sector, with the launch of Ireland's first ever satellite, EIRSAT-1 which has been designed and built by academic staff and students at University College Dublin. The collaboration of industry partners has made the launch of the spacecraft possible.
The scope of Irish involvement in space-related activities has increased substantially, with close to 100 Irish companies and a growing number of research teams actively involved in developments supported by the European Space Agency (ESA).
Ireland has been a member of the European Space Agency since 1975, and it has participated in a number of high-profile ESA missions supported by technologies developed by Irish industry.
The country has increased its financial contribution to ESA which is paid back in terms of valuable contracts for Irish technology companies.
According to the most recent figures for 2021, ESA placed contracts with a combined value of €15.8 million with 36 Irish-based companies, with an additional €4.8 million in industry co-funding.
And while space is infinite, the space sector in Ireland is described as "a small world"; everybody knows each other and supports their ambitions to boldly go where no Irish firm has gone before.
Réaltra Space Systems Engineering
Michael Martin was woken by his father to watch the first moon landing on a black and white television in 1969.
It was written in the stars that he would one day work for a company called Réaltra - Irish for galaxy.
Réaltra Space Systems Engineering designed and manufactured the video system that was mounted on the Ariane 5 launch rocket which brought the James Webb Telescope into space.
It was the first time such a video system had been on a European launcher.
The cameras relayed high-definition video images of the telescope as it separated from Ariane 5 as it began its journey to its final orbit location.
The Engineering Manager at Réaltra explained that NASA had expected the accuracy of the Ariane's positioning of the James Webb Telescope to be off and it allowed for 30 minutes of readjustment, but after just two minutes of moving away from the Ariane rocket, the solar cells deployed which meant it was in the exact correct position within such a short period of time.
"It proved that the Ariane rocket is very accurate at positioning satellites as planned and that then meant that they didn't have to use the fuel to adjust the position of the James Webb Telescope, and that gave it 10 years of extra scientific life.
"It was our camera system that showed that to the world; how accurate the Ariane rocket was, and how successful the deployment of the James Webb Telescope was," Mr Martin said.
"It was just unbelievable. That sheer exhilaration and thrill that you have successfully built equipment that is now flying in space and it is now operating in space."
The moment we'll never forget: watching #NASAWebb head off into the universe, successfully performing its very first operation—the deployment of the solar array that powers the rest of its mission. 🤩 Credit: NASA/ESA/CSA. #WebbLaunchAnniversary pic.twitter.com/GPuYc7uGF7


— Space Telescope Science Institute (@SpaceTelescope) December 26, 2022
One of the James Webb Telescope's principle goals is to observe distant galaxies in the early universe to understand the details of their formation, evolution, and composition.
"There was 20 years of people power and engineering drive involved in that, and just to see it going off so gracefully into space, it was the last view that anybody had of the telescope so it was very emotional for all involved in it," Mr Martin said.
Réaltra is part of the Real Time Technologies Group, located in Clonshaugh, Dublin, which has been in business for 25 years.
Réaltra's customers are "anybody in space", but mainly the European Space Agency and Arianespace, a French satellite launch company.
The firm has just delivered its video system for the new Ariane 6 rocket.
It is also working on a scientific machine for ESA's PLATO mission.
"It will look into the sky and work with the James Webb telescope to find planets that have atmospheres, that could potentially be used for people to live on them."
The company will deliver the unit to ESA in September and it will fly in 2026.
Réaltra also supplies smaller launcher companies with telemetry systems which record all the data during the flight, including speed, direction, temperature, to see how well it has flown and what needs to be corrected.
Lios
Female-led firm, Lios, is part of ESA's Future Launchers Prepatory Programme which is dedicated to bringing in new technologies into the space sector and supporting them through qualification.
Originally Restored Hearing, it was founded by Eimear O'Carroll and Rhona Togher in 2009.
The first product the pair created was a sound therapy for tinnitus - a ringing in the ears, that can be accessed via an app.
Now Lios, the company's focus is on developing materials to eradicate noise pollution.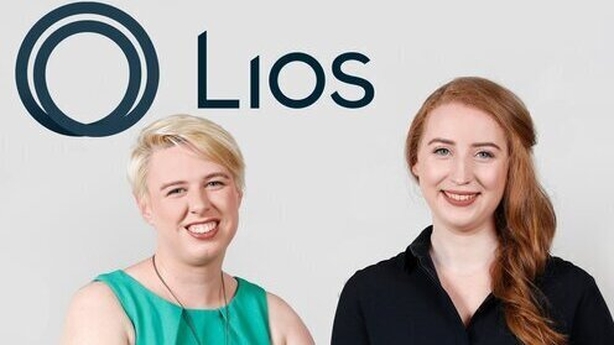 SoundBounce, is at the cutting edge of material science, disrupting the acoustic materials sector to make products quieter and reducing vibration.
"The application is broad across a number of industries," explained Lios CPO, Eimear O'Carroll.
"It's used in cars, building insulation, aerospace, and home appliances. That would be another big one for us - dishwashers, and washing machines."
A lot of traditional acoustic materials take up a lot of space, whereas the material developed by Lios is very thin.
"We also tackle low frequency noise - the base noise that you would get from a lot of motors, engines and any machinery would generally produce a lot of low frequency noise and that's generally very hard to block out with traditional materials," she said.
"So we developed a new material that can respond to the noise and take the energy out of the noise essentially."
Just such a material is sought after for use in space and the company was approached by Ariane to help with low frequency and high amplitude noise.
"What they were really worried about was the payload; the cargo they carry up with them in space. A lot of work and a lot of money goes into the instrumentation before they ever leave Earth, but they can get damaged by vibrations and noise."
"What they use is very thick panels for acoustics and they approached us to see if our materials could be used in space," Ms O'Carroll said.
That was the beginning of their relationship with the European Space Agency.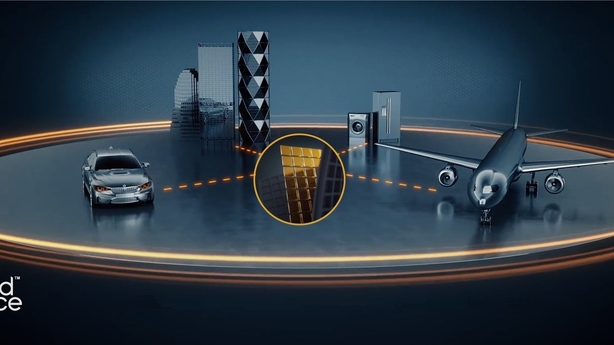 She is excited but not surprised that Lios is working on materials destined to be used in space. The material was made to be universal, "but I don't think we thought it would be used as early in our journey".
"I think that's really testament to the work of Enterprise Ireland and the ESA Ireland team, in terms of bringing in small companies, bringing in SMEs into the fold with ESA."
She described the space sector in Ireland as a small world and a great community.
"We've helped Réaltra in the past with some vibration questions that they had, and they connected us to people as well."
"There are a million technologies that we have in Europe that can be utilised in the space sector. I feel like we are only scratching the surface of it because it is such an enormous sector."
EIRSAT-1
Ireland's first ever satellite is set to launch this year. The EIRSAT-1 mission is led by researchers and students at UCD.
It was due to be delivered to ESA in January for launch in March, but an issue with the Vega C launch vehicle has delayed take off until later this year.
"It's out of our control and it's a little bit frustrating because we were ready to go," said Dr Ronan Wall, Team Leader.
"It was literally about to be packaged, but then this problem happened with the launch vehicle, the rocket that puts it up there, so we have to wait a little bit longer."
EIRSAT-1, which is no bigger than a shoebox, will go into low orbit around the earth - 520km high - and will carry three payloads including a gamma ray detector; a space materials characterisation experiment; and a spacecraft control testbed.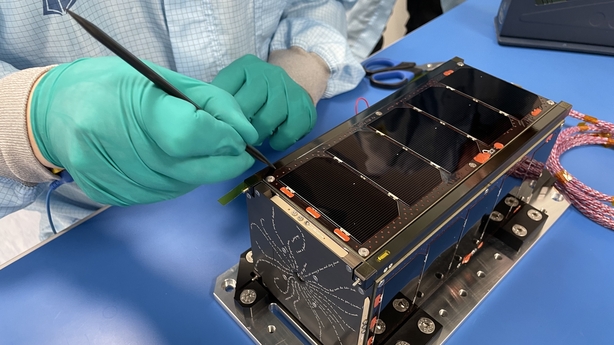 Industry partners are an integral part of the mission. Dublin-based, ENBIO is providing mission-critical thermal control coatings.
"We're testing their small coupons in lower earth orbit for them," Dr Wall said.
"They are on a mission called Solar Orbiter. Irish technology is on the closest thing to the sun right now."
Solar Orbiter is an international cooperative mission between ESA and NASA that addresses a central question of heliophysics: How does the Sun create and control the constantly changing space environment throughout the solar system?
The EIRSAT-1 team has also had great support from Real Time Technologies with their circuit boards which are central to making the payloads work.
"They have been giving us great support, expertise and advice. We had a problem with one of our boards and they put it through their diagnostic machines."
"We've also got support from a company called Taoglas - a big international antennae company with headquarters in Enniscorthy. Their antennae is on board the spacecraft. They've also supported us with cabling that will work in the environment of space."
EFJ Engineering has supported the more artistic side of the mission.
"We have an engraved poem written by school children, and that has been etched by their laser etching technology."
Dr Wall said Ireland's first satellite has generated lots of goodwill across industry and government, particularly the Department of Enterprise, Trade and Employment.
"There was a lot of legislation that needed to be passed. The Outer Space Treaty was ratified in the Dáil last year, which was part of the steps along the way to getting the spacecraft up there."
A rising tide of investment lifts all spaceships. Dr Wall said that in EIRSAT-1, Ireland will have an asset in space, and UCD will be able to train students in terms of space flight operations and how to handle data.
"This is something that hasn't been done before, that we weren't able to do before.
"Investment in basic space science and technology is so key, if we don't have that, we don't have the technology to fly. That link is really fundamental," he said.
"As well as that we are training the future employees so if we don't have investment in space research, we can't educate people to work in the sector, we can't produce the right technology that's going to be exploited later."