It may be a relatively recent import from the US, but 'Black Friday' now marks the start of the festive shopping period in Ireland too.
And with online shopping more popular than ever, it's expected that Irish consumers will spend tens of millions of euro through their smartphones, tablets and laptops over the next four weeks. But that convenience comes at a cost.
Because scammers will know that we're coming into the busy period for shopping, and they know more of us are doing more of our shopping online.
They also know that even an average shopper will probably have a couple of online orders on the go at any one time between now and Christmas.
And that presents them with far more opportunities to catch people off-guard, and swipe a bit – or maybe even a lot - of money out of their victims' bank accounts.
So what do people need to do to protect themselves?
We need your consent to load this rte-player contentWe use rte-player to manage extra content that can set cookies on your device and collect data about your activity. Please review their details and accept them to load the content.Manage Preferences
It all comes back to the basic, boring stuff, really.
Don't share your private information – and especially your card information - with anyone; or with any website or app that you're not 100% confident is legitimate.
Scammers often set up copy-cat versions of sites – like popular retailers, or internet banking services – in order to dupe users into filling in their sensitive information.
The best way to avoid that trick is to type in the address yourself – don't follow a link in an email, text or online ad, as easy as that may be to do.
Look to make sure it has a valid security cert too – your web browser should have a little padlock beside the address to tell you it's a secure connection.
And even if it has that, don't enter your card details when you're using a public connection, like the free wifi you'd get in a café or shopping centre. Traffic over these links is far easier to intercept, or for scammers to manipulate in some form.
If you're thinking of buying from a website or seller you're not familiar with, you need to be particularly cautious – do your research before you give them your money.
That's particularly true for the tonnes of shops that advertise on social media – often brands that you've never heard of before, but that have some really good deals, and a really slick looking website.
Doing a little bit of research should help you to spot the dodgy cases – and shouldn't take too much time, either.
They're not flawless but review sites can often give you a good indication of how reliable a site is – so check Google reviews, Trustpilot, and Amazon reviews if they apply.
If you can't find many reviews, that's a red flag in and of itself.
But an alternative is to check social media to see what people are saying about the service in question.
Again, it's not flawless, but if there loads of people giving out about the site on Twitter, or complaining on the company's Facebook or Instagram page, it may be best to avoid it.
And maybe you find that the site isn't a scam, but it does have bad customer service.
A lot of these sites are so-called 'drop-shippers', which are essentially middle-men that don't actually hold any of the stock that they advertise.
Instead, when you make a purchase from them, they then go and buy that product from a wholesaler and have it shipped to you.
Sometimes their wholesaler is on the other side of the world, and you end up waiting weeks for it to arrive. This probably isn't something you want to be dealing with at this time of year.
And then, of course, there's the ultimate red flag – if the deal is too good to be true, sadly, it probably is.
But even after you do your research, and you make an informed purchase, you still can't let your guard down...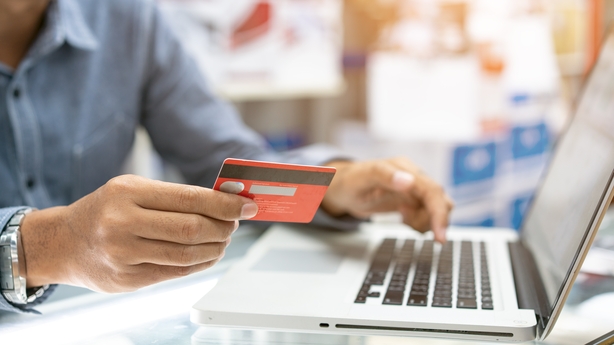 No, something that we've all become familiar with in recent years are text and email scams that pretend to be a delivery company, or payment company, or Revenue, telling you there's an issue with your order.
It's likely that people will get plenty of those texts and emails, and maybe even phone calls, in the next few weeks – because, again, the scammers know that we're going to be buying lots of things online.
That means that, when they text saying 'there's an issue with your delivery', there's a far higher chance the recipient will think it's genuine and follow the dodgy instructions.
Again, the key to avoiding this is to remember the basics – do not click on a link in a text or an email.
If you genuinely think there might be an issue with your order, go to the delivery company's website yourself and use your tracking info to check your order status.
If you get a phone call from someone, claiming to be from the likes of your bank, tell them you'll ring them back.
Then go, find the official number and make the call yourself, or go into a branch if that suits you better.
If the call is legitimate, the company won't mind you taking this step.
But if it's a scam, you'll know straight away by the way the person on the other end reacts. They might try to convince you not to hang up, or they might just cut you off the second you show any suspicion.
Should I be suspicious of retailers too, even the legitimate ones?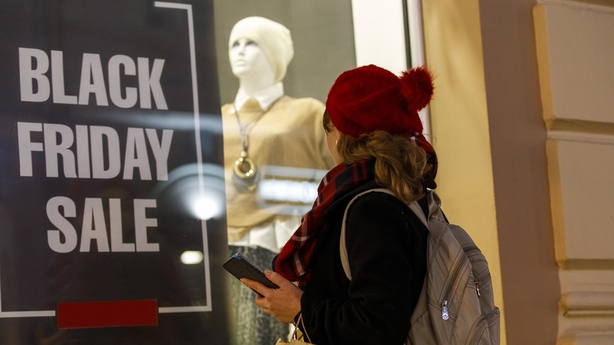 Of course.
Retailers know this is an important time of year for their business, but it's also extremely competitive. And, so, some will use a few tricks to get you to spend your money with them.
Some of these are the classic, old-fashioned sales techniques – but they're using new tools to twist our arms.
The obvious one that that's used a lot during Black Friday are the great deals that maybe aren't quite so great.
Maybe you get an email with a discount on a product, only for you to find it's sold you when you go to the website… but, luckily enough, they have something else available for you to spend your money on!
Maybe they're advertising a discount on a product – but the discount may not be as amazing as they suggest. Sometimes that's because they briefly sold the product at the 'before' price, just so they could claim to have slashed it in the sale.
And even if it is a real discount, it still doesn't mean it's the best price available – so take a minute to do a search and see if other retailers are doing a better deal.
And don't assume that the big name retailer is automatically cheaper than the others, or that the online price is automatically cheaper than a physical shop.
Another trick that some online retailers pull is to try and pressure you into making a purchase right then and there.
They might do this by telling you that there are only a few items left in stock – or that 10 other people have this item in their shopping baskets.
But this may be completely fabricated – that number is often generated randomly by the website's code to give the impression that there is intense interest in what you're looking at, making you feel the need to buy before the stock runs out.
A similar trick is a time-limited offer – telling you the special price will run out in an hour, or a day, or whatever.
A website might have a clock ticking down the time before the sale offer ends – but in many cases this clock will keep getting reset, dragging the sale out over days or weeks.
Of course it is possible that the site is time-limiting a discount – or maybe it really does only have a few items left in stock. But the important thing is that you don't let these things bounce you into a purchase that you haven't planned to make.
Give yourself time to think about the item and whether you actually want it, check to see if there's a better option somewhere else, and only buy when you're ready and able.
Customs charges are a real problem a lot of consumers are facing now, too...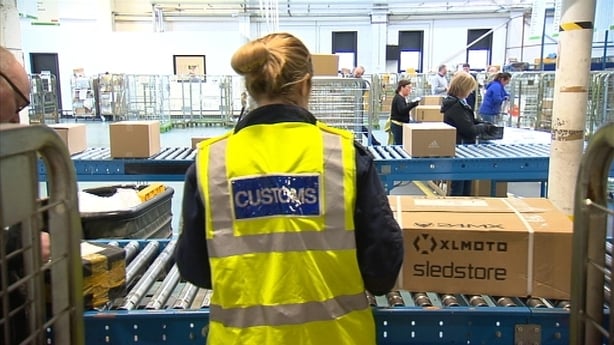 Customs charges were always an issue but Brexit has made them an even bigger problem for Irish consumers.
If Customs stops your package, you may be hit for customs or excise charges, as well as VAT. And the amount levied will include the cost of packaging in the calculation.
Your delivery company will probably stick their own processing fee on top of that - so quite quickly, that bargain you got online has cost you a lot more than it would have if you'd gone down the road.
Ultimately the only way to be sure that you'll avoid customs charges is to buy from a retailer with operations in the European Union – but the problem is that it's not always easy to tell.
At this stage most of the big names have sorted themselves out – and you can buy from there without too much fear. In some cases, others have simply stopped shipping to Ireland altogether, which is unfortunate in a way, but at least it does mean you can't get caught out.
But there are still places that have not gotten their houses in order, and that will leave you with a hefty charge.
And just because the website charges in euro, or has a little EU or Ireland flag in the corner, doesn't mean it's set up properly for Irish buyers.
Unfortunately it's again up to the consumer to do the research – and check where the company's registered office is.
Even if they're a British headquartered company, they may have set up an operation in, say, The Netherlands or Germany, that handles their EU orders. In that case, it's fine.
But if it's not clear – just like when you're trying to find out if the website itself is legitimate or not – you're probably best to err on the side of caution and find a retailer that you know is properly set up for EU orders.
What if you buy something online now – but want to return it. What are people's rights?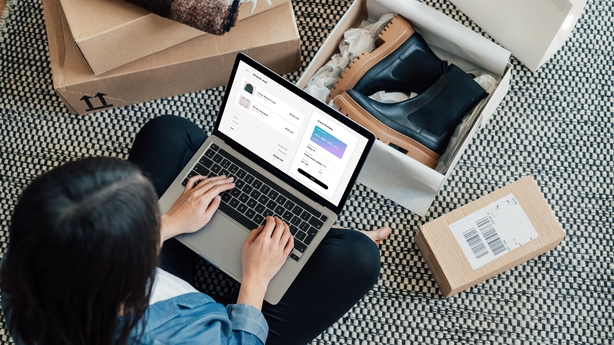 Well let's assume you're buying from somewhere in the EU.
Under EU law you're entitled to return any item – without having to give a reason – within 14 days of receiving the item.
That clock starts when the item arrives at your door – not from when it was shipped or ordered.
And once you tell the shop that you're returning the item, you have another 14 days to actually get it to them.
The product needs to be in the same condition that it was in when it was shipped by the retailer – and they have a right to refuse it if they can show it's been damaged or used.
They also have the right to ask you to cover the cost of shipping on any return – which is something more and more retailers have started doing in recent months.
But assuming everything is in order, you have four weeks to get a return back if you're not happy.
Of course for people buying Christmas presents now, that could be a bit of a problem – because they might not know that there's an issue with the product for another month.
So that returns period might not be very helpful.
But if it's the case that the item is faulty – it's a different story.
Because there's essentially no real time limit on returning a faulty product – so you won't have to worry about getting stuck with something if you realise on Christmas day that it's broken.
And retailers have to cover any expenses incurred in dealing with a faulty product – including shipping costs – so you shouldn't be out of pocket, beyond whatever the product cost you in the first place.
In theory those rules should apply to any retailer selling into the EU, even if they're based elsewhere. And UK retailers are still, generally, following the same rules even though they're not part of the union any more.
But there's no guarantee of that – and the reality is that you're going to have a hard time chasing any that refuse to play ball.
So the advice is to assume you don't have those protections if you're buying from a non-EU retailer, and to stick to those that are properly set up to sell here.