Aer Lingus has said that 32,000 passengers were impacted by last month's IT outage and that it has received around 7,500 applications for compensation.
Senior executives from the airline have appeared before the Oireachtas Committee on Transport and Communications.
The committee was told that 91% of applications for compensation have been processed and that the remaining 700 applications should be processed by the end of the month.
Aer Lingus would not say how much money has been paid out in compensation and refunds but that it was in the millions of euro.
Of the 32,000 passengers who were impacted, 21,000 of them were delayed and 11,000 had their flights cancelled.
For almost ten hours on 10 September, Aer Lingus had no access to its core operational and customer systems resulting in the cancellation of more than 60 flights.
The airline lost connectivity to a UK service provider after construction work damaged a fibre optic cable. A back-up system also failed due to a problem with a component.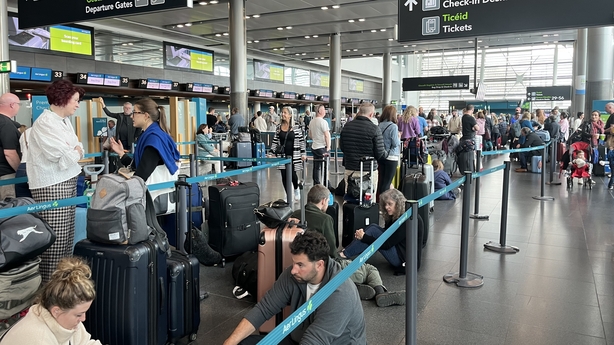 "This should not have happened and is very exceptional in nature," Aer Lingus CEO Lynne Embleton told the committee.
Ms Embleton described the level of disruption as "phenomenal" and a "really difficult day" for passengers and staff.
She once again apologised to affected customers.
Independent TD Michael Lowry described the outage as a shambles, a nightmare and a PR disaster for Aer Lingus.
Donal Moriarty, Chief Corporate Affairs Officer at Aer Lingus said the sequence of events that led to the IT outage was truly exceptional but that it is introducing an additional back-up system to prevent any such incident happening again.
Mr Moriarty was also asked why Aer Lingus was relying on a UK-based service provider.
"The best practice location for the hosting of the Aer Lingus reservation system is in the UK. The expertise to cloud host this system isn't currently available in Ireland, so the UK is the best location," he said.
Aer Lingus bosses are appearing before the Oireachtas Transport Committee. The airline says it has received around 6,500 applications for compensation from customers impacted by last month's IT outage. 91% of these applications have been processed. @rtenews pic.twitter.com/xiATrgRS79

— Brian O'Donovan (@BrianOD_News) October 5, 2022