"Here we go again, feeding five people for €5.
"Yoghurt, chopped tomatoes, mozzarella cheese, pepperoni, and self-raising flour. That was €5."
A video by Caz Mooney showing the ingredients, the receipt and how to make pizza for a family of five for €5 has been viewed nearly a million times on TikTok and Instagram.
She set up the social media accounts using the handle @irishbudgeting to document how her family was budgeting on a single income.
"I went on maternity leave after having my smallest and realised that we just couldn't afford creches, especially because there is an age gap between my kids so we would have needed two different kinds of childcare, so I decided to go on a career break and I decided to document how we were budgeting on a single income," she said. "It just took off from there."
Ms Mooney noticed that as food prices began to rise, so too did interest in her budgeting posts, particularly her signature videos on how to feed a family of five for €5.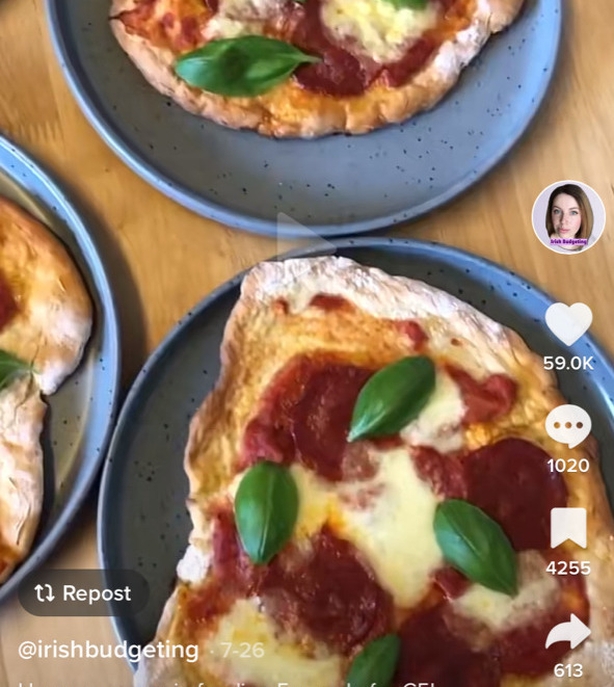 The cost of food rose by 7.7% in July according to the Central Statistics Office, with increases in the prices of meat, bread, cereals and milk, and cheese and eggs.
The CSO said households with the lowest incomes continue to be hardest hit by the surge in consumer prices.
Ms Mooney said she is seeing these increasing costs at her local supermarkets in Offaly.
People buying their groceries at a supermarket in Limerick said they are feeling the effects of rising costs.
"Everything has gone up; butter, bread, and even ketchup and with the vouchers, you're still spending more than before. I don't buy a lot of snacks anymore. It's good for the diet, but yes, chocolate, coke, it's all going through the roof," said one woman.
Another said: "I can see on all items around the store, every week, something has gone up maybe a cent, two cents or 5 cents, sometimes 10 or 15 cents on different products. It's all adding up. You feel it in your pocket, you know."
Ms Mooney said the rising prices make it more challenging to feed a family for €5. "So much more challenging. Some of the meals that I made at the start of the year would cost more than €5."
Colette Bennett, Economic and Social Analyst with Social Justice Ireland, is not surprised that people are turning to social media videos for tips on how to cut costs.
"It tells us that we are struggling. It tells us that people are making the difficult choices about where they spend their money; keeping the roof over their head, keeping the lights on, the heating on, not withstanding the fact that those prices have increased exponentially in the last year, and it's coming down to how do they stretch the food budget."
She said feeding a family for €5 is not something that people should have to resort to. "While that lady is being very helpful and she's sharing tips I presume to be helpful and she's sharing tips that have helped herself, it's not something that we should have to rely on."
Ms Bennett highlighted studies from the Central Bank and the CSO which show that the lower 20% of earners have a higher rate of inflation. "Their goods and services have increased more because of the type of goods and services that they buy than those who are on higher incomes."
We need your consent to load this rte-player contentWe use rte-player to manage extra content that can set cookies on your device and collect data about your activity. Please review their details and accept them to load the content.Manage Preferences
Social Justice Ireland is calling on the Government to increase core social welfare rates by €20 a week, refundable tax credits for people working but who don't use them all, and for energy providers to be taxed on their windfall profits. It is also looking for Government to cap tariffs on energy use.
Caz Mooney said feeding a family of five for €5 is not something she would recommend every day. She cooks those meals for her family once or twice a week.
"Sometime our meals are cheaper at home because we already have the ingredients. It's just about finding a balance."