"Your time is up," the moderator interrupted as the light in front of the speaker turned from amber to red.
But like an Oscar-winner ignoring the orchestra to continue their speech, the union delegate carried on.
"Inflation is going up all the time," she told the Teachers' Union of Ireland Annual Congress in Wexford, raising her voice to be heard over the calls to conclude her address.
"In fact, it's probably gone up by a few percentage points in the time I've been standing up here!"
The comment was met with laughter and applause from her fellow union members but it was her comic timing rather than her central message that drew the light-hearted response.
The teachers gathered in the room would be among the first to tell you that the soaring cost of living is far from a laughing matter.
It was one of the main themes of all three teacher union conferences, which took place this week.
Michael Gillespie, General Secretary of the @TUIunion is addressing the TUI Annual Congress in Wexford. "Inevitably, given inflationary pressures, significant pay increases are reasonably being sought by workers, including teachers, lecturers, and other educators." @rtenews pic.twitter.com/UU0PpSshai

— Brian O'Donovan (@BrianOD_News) April 19, 2022
Various motions were passed seeking substantial pay increases to help offset rising inflation, with some delegates calling for industrial action to accompany those pay claims.
There will be no strike action, at least for now, but all were in agreement that it is getting harder to make ends meet.
"They are talking about super inflation now, teachers are not immune to that," said TUI delegate Stephen Lynch.
"We also have to go shopping and put fuel in our cars, everything is going up except our salaries," he said.
"It is unviable and impossible to live in any Irish city when you start off as a new teacher," said TUI delegate Liz Farrell.
"The days of walking into a full-time job are gone. New teachers are just getting a few hours a week and not getting paid for their summer holidays. That's why so many are leaving the profession," she added.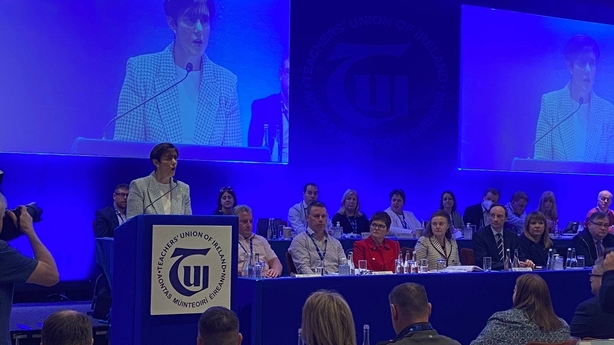 There is a long-standing tradition that the Minister for Education addresses the annual teacher union conferences and Norma Foley told delegates that the Government was well aware of the pressures of inflation and determined to progress talks with unions on pay.
As the TUI also represents third-level educators, its conference had a second government address from Minister for Further and Higher Education Simon Harris.
Unusually for a ministerial speech, he received loud applause rather than heckles or silence, particularly when he made reference to a new public sector pay deal.
"We need a new agreement that will underpin pay for public servants and we need it by the end of the year," Mr Harris said.
"Let's get in the room and let's have that discussion about how we hammer out a pay deal for public servants before the end of the year," he added.
Mr Harris won't be the one negotiating with the unions but the man who will be hammering out the next pay deal also made his views known as the teacher union conferences were wrapping up.
Minister for Public Expenditure and Reform Michael McGrath expressed his preference for a shorter-term agreement.
Mr McGrath said he did not believe that a longer-term arrangement, such as a three-year deal, would be appropriate at this time because of what he described as the current extraordinary level of uncertainty when it comes to the global economy and rising inflation.
"It would appear to me at this remove that a shorter-term agreement may have more merit, given the level of uncertainty that is there," he said.
We need your consent to load this rte-player contentWe use rte-player to manage extra content that can set cookies on your device and collect data about your activity. Please review their details and accept them to load the content.Manage Preferences
The existing public sector pay agreement, 'Building Momentum', is due to deliver another 1% pay increase in October before it expires at the end of the year.
Even before a new deal is negotiated, unions say they are still waiting for the Government to revisit the existing agreement after they triggered a review clause in the current deal due to rising inflation.
Kevin Callinan is the General Secretary of Fórsa, the country's largest public sector union. He is also the president of the Irish Congress of Trade Unions.
"It's nearly three months since I called for measures to be taken to stabilise the current pay agreement," he said.
"Nobody intended 16 months ago, on either side, that the current agreement could, over 24 months, be 7, 8 or 9% behind prices. That is simply unsustainable," he added.
An initial engagement between the Government and unions is required as part of the review clause in 'Building Momentum'.
That took place last week in the form of a meeting between officials from the Department of Public Expenditure and Reform and the public services committee of Irish Congress of Trade Unions.
Michael McGrath said he will meet with his officials in the coming week to discuss the options available to address public sector pay claims.
After that he expects to bring a memorandum to the Government and, subject to approval, talks with unions could begin in the coming weeks.
It is understandable that the Government wants a short-term pay deal.
Signing up to a long-term arrangement based on current high inflation could be very costly indeed if inflationary pressures were to ease in the coming months and years.
It is taxpayers' money and every 1% public sector pay increase requires an additional €250 million in exchequer funding.
Just like it was at this week's trade union conferences, inflation will be the main talking point in the upcoming public sector pay negotiations.
Unfortunately however, there are no red lights or interrupting moderators that can halt the soaring cost of living.