Building materials firm Kingspan has become the latest Irish company to exit the Russian market.
In a statement, the business said that it had sold its operations in the country to local management.
"Whilst our decision to exit was made in early March it has taken several weeks to ensure that it could be completed in an orderly fashion, with the safety and welfare of our staff as a key priority," it said.
"Kingspan is deeply saddened by the growing humanitarian crisis as a result of Russia's unjustified attack on Ukraine and its people."
Kingspan has two production facilities in Gatchina near St Petersburg and Nevinnomysk, just outside Stavropol in southeast Russia.
Together the two plants employ 180 staff.
The company had previously said that it was monitoring the situation in Ukraine closely and that it was determined to reach the right decision in the near future on its Russian business.
However, the firm said tonight that following the sale of the business, Kingspan products will no longer be available for sale in Russia.
"We have made a $750,000 donation to UNICEF for the setup of 5 Blue Dot Centres to assist refugees on the Ukrainian border, and are also providing additional local supports," Kingspan also said.
Russia accounts for less than 1% of the company's global operations.
But it is understood that the decision to sell and the associated costs will result in a small loss being recorded.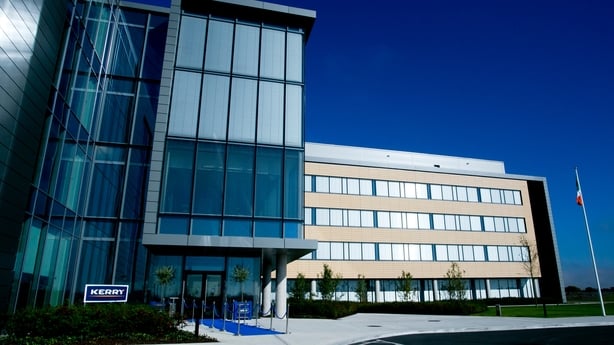 Earlier today, food ingredients company Kerry Group said it had suspended its operations in Russia and Belarus.
The company said it had taken the decision following extensive ongoing consultation with stakeholders.
"Kerry Group has continuously monitored the unfolding situation in Ukraine and we are horrified at the escalation of the humanitarian crisis," it said in its statement to the stock market today.
"Over the last number of weeks the group has scaled back activities in Russia and Belarus."
Kerry had been operating in Russia since 2006 and opened a research and development operation in Moscow in 2014 followed by a manufacturing facility in the city in 2018.
In total it employs 250 people between Russia and its plant in Belarus, both of which are very interconnected.
Yesterday it told RTÉ's This Week programme that as a producer of food, beverage and pharma solutions, it plays a critical role in the food chain.
It said it had therefore decided to continue supplying food, beverage and pharmaceutical products that are required to meet the needs of the local population.
But it also said it had scaled back its operations in Russia, including pausing capital investment, stopping all exports and suspending the production of branded products
It also claimed that it did not expect to make a profit or pay any related tax in Russia, but if any profit were made, it would be donated to humanitarian relief efforts
However, it came under increased pressure to review their positions, following the emerging evidence of civilian deaths in Ukraine and today it decided to suspend operations.
"This suspension will be managed in an orderly manner, during which the company will continue to pay employees and fulfil our legal obligations," it said in a statement to the stock exchange today.
On Friday, Irish multinational packaging firm Smurfit Kappa said it would be exiting Russia and had already suspended support for its operations there, including imports, exports and funding.
Last month buildings materials group CRH also announced it was pulling the plug on its Russian operations.