CRH, the world's second-biggest building materials supplier, has become the latest major company to withdraw from the Russian market.
CRH said it will cease operating what it described as "infinitesimally small" Russian operations and has temporarily shut its much larger plants in Ukraine.
"CRH management, in conjunction with its board of directors, took the decision over the weekend to cease operations in Russia and withdraw from the market," a company spokesman said.
CRH first entered the Russian market in 1998 and supplies and operates a concrete panel production plant servicing St Petersburg as well as seven readymixed concrete plants through a joint venture.
It supplies the Russian building materials market through its Finnish based operating company Rudus. Rudus operates a concrete panel production plant servicing the city of St Petersburg.
The company also operates a number of ready mixed concrete plants through LujaBetomix, its joint venture with another large Finnish concrete producer, LujaBetoni.
CRH is also one of the largest cement producers in Ukraine.
Albert Manifold, the company's CEO, said the company's investment in concrete panel and readymixed plants in Saint Petersburg would barely stretch to €1.5-2ms and a withdrawal from the Russian market was on its radar anyway.
"We have infinitesimally small businesses in Saint Petersburg, literally four or five machines in individual plants. It was just a satellite office," Mr Manifold said.
He also said that CRH had locked up its Ukrainian operations, which contributed 1% to its $31 billion of revenue last year and is supporting its 820 employees in any way it can.
CRH today also reported another year of growth in 2021 with positive underlying momentum in North America and Europe resulting in good demand in both regions.
It reported revenues of $31 billion, up 12% on 2020, while its profits before tax rose to $3.342 billion from $1.664 billion the previous year.
The world's largest buyer of cement said order books were up year on year across all products so far in 2022 and that it is well positioned for another year of progress.
The company said its Americas Materials benefited from increased construction activity last year due to strong residential demand in North America.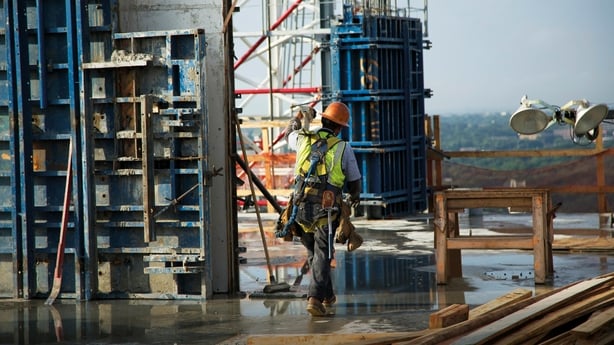 The division's total sales increased by 10% last year with like-for-like sales 6% ahead driven by positive volume growth and pricing progression.
For its Europe Materials division, CRH said good volume growth and pricing progress against a prior year comparative which was heavily impacted by pandemic restrictions resulted in total and like-for-like sales 16% and 11% ahead respectively.
CRH noted that its UK and Ireland sales were well ahead of 2020, which it said reflected an improved trading environment following "significant" Covid-19 disruption in 2020.
"Operating profit was also significantly ahead due to improved volumes across all product lines but also assisted by cost saving and restructuring initiatives which commenced in 2020," the company said.
"Significant pricing actions were undertaken in the second half of the year to offset input cost inflation, which also contributed to the strong 2021 performance," it added.
Meanwhile, its Building Products division saw sales growth of 11% with like-for-like sales up 5% due to strong demand for residential construction and a moderate recovery in the non-residential sector.
The CRH Board is recommending a final dividend of 98 cent per share, which would result in a total dividend of 121 cent for the year, an increase of 5% on 2020.
Albert Manifold, CRH's chief executive, said despite an inflationary input cost environment, the company expanded its margins and delivered good growth in profits, returns and cash generation.
"This further underpins our strong and flexible balance sheet, providing us with significant opportunities for future growth and value creation," the CEO said.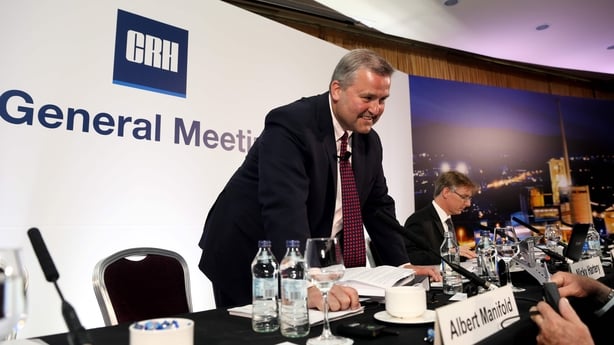 "While the demand backdrop remains favourable across our markets, there are a number of challenges and uncertainties which we must continue to manage carefully as we look to deliver further value for our shareholders in the year ahead," he added.
Earlier this week, CRH said it had agreed to sell its US-based unit that manufactures glass products to private equity firm KPS Capital Partners for $3.8 billion.
The business being sold makes architectural glass, storefront systems, architectural glazing systems and related hardware for customers mainly in North America.
During 2021, CRH completed 11 transactions and realised total business and asset disposal proceeds of $0.5 billion.
This included $0.1 billion which related to the receipt of deferred proceeds from prior year divestments, the majority of which related to the divestment of its equity interest in My Home Industries, in India.
The sale of the Brazil cement operations by the Americas Materials Division represented the largest divestment during the year, with a further 10 other divestments completed across the group.
CRH also said it reported proceeds of $0.1 billion from the disposal of surplus property, plant and equipment and other non-current assets.
Shares in the company moved higher in Dublin trade today.