A Fianna Fáil MEP has called on Irish food company Kerry Group to close its operation in Russia.
Ireland South MEP Billy Kelleher, who is also a shareholder with Kerry Group, wrote to chief executive Edmond Scanlon on Friday urging him to pull out of Russia, following that country's invasion of Ukraine.
In the letter, seen by RTÉ's This Week programme, Mr Kelleher said Kerry Group's continued operation in Russia "legitimises the Russian administration and fundamentally provides the capacity, through taxation etc., for Russia to continue with its illegal war."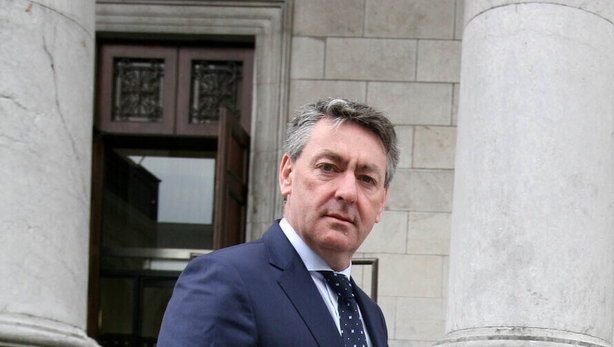 Mr Kelleher said that while a decision to close the business in Russia would harm the group's business, "I believe all of us have a moral obligation to do what is right."
"I would urge you and your Board to do the right thing and shutter your business operations in Russia."
"To do otherwise could be used by the Russian authorities to justify their illegal invasion of Ukraine" he said.
In a statement Kerry Group said that it does not expect to make a profit, or pay any related taxes in Russia, and if any profit is made, it will be donated to humanitarian relief efforts.
The company said: "Following extensive engagement with our stakeholders including customers, employees, and suppliers in line with legal obligations and in light of the complexity of this situation, we have taken a number of measures to scale back our operations."
"These measures include pausing capital investment in Russia and Belarus, stopping all exports out of the region and suspending the production of our branded products in the region."
The company said it has made a donation to the World Food Programme, and will "continue to deliver ongoing humanitarian support to the region through our MyCommunity initiative."
We need your consent to load this rte-player contentWe use rte-player to manage extra content that can set cookies on your device and collect data about your activity. Please review their details and accept them to load the content.Manage Preferences
---
Read more:
Are Irish firms still operating in Russia?
Latest Ukraine stories
---
Speaking on This Week, Mr Kelleher stated that all Irish companies with operations in Russia should suspend their activities.
He said "we cannot have a situation where companies are trading with a country that is involved in the most appalling atrocities."
"While we have a war criminal killing innocent civilians on the streets in Ukraine we have to do everything as a country, that includes companies, to withdraw from the Russian market. That would be my firm belief."
He said there is a "corporate responsibility" on these companies and the Irish State.
He said it is not about asking them to leave for ever as, he said, there may be a return to some normality if there is a ceasefire in the future.
Regarding Russian owned firms in Ireland, including Aughinish Alumina, he does not think it should close as its owner has already faced sanctions.
He thinks there is a role for the State or EU to take the shareholding from the oligarch and continue operating.
He said aluminium is critically important to the European economy.
Sinn Féin leader Mary Lou McDonald said 350 international companies have already ceased operations in Russia or withdrawn - including some Irish companies.
"Others that aren't really need to follow suit."
She said the only end point is talks, democracy, and a Russian withdrawal from Ukraine.