When it was announced this week that Tayto Park would soon go by a different name, many took to social media to express their dismay.
Many also voiced their surprise that the attraction was not, in fact, owned and operated by the crisp-maker – showing just how effecting the branding has been.
That's a remarkable achievement for what is essentially a marketing deal – but it also shows how quickly Irish consumers have adapted to the concept of branding rights agreements.
Like most things in the world of advertising, the United States has led the way on sticking brand names onto popular destinations.
The earliest example is in the 1910s, when Red Sox owner John I Taylor named his team's stadium Fenway Park. Fenway was a relatively new neighbourhood in Boston – but it also happened to be the name of Taylor's real estate business.
The practice of owners promoting their brands through their team continued through the early 20th century – leading to the likes of Wrigley Field in Chicago and Busch Stadium in St Louis. Though it wasn't until the 1970s that brands with no connection to team owners began to appear on stadia there.
And it took many more decades before brand names became a regular feature above the doorways of venues and destinations in Ireland.
Branding Begins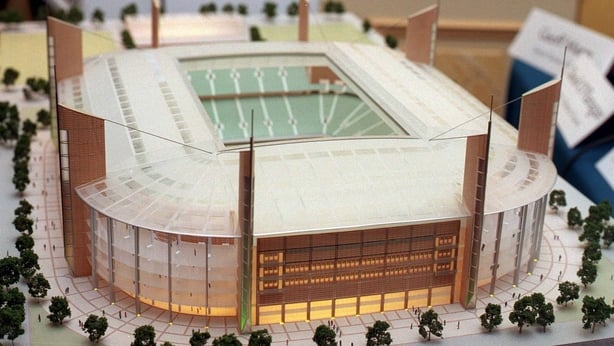 Arguably, the branding trail here was blazed by the FAI and Telecom Éireann – which, in mid-1999, agreed to use a new soccer stadium as an opportunity to promote the telecom firm's rebrand.
Thus, Eircom Park was born – though the name has since become synonymous with the many doomed projects of the Celtic Tiger era.
In the following years a number of relatively small deals were struck – such as the addition of 'Kingspan' to Cavan GAA's Breffni Park, or the renaming of Longford Town FC's Strokestown Road venue to 'Flancare Park'.
But it was a few years more before the market really took off.
"The O2 was the Big Bang for me – that was the one that really kicked it all off," said John Trainor, founder and CEO of sponsorship consultancy firm Onside. It has been involved in many of the major naming rights deals in Ireland – including O2's deal to replace the old Point Depot.
"The finer detail of the build of that [contract] was phenomenal, and it set the ground rules for how other venues set themselves."
From there, the floodgates opened.
Two years after The O2's 2008 opening, the newly redeveloped Lansdowne Road sports ground was christened the Aviva Stadium.
Tayto Park also opened its doors in 2010, with the then-new Grand Canal Theatre becoming the Bord Gáis Energy Theatre the following year.
Many more deals have been struck around the country in the decade since – including Irish Independent Park in Cork and Elverys MacHale Park in Mayo (since re-rebranded as Hastings MacHale Park).
"The big sea-change in Ireland was the rebuild of The Point and the rebuild of Lansdowne Road," said Mick O'Keeffe, CEO Teneo Ireland, which has advised brands and organisations on these kinds of sponsorship deals. "That caused this ripple effect of others looking at naming rights as a way to generate income.
"If you're looking at diversifying revenue, then naming rights is an obvious one – and a whole industry has now built up around that."
The renaming frenzy has continued in recent years.
Laya Healthcare is set to link up with Leinster Rugby at the redeveloped RDS Arena, telecoms firm Three last year added its digit to The Olympia Theatre, and FBD Insurance has just signed on to Tipperary GAA's Semple Stadium.
Venue value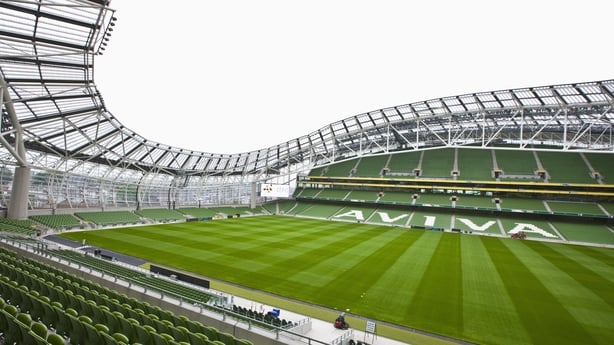 Figuring out the value of these kinds of deals is a mixture of art and science. Some elements are relatively easy to measure.
"For the person selling, usually there's a bundle of factors that you'd put in when you value a stadium," said Mick O'Keeffe. "There's branding opportunities for which there's a perceived value, there's things like ticketing, signage, hospitality opportunities, access to players, behind the scenes.
"So stuff that you can put a hard value on and you would have to buy if you weren't a sponsor."
There's also an estimated value put on the advertising gained; after all having your company name plastered across a venue – outside and in – is a significant marketing opportunity. As are the regular mentions a name sponsor gets across the media whenever a match, gig or event is discussed or advertised.
"How many times is that stadium name-checked on radio or TV, or in the local paper?," he said. "If it becomes the official name designation that gets listed in fixtures – and there's a value put on that too."
Sponsorship deals also tend to give brands access to the venue at different points during the year, access to hospitality facilities as well as premium tickets to major events.
However the companies that stand to extract the most value from their naming deals are the ones that manage to 'activate' the partnership best.
"You can buy the deal and you can buy the rights, but if you don't activate it well it doesn't work," said John. "If they don't activate it, it's like buying a remote control and not putting batteries into it."
Activation can be done through things like advertising campaigns or community programmes that leverage a brand's link to a venue.
Or they may activate their deals by rewarding customers – a technique that helps them to attract and retain their business.
"If you go back to The O2 - which became the 3Arena - in a heavy-switching market, sometimes things like music tickets is a reason a customer might stay," said Mick O'Keeffe. "The marketing science behind those was 'how do I get my customers to be stickier? Well they love rugby and they love music, so I can reward them with that'.
"There was that marketing rationale that it was better to reward your customers, rather than try to acquire new customers."
Whatever the technique, what matters is the effort companies put in after the initial deal is done.
"That's where it becomes effective or ineffective – it's where the second cheque is spent and how it's used; that's where a brand will win or lose," said John Trainor.
But depending on the brand and venue, there can also be an intangible element to a sponsorship deal.
Firms may be willing to pay a premium in order to super-charge brand awareness, examples of that being the English soccer stadium deals struck by airlines Etihad and Emirates.
Others may also do so in order to bolster their links to a locality.
"Nowadays what we're seeing is a big multinational or big company in the area, that has a lot of staff and customers based locally, and they want to support something that they're passionate about," Mick O'Keeffe said. "Or it's a signal of intent that they're planning to invest in the area."
Or brands may simply be looking to ride on the coat-tales of something that already has a strong legacy.
"If you go in as a naming rights sponsor of a big rugby ground, you're also associating yourself with 100 years of heritage," said Mick. "There is a way of valuing that – but there's no hard scientific equation for it."
Meanwhile other firms may go a step further and leave their names off the door altogether – using their branding deal to promote a cause instead.
"There's a venue being built in Seattle which Amazon have said 'we're going to give a lorry load of money to buy the rights to be the owner of the venue name, but we're not going to call it 'Amazon Arena', we're going to call it 'Climate Pledge Arena'," John said.
"The purpose of that venue is to become a showcase and a beacon for a narrative around sustainability that Amazon wants to communicate, but doesn't need to put it's name on it."
Similarly in Sweden, Swedbank has donated its naming rights for an arena in Stockholm to an anti-bullying charity it sponsors, leading to the creation of the Friends Arena.
Of course these aren't entirely altruistic efforts – these companies will still hope that their brands will indirectly benefit from the positive sentiment created by such a move.
More than money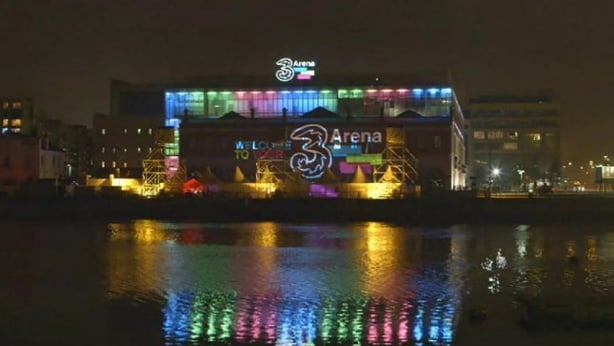 Branding rights represent a significant stream of revenue for a venue owner - the value of naming rights in Ireland is estimated to be around €15m a year.
What Three pays to sponsor the Point Village's music venue makes up more than a third of that amount, at €5.5m a year. Aviva's deal at Lansdowne Road was worth €4m a year when it was first agreed in 2010 – with that deal extended in 2018.
But while the price-tag is important, venues are not simply looking for the highest bidder.
"Generally their initial approach will be quite broad – there might be 20 or 30 companies in their heads that they'll go and have a chat with to see if they're interested in this, in quite a generic and open way," said John. "The process then generally ends up where they narrow into a handful, where a conversation becomes a lot more meaningful and a lot more focused on the brand."
Venues also need to weigh up their potential partners, what benefits they may bring to their operation and whether the public will get on board.
"You want to find someone who's going to help you grow your sport, and bring more people into your stadium," said Mick O'Keeffe. "The perfect partner is someone who has a very substantial customer base, they may be rewarding people with tickets, they may be sending out information in their customer literature, they're trying to grow the fanbase within that region."
"'Fit' is going to be the primary question mark in everybody's heads," said John. "Will the public look at this this and go 'I don't get it'?
"Generally what you'll find is that the brand will have to do a lot of work to colour in that perceived fit."
And naming rights deals are not just promotional opportunities for the brand. After all, if a company launches a campaign around its links to a venue, it may also act as an ad for the venue itself – and the organisation behind it.
Venues and owners can also benefit from any goodwill that exists around a named brand – or the work it might do in the community.
However this can also be a double-edged sword.
Perhaps the most extreme example of the risks that come with getting a naming sponsor wrong is the Houston Astros which, in 1999, signed a $100m, 30-year deal to name its new stadium Enron Field.
Two years later Enron collapsed in a $60 billion accounting scandal, with many Astros fans amongst the thousands who lost jobs and life savings in the process.
The Astros ultimately had to buy out the naming rights for $2.1m – but the team was able to bring in a new sponsor in 2002 on similar terms to the Enron deal.
Persuading the public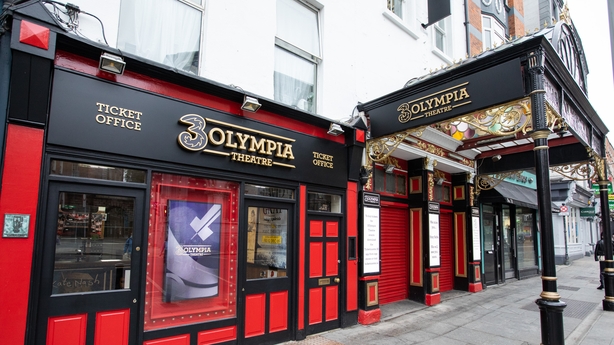 But it doesn't take a major accounting scandal for a sponsorship deal to struggle.
There are some that still talk about The Point Depot and Lansdowne Road, more than ten years after those brandings disappeared. Meanwhile, some recent sponsorship agreements have been met with resistance from people jaded by what they see as the over-commercialisation of culture and entertainment.
"When it's a rebuild or a new build it's a bit easier," said Mick O'Keeffe. "Where it becomes a little bit more nuanced is where an existing venue, that hasn't been redeveloped, but someone looks at an opportunity to generate a bit of extra revenue."
He says that, in those instances in particular, it can take time for the public to adjust.
"When we're advising a rights holder or seller, we're telling them it needs to be a minimum of five to seven years of a term," he said.
John Trainor's Onside conducts regular research with brands and the public about their perceptions of sponsorship deals – and he says that those hostile to such deals are in the vast minority; no more than 10-20%.
A further 40-60% express some degree of positivity, with the remainder being neutral.
"For a lot of businesses and brands it's about accepting that you're going to get a degree of negativity and the challenge being about moving those neutral guys," he said.
Tayto Park is also a considerably different type of destination to a sports ground or music venue.
It may not play host to regular fixtures or events that get lots of media coverage, but it also offers a lot of opportunities for a brand to embed itself across the site – in the way that Tayto currently does.
Its closest comparison is perhaps somewhere like Dublin Zoo or Fota Wildlife Park, neither of which have gone down the route of selling naming rights. However they could still offer inspiration for Tayto Park's owners as it looks for new sponsors.
In the past Dublin Zoo has brought on sponsors for specific parts of the venue – in 2013, for example, Kellogg's Coco Pops was named as the sponsor of its South American House.
Today, its sponsorship deals are more theme-based. Since 2017, SSE Airtricity has been its sustainability partner. The partnership involves environment-focused activities for children at the zoo as well as zoo-related perks for SSE Airtricity customers, like discounted tickets.
Taking on Tayto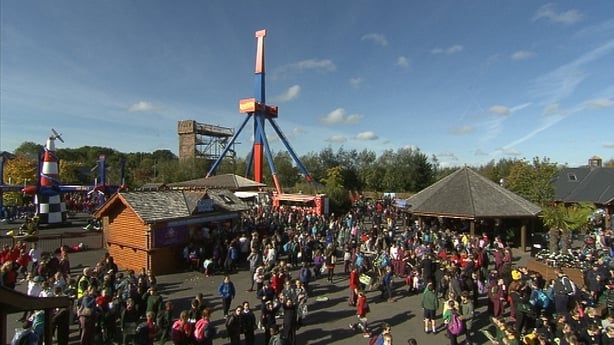 According to the surveys conducted by Onside, many do not automatically think of Tayto Park when they think of branded deals – perhaps due to people's incorrect assumption that the park was directly owned by Tayto.
But John says that, once focused on, there is an extremely positive view of the park and its branding amongst the public.
"When you talk to people about sponsorship of a theme park in Co Meath, the scores become some of the best you'll find in the country," he said.
This could present an opportunity or a challenge to any prospective successor to Tayto.
On the one hand, a brand looking to improve its image with the likes of families and day-trippers would do well to piggy-back on that positive sentiment towards the park. However it also shows that people have a strong association between Tayto and the park – which may be tricky to break.
But John Trainor feels the transition will be a relatively quick one for whatever brand comes next.
"The 800,000 people going through Tayto Park on an annual basis… I would estimate 90% of them would leave within the first year having made the transition in their heads as to where they've been," John said.
"It's more about what the trickle out to the wider public is – but I'd say within the first year half the country would be aware of the change. Give it another year and you'd be back up to the level of awareness that might have been there for Tayto Park."