Used cooking oil is fuelling jets and will play a key part in reducing carbon emissions in the aviation industry.
An Air France flight took off from Charles de Gaulle airport enroute to Canada in May this year, with a 16% mix of sustainable aviation fuel in its tanks, produced by Total from used cooking oil.
Sustainable aviation fuels, which can be produced from oils and fats, biomass or synthetically from renewable power, has the potential to slash carbon emissions by up to 75%.
Flights departing from France next year will be required to use 1% SAF, ahead of European Union goals to reach 2% by 2025 and 5% by 2030 under the EU's Green Deal policy.
In Denmark, Alsie Express became the first operator of a domestic route in the nordic country to use sustainable aviation fuel. The flight from Sonderborg Airport to Copenhagen marked the beginning of the transition to a sustainable domestic aviation industry in Denmark.
Ireland has a long history in aviation and there is an Irish link to this Danish aviation story.
Irish sales and support services group, DCC supplied the sustainable aviation fuel to the Danish market through a joint venture with Shell Aviation.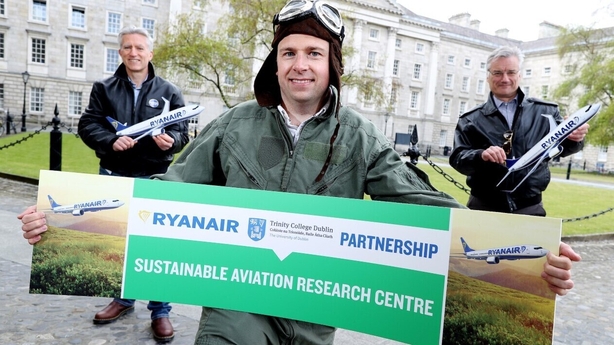 Irish airlines are also playing their part. Ryanair plans to power 12.5% of its flights with SAF by 2030. In April, the group established a Sustainable Aviation Research Centre partnership with Trinity College Dublin to accelerate the development of sustainable aviation fuels.
Aer Lingus parent company, International Airlines Group, is committed to powering 10% of its flights with sustainable aviation fuel by 2030. IAG is investing $400 million in the development of SAF in the next 20 years
Sustainable aviation fuel was a hot topic at an event hosted by Accenture on the sidelines of COP26 in Glasgow this week.
Speaking at the event, Lauren Uppink Calderwood, Head of Aviation, Travel and Tourism, with the World Economic Forum said over 60% of organisations across the globe, including major airlines, major fuel producers, alternative fuel producers and others that are required to act together, have committed to meeting the 10% SAF target by 2030.
She acknowledged that there are issues that hinder the adoption of SAF by the industry.
"Because they are only produced in such small quantities today, they remain very expensive. They can be anything from 3 to 10 times the amount of conventional jet fuel, which prohibits airlines in particular from procuring them.
"Airlines have such slim profit margins that it becomes too complicated and prohibitive to be able to invest in SAF."
Ms Uppink Calderwood said, "We need to invest and we need to address policy levers and we need to address unlocking new types of finance mechanisms. We need to distribute the cost."
Anna Mascolo, President of Shell Aviation, also contributed to the discussion on SAF. Shell's customers range from private pilots to the world's largest airlines.
She told the gathering that sustainable aviation fuel is seen as the main solution in the pursuit of net zero carbon emissions. She said Shell Aviation is at an intersection between the old energy systems and the energy systems of the future.
"It is a company like Shell that needs to play a big role in decarbonisation," she acknowledged.
"Shell Aviation is stepping up to the challenge. We announced recently our ambition to produce two million tonnes of SAF by 2025. That's 10 times more than what was produced in 2020 by all producers globally.
"10% of our sales will by SAF by 2030. And to back all of this up, we have a number of projects in which we have invested including a new fuel plant in the Netherlands, it's going to be one of the largest facilities in Europe. We also have invested in a broad range of technologies because SAF starts from used cooking oil to wood chips to waste - all of them will play a very different role along the way because what is critical is to scale up."
Alaska Airlines is the largest airline in the west coast of the US. It burned 750 million gallons of fuel a year pre-Covid.
It has also been flying with sustainable aviation fuel for 10 years, piloting forest residuals.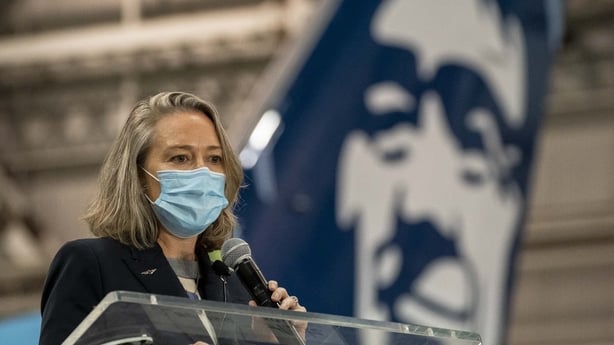 The airline's VP of Public Affairs and Sustainability, Diana Birkett Rakow told the SAF event in Glasgow that Alaska Airlines had developed a path to get to net zero by 2040.
Operational efficiency. "If we do not have to burn the fuel then we should not burn the fuel."
Fleet evolution. "We are bringing more efficient airplanes into our fleet which also saves fuel.
Sustainable Aviation Fuels
Hydrogen electric aircraft which are viable in the regional space
Credible carbon offsets Used only where needed to close the gap
"It is not one fix that is going to solve this problem. It needs collective action," Ms Birkett Rakow said.
"The two main problems are price and scale."
She said there is a need to de-risk and facilitate the building of refineries, the retrofitting of refineries - the facilities to create fuels at scale.
"We do need public policy to provide tax incentives and other ways to produce these 'sticker price' at the pumps, so to speak, so that operators can more aggressively off take SAF and really kick start the market.
She concluded on a positive note, saying: "There has never been this kind of energy and alignment to solve the problem so I am very hopeful about the future."