Bank of Ireland has reported a 17% increase in operating profit - pre-impairment - to the end of September compared to the same period in 2019, pre-Covid.
In a trading update today, the lender said that it had seen continued recovery of business activity, supported by a more positive economic environment and outlook.
"The continued improvement in our performance in the third quarter is reflected by higher income, lower costs and an increase in capital," it added.
Bank of Ireland said it was progressing two deals with KBC Bank Ireland and Davy Stockbrokers, having reached a binding agreement with KBC earlier this month.
It said that both of these deals are set to complete in 2022, subject to regulatory and competition authority approvals.
"Both transactions support our business growth strategy and are financially transformative, supporting our target to deliver a ROTE in excess of 10% in the medium term," the bank added.
Bank of Ireland said its net interest income is 2% higher in the 9 months to September compared to the same time last year.
It said this reflected reduced funding costs and the increased application of negative interest rates on certain deposits.
The lender noted that the application of negative interest rates is helping to partially offset the low interest rate environment that continues to impact on liquid assets and structural hedges.
Customer loan volumes were stable at €76.7 billion at the end of September, while the bank posted net lending growth of €0.7 billion in Retail Ireland and Corporate.
New lending, excluding revolving credit facilities and on a constant currency basis, increased 7% in the nine month period compared to the same time in 2020.
Customer deposits stood €91.3 billion at the end of September, the bank said.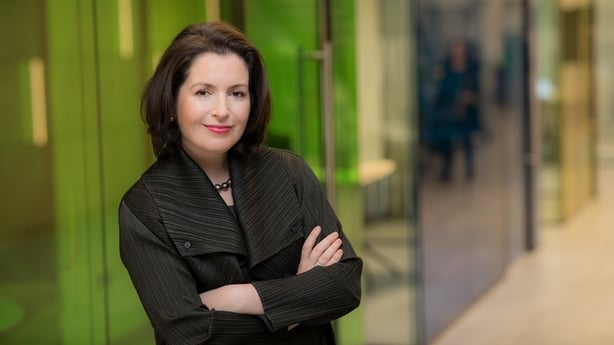 "Our ambition as a National Champion Bank is to continue to support the economic recovery in our home market through accessible, responsible and sustainable lending, and in particular to support an increase in home building and buying in Ireland over the coming years," Bank of Ireland chief executive Francesca McDonagh said in today's trading update.
"In the nine months to end-September 2021 our green mortgage lending in Ireland has increased nearly 30% versus the same period in 2020. We recently announced improvements to our green mortgage range and we will continue to focus on our ESG commitments and play our part in supporting the green transition," Ms McDonagh added.
She also said that the third quarter marked an important moment in normalising the relationship between the Irish State and Bank of Ireland, with the Department of Finance progressing its sell down of the State shareholding in the Group, now down to less than 10%.
"This is a positive development - for Irish taxpayers, the Irish economy, and Bank of Ireland," she added.
Bank of Ireland shares were higher in Dublin trade today.