Lidl Ireland has installed a "reverse vending machine" into one of its stores that will pay customers 10 cents in a voucher for every plastic bottle or aluminium can recycled.
The maximum voucher limit is €2.
The machine, which can process up to 17,000 units a week, and is located at Lidl's Glenageary store in Dublin, is the first such machine installed in a retail setting.
It is part of "Deposit-Return-Scheme" trial by the company ahead of the Government's compulsory national scheme expected to be in operation by 2023.
The Department of Environment, Climate, and Communications is due to publish final details of how the national scheme will operate by the end of September.
The high-tech machine launched by Lidl in Glenageary today will accept empty cans and bottles from any retailer.
However, for the duration of the trail the vouchers dispensed are redeemable in Lidl stores only.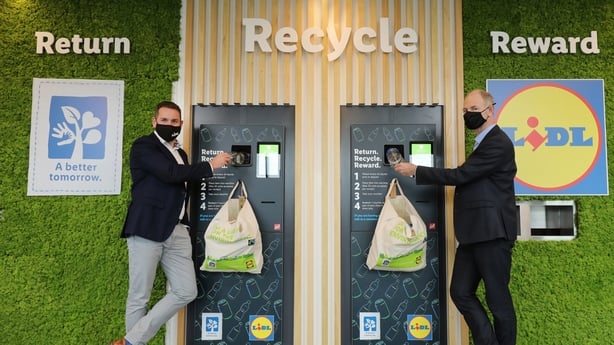 It is anticipated that when the national scheme is fully operational a deposit in the region of 20 cents will be added to the cost of all beverages sold in cans and plastic bottles nationwide.
Customers will then have to return their empty bottles and cans to a Reverse-Vending-Machines or a similar station to get their deposit back.
The precise details of where and how this will be facilitated are currently being finalised by producers, retailers and the government before the appointment of a corporate entity that will operate the nationwide scheme.
The requirement to switch to a deposit and return scheme for beverage containers was deemed essential because of new and very demanding EU recycling targets for plastic bottles and aluminium cans as part the so called "circular economy".
For instance, products made from recycled aluminium use 95% less energy than those made from virgin aluminium.
The new target for Ireland is to be recycling 77% of all aluminium and plastic beverage containers by 2025, rising to 90 per cent by 2030.
Lidl Ireland said its scheme, when fully rolled out, aims to redirect 1,500 tonnes of plastic per year from its 170 stores alone.
That plastic, when recycled, will then be manufactured into new products.
Minister for the Environment, Climate and Communications, Eamon Ryan, said a successful national Deposit and Return Scheme will not only help Ireland to reach ambitious recycling targets and to reduce litter but will also foster the behavioural changes we will need to make a transition to a circular economy.

Lidl Ireland is committed to eliminating all non-recyclable black plastic from its own-brand products by the end of this year and has committed itself to becoming a carbon neutral business by 2025.