The Irish economy is expected to rebound in the second half of this year as lockdown restrictions ease and the vaccination rollout takes effect, with consumer spending expected to increase sharply, according to the EU's latest economic forecast.
However, the report warns of possible "scarring effects" caused by long term unemployment related to the pandemic.
Overall, Ireland's economy is projected to grow by 4.6% in 2021 and 5% in 2022, according to the European Commission's Spring Economic Forecast.
The brighter picture reflects a broader EU and international recovery, following the devastating impact of the coronavirus pandemic.
The report says the European Union economy is expected to return to its pre-pandemic level of GDP by the end of this year, earlier than previously expected.
The forecast predicts growth in the EU economy to be 4.2% in 2021 and 4.4% in 2022.
Euro area growth is expected to be 4.3% and 4.4% in 2021 and 2022 respectively.
Today's report says that Ireland was the only EU country to register positive growth in 2020, largely due to a strong performance by the multinational and pharmaceutical sectors.
In the first half of this year the domestic economy was shielded by state income support.
"Early indicators, such as debit and credit card spending, suggest that private consumption contracted in the first quarter, although less than at the beginning of the pandemic," the report stated.
Private consumption is forecast to grow by 5.5% this year, and to accelerate to 8.6% in 2022.
However, the report warns that employment could contract by 3.5% this year, as people move from income support to unemployment or inactivity.
Despite an expected 5% growth in employment next year, the unemployment rate is forecast to remain above its pre-pandemic levels.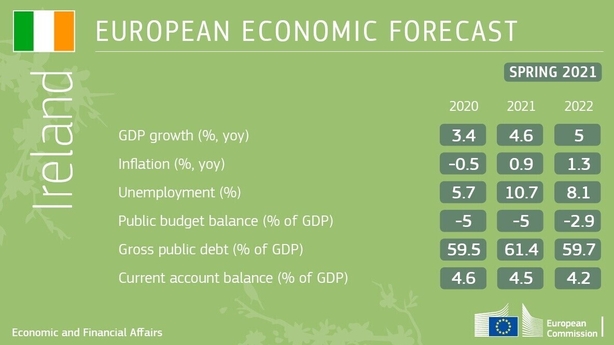 Unemployment is expected to climb to 10.7% this year and fall to 8.1% in 2022, which it said is "still well above 2019's rate of 5%."
"There is a risk of 'scarring effects' due to long-term unemployment and increased skill mismatches," today's forecast says.
Overall, Ireland's budget deficit is expected to stay at 5% of GDP this year, the same as last year, compared to a 0.5% Government surplus in 2019.
The report says that Irish tax receipts, however, remain "resilient", despite the decrease in line with reduced domestic spending.
"Corporate income tax receipts, however, increased, as the ICT and pharmaceutical sectors performed strongly amid the pandemic," it says.
Overall Government debt is expected to rise to 61.4% of GDP in 2021, falling to 59.7% in 2022, thanks to economic growth and a planned decrease in cash reserves.
"Risks to the fiscal outlook reflect potential changes to the international taxation environment," it warns.