The filming of an episode of Fr Ted did not close Ailwee Cave. It took a global pandemic to shut the large wooden door at the entrance to the popular tourist attraction in the Burren, Co Clare.
'I don't believe it', echoed through the cave during filming, and it reverberated in the minds of the owners of the cave in March when they were forced to close in line with Government restrictions.
The cave happens to be a family-run business.
"We gathered around listening to the Taoiseach, and when he announced all the businesses that must close, I wondered if it really applied to us," said Nuala Mulqueeny, acting managing director of the cave. "Closing the cave before St Patrick's Day when we should have been welcoming more visitors was weird. It was really strange closing the cave."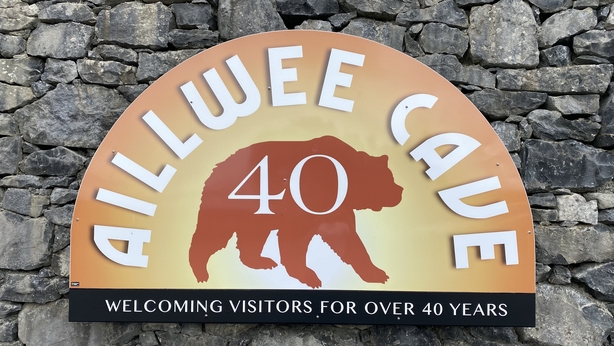 The cave was discovered in 1940 by local farmer, Jack McGann, who ran after his sheepdog chasing a rabbit.
In the 1970s, Michéal and Annie Mulqueeny, and Roger and Susan Johnson, bought 26 acres on the Ailwee hillside, and opened the show cave to visitors in 1976.
The cave is still privately owned and run by the two families.

There are five stops on the tour of the cave, where visitors see stalactites, stalagmites, a waterfall and the bones of two European brown bears.
The cave reopens to visitors today, and staff have been preparing facilities to welcome tour groups back.
"We're in the job of educating, and entertaining and we'll do that with smaller groups," Ms Mulqueeny said. "We've had to reduce the number who can go on a tour of the cave by half. There will be 10 or 12 people per tour. We've had to close retail in the access building which will be used instead to organise the visitor flow."
There will also be smaller more frequent shows at the Birds of Prey centre located at the bottom of the hillside.
Tour guides will be wearing face masks, but while visitors are encouraged to do the same, it will not be mandatory.
"I would have thought the public themselves and visitors will be mindful of their health and other people's health, and if they're making the choice to come on holidays, we would encourage it," she said. "We will be wearing them but we are not making it mandatory."
Surveys show that almost half of visitors to the Ailwee Cave are from the domestic market. The people who visited as children in the past often return with their own children, and its hoped, as they holiday at home this year, that they will visit the cave once again.
They will receive an Ailwee fáilte.