NeighbourFood is an online market for local food producers.
It began in Cork, then opened in Dublin and it started operating in Limerick just when the city's Milk Market had to close due to Covid-19 restrictions.
It is an extra market place for producers, but in recent weeks, for some, it was their only market.
Deirdre McMahon is the host of NeighbourFood Limerick. "I saw Spring as the perfect time to launch it, and then this all happened. I was preparing to go at Easter, and then I got a call from Jack Crotty who is one of the founders on St Patrick's Day to say, 'Go now!'.
Since then, customers who might normally have come to the market on Saturdays, have ordered online and collected produce at allocated times on Thursday evenings.
NeighbourFood allows customers buy fresh produce, grown locally, direct from local farms and food producers.
NeighbourFood Limerick had its first collection on March 26.
"It's been a help for local food producers. I know a lot of people are doing deliveries as well. They are ingenious, hard-working people, and they are doing everything they can to keep their businesses alive, but definitely, NeighbourFood has helped with that."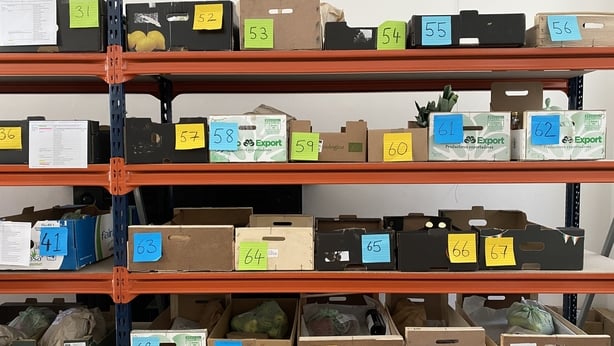 Wilde Irish Chocolates is a handmade artisan chocolate business in Tuamgraney, Co Clare.
Chocolatier Patricia Farrell was delighted to get the call to supply NeighbourFood with their chocolate.
"We've been massively affected by Covid-19," she said. "We would be highly dependent on the tourism industry and now that there is no tourism industry right now, there's been a 90% reduction in our turnover. It's proving to be surprisingly upsetting actually."
She said she doesn't think people would consider chocolate essential, "but I personally believe it is a necessity for human sanity!"
"It was around Easter so we were blown away by the response. It has settled since, but it's incredibly important to us because we have an outlet for our product."
Kevin Wallace, from New Leaf Urban Farmers, grows a range of salad crops and summer crops, from spinach to mixed leaves, spring onions, hakurei turnips, tomatoes, cucumbers and courgettes.
"My business is orientated around the hospitality sector, so about 90% of my business is gone overnight," he said, as he delivered produce to NeighbourFood.
"A lot of small farmers would go the farmers' market route, but I decided in my wisdom to go with the hospitality sector and high end restaurants," he said.
He plans to diversify and sell to the public, and spread the risk. "I'm setting up a website, and I'm trying to do as much as I can to survive."
"What are you supposed to do, sit down and do nothing. Hey you know, you just get on with things," Mr Wallace said. "You get up and you get on with it."
The Milk Market in Limerick will reopen this weekend, with social distancing and public health measures in place.
The NeighbourFood Market will continue operating online, with collections on Thursdays, also at the Milk Market.
It has helped to maintain the link between customers and their local food producers, at a time when they needed it most.
NeighbourFood is also opening an online market in Ennis, and at Attyflin Estate in Co Limerick.
NeighbourFood Limerick will be on Morning Ireland on RTE Radio 1 at 7.50am tomorrow morning. Thanks so much to @petulamartyn for visiting us and interviewing Deirdre aswell as local suppliers Kevin Wallace from @NewLeafUrbnFarm & Patricia Farrell from @WildeIrishChocs #shoplocal pic.twitter.com/rbWgMqr3Iz

— NeighbourFood Limerick (@NeighbourfoodL) May 19, 2020