If you Google the words "remote working", the top stories are "Coronavirus could force teams to work remotely" and "Coronavirus could mean you'll be working from home."
Google itself asked its workers to work from home for two days during the week.
A majority of the tech company's 8,000 employees and contractors were asked to work remotely on Tuesday and Wednesday, because of a suspected case of Covid-19.
Google also wanted to test its capability to have everyone work remotely in case the situation escalates.
Many companies are making contingency plans in preparation for the spread of coronavirus here, and "remote working" is a big part of those plans.
If you are asked to work from home, you will need a laptop, a good internet connection, and ideally, a dedicated work space.
It is up to an employer to ensure that the necessary applications and systems for your work are installed on your computer.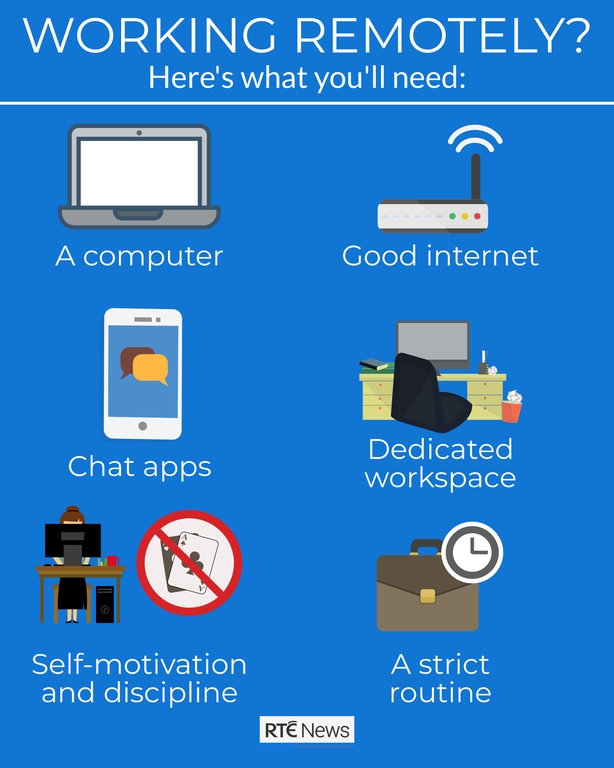 "The reality is people are working remotely already," said Vanessa Tierney, co-founder of Abodoo, an Irish tech company with ambitions to be the largest global platform for people who work remotely. Abodoo links companies with people who work remotely from home or hub.
"Any time you are working on your phone or working on your laptop outside of the office, that is deemed working remotely. If a company wants to do it correctly, what's important is that there is secure technology access."
"Obviously, the person has the connectivity level to do the job - a Java developer will need far higher levels of speeds than someone who is doing customer service remotely."
Since the outbreak of coronavirus, and to facilitate staff to work from home, some companies are providing an allowance to enable workers pay for broadband and other 'work from home' facilities. 
Ms Tierney advises companies who normally hold face to face meetings, to continue to do so, "just move it on to video whether that be Skype or Google Hangouts".
Kevin Moore is Director at CT Ireland, a provider of video conferencing facilities. One of CT Ireland's main communication tools, StarLeaf, provides desktop and mobile applications that allow secure messaging and quick video meetings and calls, equips rooms with easy-to-use video conferencing facilities.
The company is also seeing an increase in demand for streaming conferences. Instead of cancelling conferences, or expecting people to travel to them, lots of companies are holding virtual conferences.
"It's always been a key part of the business but the uptake from companies who have cancelled events but still need to get the message out. They are streaming that event to the attendees around the world. We are seeing a bigger demand for that," Mr Moore said.
Mr Moore said the increase in people who work remotely shows the need for good broadband infrastructure.
Some industries have always been very good at facilitating remote working, particularly tech companies.
"I think this will show a lot of smaller businesses, who might think, 'If my worker isn't here how will I know that they are working'. I think it will show them that it is just as effective. I think behavioural change will come because companies will use this as a test," he said.
However, not all organisations are adequately prepared to mobilise a remote working solution and in the rush to do so, many may compromise on security and expose themselves to risks.
"The challenge for employers is to implement not only a productive work from home solution, but also a secure one," said Paul Conaty, Principal Consultant with CWSI.
"While mitigating against the risk of the coronavirus, organisations may be unwittingly exposing themselves to a host of very different kinds of viruses."
"Personal devices used to access company data often lack the levels of security that are in place on work devices behind the company firewall. It's vital businesses review the security of their remote working environment before being forced to roll it out across the organisation."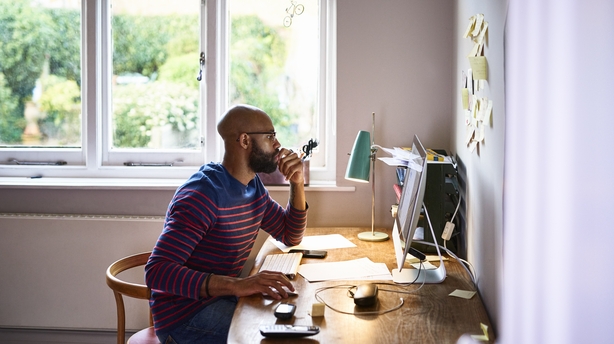 Vanessa Tierney of Abodoo has this advice for employers.
"Working remotely is considered highly valuable, and for others, it's going to require a lot of management if they've got young kids or if we face school closures or if they don't have the adequate connectivity."
"Some people really do need the office environment, they do need the face to face contact with others, so ensuring leaders or managers are equipped in order to support them wherever they are, to make them feel that they are still part of the organisation because it can be an experience that is quite isolating if it is new to somebody."
The outbreak of a deadly virus has pushed many companies to consider remote working, and it might change how companies view it in future.
"Sadly it has taken such an event to encourage companies which before would have said that they may consider it in the future to now turn on remote working within 24 hours," Ms Tierney said.
"This will be the ultimate pilot for organisations. I think when we get control of the coronavirus and everything calms down, that organisations will be able to reflect back and actually look at productivity levels, engagement levels of their workforce, and see that by enabling remote working, a percentage of the time, what they told their staff was in essence that they trust them. 
"They will discover that productivity maintained or even went up, and if that is the case that they will start to enable it more and more," she said.