Old fashioned, traditional toys have proven to be the best sellers at FAO Schwarz in Arnotts in Dublin this year.
The world famous toy store, which featured in the movie Big, opened on October 30 in Dublin, and it has enjoyed a very busy Christmas.
"Our number one bestseller is a motorised train set, a really old fashioned train set that you can set up around your kitchen and have fun," Jenny Erwin, a toy buyer at Arnotts, said.
Wooden blocks and ceramic tea sets are also popular at FAO Schwarz. "People are looking for things that last longer, and also toys that bring people together," she said.
We need your consent to load this rte-player contentWe use rte-player to manage extra content that can set cookies on your device and collect data about your activity. Please review their details and accept them to load the content.Manage Preferences
The store has looms that children can use to make their own mats, and fashion design toys for creative children to make their own clothes.
Tom Hanks famously danced on the piano mat in FAO Schwarz in New York, in the movie Big. The piano mat also features in the Dublin store and it has been a big hit.
"They are loving it. Our team members can do all the dances from Big, and they help the little ones do some dances too, but most just want to run up and down, and roll up and down it. It's a real big attraction."
Ms Erwin works as a buyer and she said her decision on what toys to buy for the store is heavily guided by the toy companies. She will start buying toys for next Christmas in January.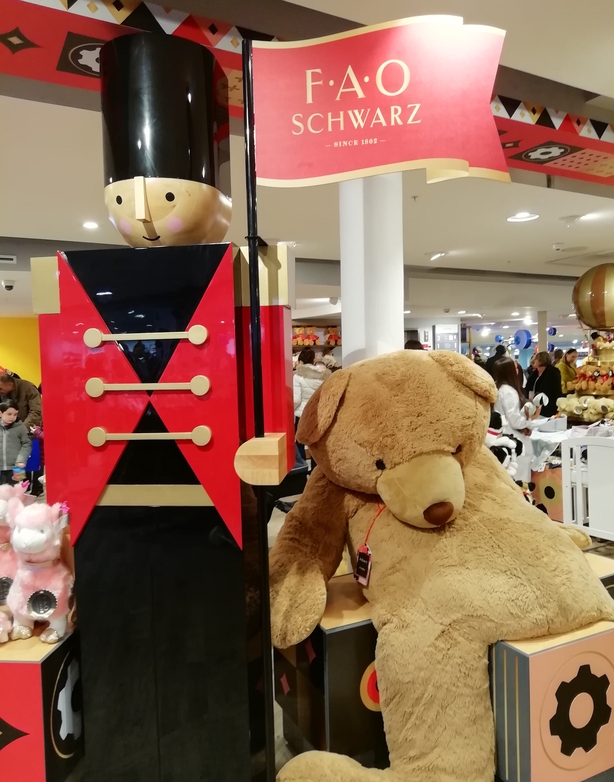 "We are also heavily guide by movies. Trolls is coming out next year and so is Ghostbusters," she said. "You also get a real gut feeling about what's a fantastic toy. You see it and your heart melts, and you think I'd love to play with that."
Toy buyers also get inspiration from Santa Claus. "Santa is in Arnotts every day so after he has been with all the boys and girls, he comes down and walks around the store with the elves and tells me what children have been asking for."
Arnotts was looking for a really experiential toy department and for something a little bit different, and FAO Schwarz was looking for key partners around the world.
"The timing was right and it's been a really good partnership," she said, adding that FAO Schwarz is not just for Christmas, it will still be open next year.