The new Governor of the Central Bank, Gabriel Makhlouf, has said he has learned from an investigation into his handling of IT scandal in New Zealand.
In June, New Zealand's State Services Commission criticised Mr Makhlouf's "clumsy" handling of the embarrassing budget leak.
Mr Makhlouf initially said the leaks resulted from systematic and deliberate hacking.
However, it soon emerged that the treasury had not fallen victim to a sophisticated cyber-attack, but had accidentally published budget details on its website.
The State Services Commission said in June that Mr Makhlouf was more intent on blaming others for the security breach than addressing his own failures and those of his department.
Speaking publicly for the first time to RTÉ News, Mr Makhlouf said he understood why there was concern in Ireland about what had happened.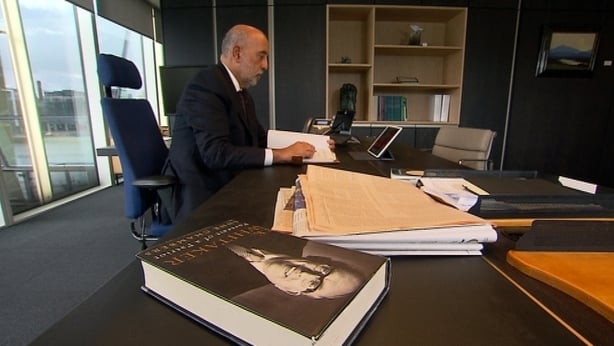 He said he accepted the findings of the official investigation by the New Zealand government, but he pointed out the investigation had found that he had acted in good faith and had been politically neutral.
Mr Makhlouf said the most important thing for him was that his "honesty and integrity were not in question".
He said he had learned the importance of taking "a bit of time before speaking to the media".
On questions about his qualifications for the Central Bank job, he said that he was an economist and had spent the last eight years as the New Zealand government's chief economic adviser.
Mr Makhlouf said he had a whole building full of economists and that the job was much bigger than just monetary economics.
---
Read more:
---
On the danger of hard Brexit, the Governor said the financial system in Ireland was "as ready as it can be".
On the issue of the Central Bank's mortgage rules, he said he understood why there was a lot of interest in the review which is due before the end of year.
However, Mr Makhlouf said he had formed no view yet on whether the rules were appropriate or needed to change.
When asked about the recent controversy over how some customers were treated in relation to tracker mortgages, he said it was a source of worry.
Mr Makhlouf said some banks here seemed to be "in denial" about what it said about banking culture in Ireland.
---