Bord Bia is the most highly regarded organisation in the country, overtaking Credit Unions in an annual ranking by reputation of organisations in Ireland.
7,000 members of the public completed the survey, conducted by The Reputations Agency, which measures trust, respect, and the esteem in which organisations are held.
Organisations that promote Ireland overseas performed strongly in the study this year.
The top ten companies include the IRFU, Tourism Ireland, Aer Lingus and Dublin Airport.
"The public is really in tune with organisations who are helping to contribute to the success of Ireland's economy whether it's through exports or tourism or trade," said Niamh Boyle, Managing Director of The Reputations Agency.
"They seem to have built great reputations in the minds of the public, in terms of the work that they are doing to represent this country internationally."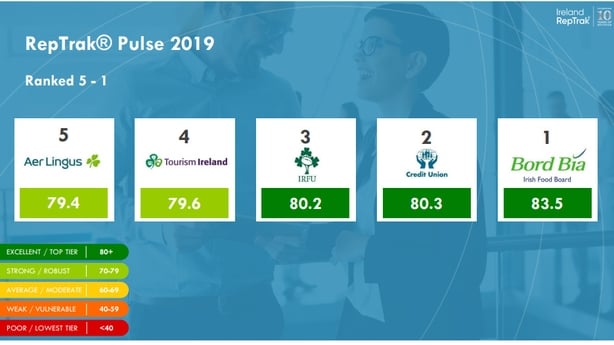 Reputation is measured using a RepTrak model which is used all over the world.
It looks at the emotional connection or the gut feeling that people have for an organisation, Ms Boyle said.
People are not just looking at products and services, but they are also looking at the leadership of the organisation, its performance and governance. They ask if an organisation is open, transparent and ethical?
"They want to know about their innovativeness, their workplace, their citizenship. Are they giving back to society, as well as the economy. They are looking at a whole range of very rational factors when they are looking at the reputation of an organisation," she said.
The benefits of a good organisation are huge, Ms Boyle explains.
"Reputation builds support. People's propensity to support an organisation increases exponentially as its reputation moves upwards. The propensity to purchase products, and the willingness to work for an organisation, the ability to retain top talent - all of that increases exponentially, and that helps to meet business targets, and be very prosperous."
Out of the 100 organisations that featured in the study, RTE came in 85th place. Ms Boyle said the public service broadcaster had a stronger reputation in the past.
"There is some perception with the public that they are not quite sure of RTE's performance and vision for the future," she said.
The survey also measured people's propensity to support the 100 organisations across a range of scenarios.
Aldi, Lidl and Bord Bia took the top three places for "Willingness to Buy Products or Services", while Lidl, Credit Unions and Aldi took the top three places for "Willingness to Welcome Into My Community".
Google, Apple and Tourism Ireland took the top three places for "Willingness to Work For" the organisations.
Meanwhile, An Post, BMW, Boots, Google and Kellogg's each received an Outstanding Achievement Award for taking the top five positions when scores were averaged over the ten year period of the study, from 2010 to 2019.