ESB delivered "satisfactory results" in 2018 in what was a challenging year on the energy market, according to the company's chief financial officer.
ESB reported an operating profit of €455m last year, and invested €1.2 billion in long term electricity infrastructure as part of its brighter futures strategy as it transitions to a lower carbon energy future.
The profits will not lead to a drop in electricity prices for customers of Electric Ireland, who will see their bills increase by 4% from April 1.
Pat Fenlon, chief financial officer at ESB, said the cost of wholesale energy, driven by the price of gas, increased by 33% over 2018, which led to all suppliers increasing their prices.
"I suppose the difference in relation to Electric Ireland is that we deferred any price increase until after the winter period. Electric Ireland profits were down because of that," Mr Fenlon said.
Within ESB's investment programme, Mr Fenlon said the company has invested substantially in its network's business to make them more resilient.
"It also includes a smart metering programme with meters to be delivered to 250,000 homes by 2020," he said. "In our generation business - which is going through a major transition - we invested €250m in renewable energy investment, primarily onshore wind."
The ESB chief financial officer said this investment would not necessarily lead to lower electricity prices for customers.
"What we are looking at is minimising the price in the most effective way for consumers by efficiently investing in the most economic technology. The cost of renewables has come down, and we are part of that, including off shore wind, biomass and onshore wind," he said.
In ESB, 25% of electricity generation came from renewable sources last year. In total, one third of electricity generation came from renewables. Eirgrid and the government policy is to increase that to 40% by 2020.
Mr Fenlon said the electricity sector is on target and will grow beyond that into the future.
Five major storms proved costly for ESB in 2018. Mr Fenlon said September's Storm Ali, in particular, saw 300,000 customers left without electricity. He said ESB Network teams worked to get those back safely in as quick a time as possible.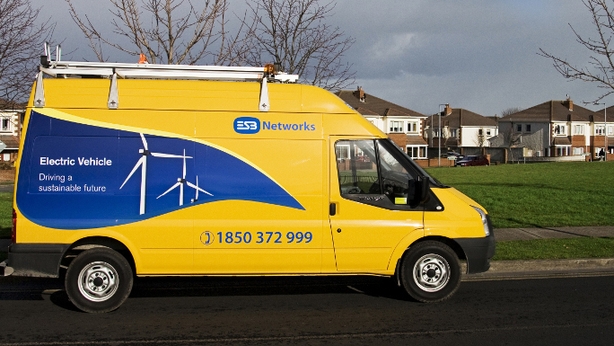 The company, which has 3.1 million customers, also said it was forced to take a €140m exceptional non-cash impairment charge on generation assets during the year.
But it said that 2018 saw the delivery of a "satisfactory underlying financial performance" as it transitions to a low carbon energy future.
ESB said it had declared a dividend of €35m in respect of 2018, with total dividends paid to the Exchequer over the past ten years amounting to €1.4 billion.