Working as a receptionist in a salon at the IFSC, Ronan Perceval could see that the salon owner was rushed off her feet. Appointments were pencilled into an appointment book, financial records were recorded using a pen and paper, and there was no time to market the business.
There had to be an easier way. 
Mr Perceval set up a salon software business called Phorest. "We help hair and beauty salon owners to grow their business, by letting them market to their customers and get appointments through their apps and websites. We make sure they are busier," he said.
Phorest grew out of its own resources. It was employing 20 people in 2011 and was doing well in the Irish market, but it needed investment if it was to realise its growth potential outside of Ireland.
We need your consent to load this rte-player contentWe use rte-player to manage extra content that can set cookies on your device and collect data about your activity. Please review their details and accept them to load the content.Manage Preferences

"I didn't know much about investment at that point," the CEO said, "and that's where we came across the HBAN (Halo Business Angel Network) which is a network of angel investors - people who have been successful in business in the past and now want to invest back into new companies, and bring their skills, knowledge and experience, as well as money."
Phorest secured €1.2 million in investment from a syndicate of 12 angels through the Halo Business Angel Network, Enterprise Ireland and a fund called Enterprise Equity. It had a transformative effect on the company.
Business man, Pat Garvey, was one of the first angel investors in the company. He built his own business in the early days of the technology industry. "We rode on the wave of the IBM PC which first arrived in the early '80s," he said. "I built a business into a pan-European distribution business. I sold it at the beginning of this millennium."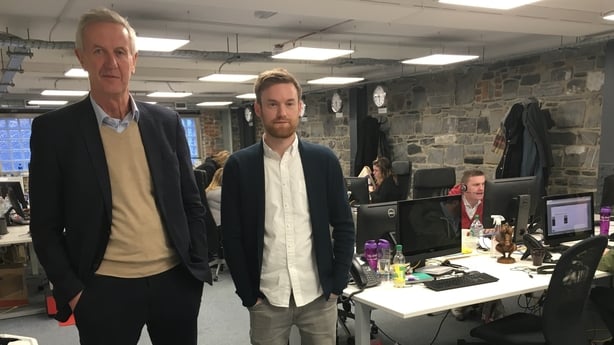 Mr Garvey wondered what he would do next. He did not want to start a new tech business because it is intense in the beginning and it is a lot of hard work. He decided instead to reinvent himself as an investor, focusing on the technology sector.
"As angel investors we constantly look at businesses that are pitching to us, that have ideas about how they're going to build a business," he said.
He was impressed by Ronan Perceval and his plans for Phorest. "It was Einstein who once said if you can't explain things simply, you probably don't understand it well enough. Ronan had a very good understanding of what he was trying to do" he said. "He had a product that was proven, that was working in the market place, and he understood what he needed the money for."
Mr Garvey did not just invest capital in the company, he invested his time and expertise. As part of the deal, he became chairman of Phorest.
"I think that's what differentiates angel investors from other types of investors. Most of us have been entrepreneurs in our own right, and built businesses. We really think that we can accelerate business development by bringing expertise and advice to those businesses."
Mr Perceval said the money was important, but the structure and discipline that Mr Garvey brought to the table was invaluable. He said they would make plans or set deadlines for the company but if they did not meet those deadlines, no one would question why. Now they have up to 10 board meetings a year and they are answerable to the board and to what they said they would do. "That brought a really good discipline to the company," Mr Perceval said, "and changed the trajectory of the business. It can be tough, especially when you don't do what you said you'd do, you can't hide from it. I didn't enjoy that at first but looking back on it now, there's no way we'd be here without having gone through that process."
Angel investor, Mr Garvey, sounded a note of caution. Investing in private businesses has a high failure rate. In the technology sector, it is around 70%. "They fail in the sense that you either lose all of your money or you don't get any return for the money," he said. "You've got to be cautious entering into it. It's not for everybody and I think if you can involve yourself, you obviously enhance the chances of getting a win."
Phorest is certainly a success story of angel investments. It employs 120 people at its offices off Capel Street in Dublin, and 60 more at offices in Philadelphia, Brisbane and Cologne. It works with 5,000 salons, and is expanding in new markets.
"We have recently launched in Germany, Australia and then in the US a couple of years before that, so that's where all our growth is right now. We're seeing quite rapid growth there now. Even though we have been around for 15 years, the company has doubled in the last two years," the Phorest CEO said.
Over the next two or three years, the company wants to establish itself as the number one or number two provider in those markets. That will help grow the business three or four times as big as it is today. "That's a very exciting place to be," Mr Perceval said.
The Halo Business Angel Network plans to recruit 75 new business angels to invest in start-ups this year. The recruitment drive will begin at a conference on February 14, in Powerscourt Hotel, Wicklow. This year's conference will focus on diversity and how a varied investment portfolio yields better returns for angel investors.