The digital economy's biggest annual trade exhibition, the Consumer Electronics Show 2019, is getting underway in Las Vegas.
The event, which hosts 4,400 exhibiting companies, showcases thousands of new technology, devices, gadgets and gizmos.
"I think we're at an age where every company is a tech company," said Izzy Santa, Director of Communications, CES. "Most of the products that we see nowadays at any retailer involves an app, involves a wearable, involves some type of machine learning or artificial intelligence. So what you're seeing is that everyone's flocking to Las Vegas to demo the latest products that they have that incorporates a little bit of AI, a little bit of machine learning. They all congregate here."
So what's hot and what's not in technology?
There are a few strong themes emerging from the Consumer Electronics Show this year, including smart home devices, AI and autonomous cars.
Samsung, for example, is getting serious about micro LED technology. They showed a 75 inch TV which is not impressive because it is so big, but because it is so small. It is made of micro LEDs, millions of pixels which emit their own light. It is the first time that Samsung has been able to make them small enough and close enough together to make a TV that would fit in someone's house.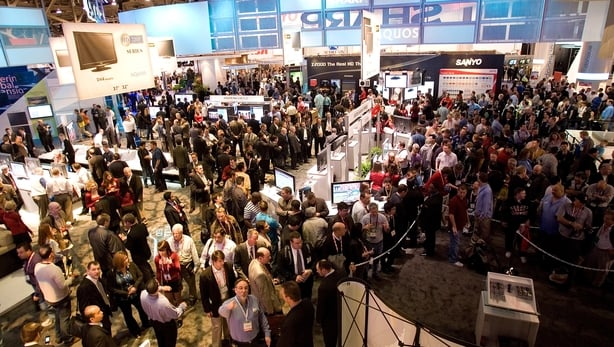 An Artificial Intelligence suitcase made by a startup company in Beijing which uses vision technology to follow the passenger throughout the airport is also among the new technology on display.
A French bathroom mirror that will tell you if you do not look your best when you stand in front of it; a Breadbot which makes 10 loaves of bread an hour, and a remote controlled glove to help amputees pick things up, are catching people's attention.
We have heard about wearable technology, and a company called Sheertex has unveiled untearable tights at CES 2019. "The technology would be our proprietary knit which involves first extruding our fiber and making it thin," Natalie Catania explained. "It's never ever been thin. And it's the product that's been used in bullet proof vests, in climbing equipment, as well as the mixing of the fiber to make it strong and stretchy."
A pair of these tights will set you back $99 dollars but the makers say you will not need another pair for a while as they won't rip and tear like traditional nylons.
The trade show opens to the public tomorrow.