Ryanair has said it will cancel an extra 18,000 flights in a move that will hit 400,000 customers as the fallout from the airline's mismanagement of pilot leave intensifies.
The airline said that as part of efforts to end a wave of cancellations that has already seen 2,000 flights grounded, it will fly 25 less aircraft between November and March. 
The firm has been forced into the cancellations after miscalculating pilot leave.
Ryanair has written to its 4,200 pilots warning that because of the reduction in services, many pilots will not be eligible for bonuses of up to €12,000 offered to them in recent weeks to work some of their annual leave.
Taking more flights out of service means that Ryanair will be able to "roster all of the extra pilot leave necessary" in October, November and December, the budget airline said.
As a result, 34 routes are suspended for the winter season from November to March 2018. 
To help alleviate its roster issues, Ryanair today said it was cutting back its growth plans for the first time in years. 
It said this will "eliminate all risk of further flight cancellations, because slower growth creates lots of spare aircraft and crews across Ryanair's 86 bases this winter".
In a statement, the airline said the slower rate of growth will slightly reduce its traffic this year and next. 
"Our monthly growth from November 2017 to March 2018 will slow from 9% to 4%. Our full year traffic of 131 million will now moderate to 129 million, which is 7.5% up on last year," Ryanair said. 
"By slowing our summer 2018 fleet growth from 445 to 435 aircraft, we expect traffic to March 2019 will slow from 142 million to 138 million, a 7% rate of growth," it added.
But it added that it does not expect today's initiatives to alter its current year guidance of between €1.40 billion to €1.45 billion in profits after tax.
.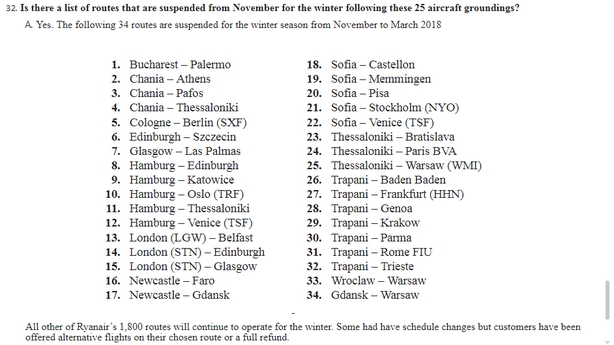 ---
Read more:
Ryanair pilots demand improved terms
Ryanair faces action in UK for not updating customers on rights
---
 Based on current booking levels, Ryanair expects the latest cancellations to affect an average of less than one flight per day across its five-month winter schedule. 
It said that affected customers have received an email today giving them between five weeks to five months notice of these schedule changes, offering them alternative flights or full refunds of their airfare.
They have also received a €40 (€80 return) travel voucher which will allow them to book - during October - a flight on any Ryanair service between October 2017  and March 2018.
The airline said it expects the cost of these vouchers for affected customers will be less than €25m.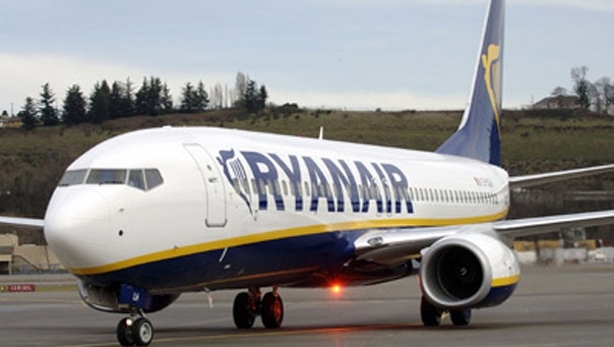 Ryanair said today that the reduced schedule would mean it would not need pilots to give up one week of their annual leave from November and that the slower growth would create a large surplus of standby pilots. 
In today's statement, the airline also said it would end its interest in Italy's Alitalia to help "eliminate all management distractions".
"We have notified the Alitalia bankruptcy Commissioners that we will not be pursuing our interest in Alitalia or submitting any further offers for the airline," Ryanair said.
Pilots' pay
From the start of October, Ryanair is implementing a €10,000 supplement for captains and €5,000 for captains at its Dublin, Stansted, Berlin, and Frankfurt bases.
These pay increases were agreed at recent meetings with pilot representatives.
The airline will also be meeting with pilot representatives at other bases in the coming months to discuss the issue of pay.
Shares in the company closed 3.43% higher in Dublin trade today.