Ryanair pilots have written to management outlining their demands for better contracts and negotiating rights.
In a letter from Employee Representative Councils on behalf of around 60 Ryanair bases, the pilots say they want permanent local contracts, following national laws and rights, to be concluded by 1 January.
If that deadline cannot be met, they want agreed interim arrangements put in place.
They want their employment terms to be benchmarked with regional competitor airlines to stem the exit of pilots.
They also want coordination between pilot teams and to be recognised as negotiating partners, with their own professional assistance in negotiations.
The pilots stress that they are prepared to surrender some of their annual leave to help resolve the current problems - but only in the context of the changes they are demanding being conceded.
They express disappointment at hearing Ryanair Chief Executive Michael O'Leary speak in what they call a "negative and disparaging" way about pilots at recent press conferences.
They say Ryanair's offer of additional money to selected bases is unhelpful in the current situation, adding that they will not accept the company's historical approach of dividing the pilot body.
They remind Mr O'Leary that he does not have a mandate to speak on their behalf, and that they expect the airline to show them the basic respect of listening to them.
They say they want to open constructive discussions with the company as soon as possible.
Meanwhile, Ryanair has written to its 4,200 pilots warning that because of its reduction in services over the coming months announced today, many pilots will not be eligible for bonuses of up to €12,000 offered to them in recent weeks to work some of their annual leave.
In the letter, Ryanair Chief Operations Officer Michael Hickey explains the significance of its planned reduction in services, offering some additional incentives and voicing the airline's appreciation for the work they do.
The letter comes as Ryanair today said it will cancel an extra 18,000 flights in a move that will hit 400,000 customers.
Last week pilots were furious when Mr O'Leary denigrated their work, saying that for most of a flight computers did the flying, and that pilots did not work enough hours to be fatigued.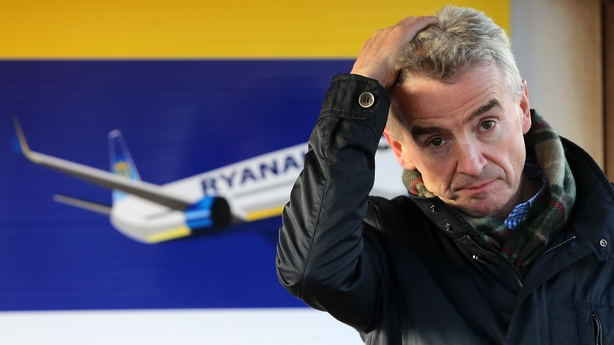 In today's communication, Mr Hickey apologises to each pilot not only for the rostering problems but for the airline's response to it last week.
He states: "As Michael O'Leary explained publicly last week, both he and Ryanair value our pilots, your professionalism, and your skills particularly when facing the challenges posed by operating in inclement weather, diversions etc.
"We cannot grow unless we continue to operate safely with a corps of over 4,200 well trained, well paid and and contented aviation professionals and that is what we will deliver with your help over the next six months."
In today's communication Mr Hickey also rejects claims from what he calls "competitor pilots" that Ryanair is struggling to recruit pilots - but acknowledges that working days off is unsustainable over the medium to long term.
He says the further flight cancellations announced today, which could affect up to 400,000 passengers, will free up more than 3,000 pilot duties per month, which will enable to company to allocate all of the rostered leave in October, November and December.
He says it will also create spare crew, spare aircraft and surplus available annual leave in those months, as well as improve the reliability of rosters and standby cover.
He says Ryanair is determined to end the practice of repeatedly asking pilots to work days off - but that this means many of them will not be able to qualify for the bonuses of up to €12,000 offered by the airline in recent weeks.
Mr Hickey says Ryanair was heartened by the 1,000 workers who had applied up to yesterday agreeing to give back 4,000 days of annual leave over the six weeks to the end of October.
Those who applied for bonuses before yesterday can still qualify for the €12,000 bonuses payable this time next year.
Other pilots may now apply for a lesser scheme with maximum bonuses of up to €10,000 - subject to what Ryanair calls "certain reasonable and achievable performance and attendance measures".
Mr Hickey says this new bonus will be paid in addition to base supplements of up to €10,000 recently agreed at bases in Dublin, Stansted, Berlin, and Frankfurt.
He also says that to reward those pilots who help to minimse disruptions in this winter, Ryanair will temporarily increase working day off payments by up to 50% until 31 March next year.
He says Ryanair is also "positively disposed to the possibility of "supplements" at other bases where they are seeking to recruit, and at bases where because of a higher cost of living, Ryanair pay may be "slightly uncompetitive".
Mr Hickey stresses that the airline is addressing pilot recruitment, and has earmarked more than 650 pilot recruits who will be trained over the next 8 months.
They will be increasing their ratio of 5.2 crew per aircraft to 5.4, and improving their rostering operation.
Mr Hickey pledges to meet all in-house Employee Representative Councils over the coming months to address their grievances.
Mr Hickey concludes by reminding pilots that many of their colleagues in Air Berlin and Alitalia are currently facing job and pay cuts.