Banks and insurance companies have been criticised by Financial Services Ombudsman Ger Deering for denying services to consumers. 
The Financial Services Ombudsman attacked the "unreasonable manner" in which some banks denied access to online banking, did not process transactions or froze accounts. 
Mr Deering said he was aware banks had to comply with anti-money laundering legislation but he warned them not to go beyond the limits of those requirements. 
He also criticised insurance companies for the circumstances in which they cancelled policies. 
Mr Deering said where a person has an insurance policy cancelled due to alleged non-disclosure it can have "most serious implications". 
He said insurance companies should exercise caution and not take disproportionate actions. 
The Financial Services Ombudsman made his comments as he published his annual review for 2016 today.
The review showed that the office's new dispute resolution service has proved successful last year, with over half of all complaints received by the office dealt with through this method.
The dispute resolution service aims to resolves disputes between consumers and financial institutions through mediation at an early stage.
Mr Deering said the office had more direct interactions with both consumers and providers and it delivered a faster and more effective services due to its new dedicated dispute resolution service.
A total of 4,334 valid complaints were received by the Financial Services Ombudsman last year, while 2,198 complaints were still active from previous years.
52% of these complaints related to banking products, with mortgages topping the list. 43% of complaints related to insurance products, with motor insurance the biggest generator of grievances in this area. 
The Financial Services Ombudsman said that a total of 4,323 complaints were dealt with during the year, adding that over 1,800 complainants received some form of compensation or financial redress.
It noted that 2,421 complaints were resolved through its new dispute services and 46% of successful mediations were resolved within two months. 
The office received 10,000 telephone contacts last year as well as 8,000 email queries, while its website had 67,000 unique visitors.
Ulster Bank was the bank most complained about last year, according to the review, with a total of 18 complaints upheld. It was followed by AIB (7) and Bank of Ireland Mortgages (5).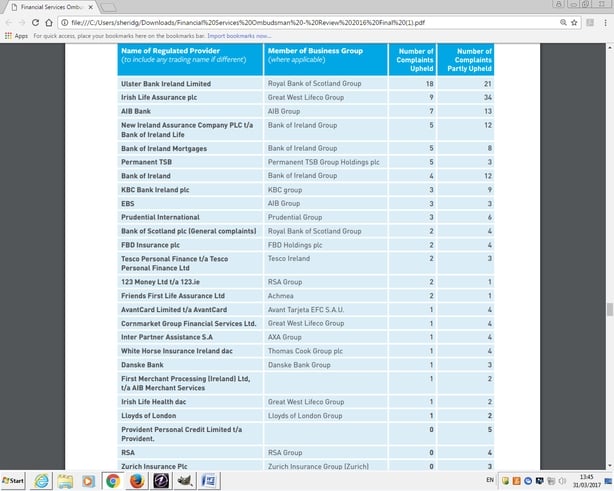 Irish Life Assurance was the insurance company with the most complaints made about it, followed by New Ireland Assurance and Prudential International.
"Access to certain financial services in the banking and insurance sectors is not a luxury," commented Mr Deering in today's report.
"For most people, it is an essential part of everyday living and I will continue to pay particular attention to the conduct of banks and insurance companies to ensure that their conduct is fair, reasonable and proportionate," he added.