Richie Boucher is to step down as Chief Executive of Bank of Ireland before the end of 2017.
He will also resign as a director of the company later this year.
Mr Boucher has been CEO of the lender since 2009.
Bank of Ireland has said a selection process is already under way to appoint a new CEO and Mr Boucher will continue in his role pending completion of this process.
The exact date of his departure is not yet known, with the lender saying a further announcement will be made when the date has been agreed.
Bank of Ireland Governor Archie Kane said the lender "will be very sorry to see Richie leave Bank of Ireland and are extremely grateful to him for his service over the years.
"Since his appointment as Group CEO in February 2009, Richie has led the Group through very difficult times," Mr Kane said.
"He has demonstrated extraordinary and exemplary personal commitment to the Group and has brought to everything he has done a clarity of direction and unrelenting focus," he added.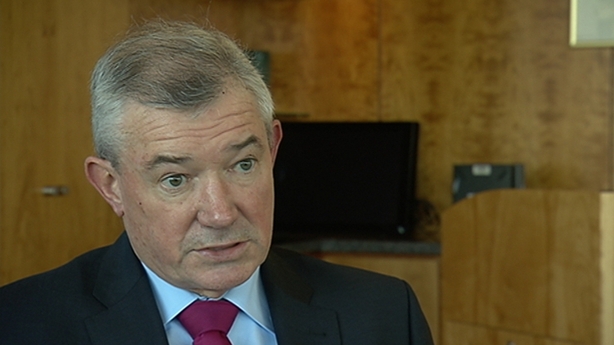 Mr Boucher said he made "this decision from the fortunate position of enjoying my job and being excited about the next stage in our Group's development, including the transformational investment which is under way in our infrastructure to support our customers and the Group, not just for tomorrow but for future generations".
"However, I will be 59 in August of this year and I feel it best for the Group that someone else leads the Group's next stage of development," he said
"This has influenced my decision to retire from the Group at this time, and to focus on the other things which I might like to do with my life," he added.
Richie Boucher, who joined Ireland's largest lender by assets in 2003, headed its corporate banking and retail divisions before being appointed CEO in February 2009.
This was shortly after Bank of Ireland, like all other Irish lenders, sought a state bailout.
Under the Zambian-born banker, Bank of Ireland became the only domestically owned lender to stay out of state control when it attracted €1.1 billion of private investment at the height of the euro zone debt crisis in 2011.
Bank of Ireland has a former CEO of a major Irish stock market company among its ranks, deputy chairman Patrick Kennedy, who led bookmaker Paddy Power from 2006 to 2014.
Minister for Finance Michael Noonan said Mr Boucher assumed his role as CEO "at a time of severe stress for the Bank of Ireland Group and indeed for the Irish banking sector in general.
"Under Mr Boucher's stewardship, Bank of Ireland navigated its way successfully through these difficult times and, most notably, returned to profitability in 2014 and exited its EU mandated Restructuring Plan in December 2016."
In January, Mr Boucher was named a non-executive director of Greece's Eurobank Ergasias SA.
Last month Bank of Ireland reported an underlying profit of €1.071 billion for the year to the end of December, down 11% from the €1.2 billion profit the previous year.
The lender also said then that it expects to pay its first dividend in a decade in the first half of 2018, a year later than initially hoped as it awaits further clarity on the Brexit vote in the UK.
Bank of Ireland shares closed slightly lower in Dublin trade this evening.