Bank of Ireland has reported an underlying profit of €1.071 billion for the year to the end of December, down 11% from the €1.2 billion profit the previous year.
Bank of Ireland said its lower operating income and higher costs were partially offset by lower impairment charges and that all of its trading divisions were profitable in the 12 month period.
The lender said it expects to pay its first dividend in a decade in the first half of 2018, a year later than initially hoped as it awaits further clarity on the Brexit vote in the UK.
Its initial plan would have made it the first domestic Irish lender to resume dividend payments since the financial crash.
Bank of Ireland said its pre-tax profits fell by 16% to €1.032 billion, while its total income eased by 5% to €3.105 billion, which partially reflected the impact of foreign exchange rates.
In its results statement today, Bank of Ireland said its core loan books continued to grow during 2016 and it provided €6.7 billion of new credit to personal and business customers in Ireland.
It also reduced its non-performing loans by €4.1 billion or about 34% since December 2015.
Impairment charges have also continued to fall, the bank added. It said impairment charges on loans to customers fell by €120m to €176m on the back of a continued positive economic environment in its main markets.
Bank of Ireland said its like-for-like profit was hit by a weaker pound, which cut the value of its UK earnings.
The bank is more exposed to the country than any other Irish lender but said it expects some growth in mortgage lending in the UK this year.
The bank's chief executive Richie Boucher said that the business was performing in line with the strategic objectives it had set itself.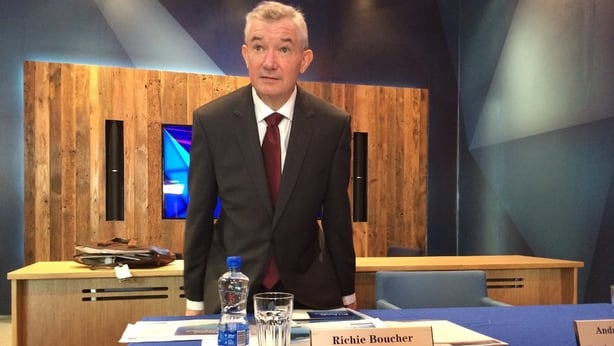 "We remain confident that the substantial progress the group has made in recent years along with the strength of our franchises and the benefits of our diversified business model position us well to take advantage of the opportunities and to mitigate risks ensuing from these and other geopolitical developments," Mr Boucher said.
"We remain focused on serving our customers and developing our profitable, long term franchises in a way that delivers attractive sustainable returns to our shareholders," he added.
He said the reduction in non-performing loans reflects Bank of Ireland's successful resolution strategies that include appropriate and sustainable support to viable customers who are in financial difficulty along with the positive economic environment with stable or increasing collateral values.
He said the bank is anticipating further reductions in non-performing loans in 2017 and beyond, with the pace of such reductions being influenced by a range of factors.
Bank of Ireland delays payment of dividend until next year pic.twitter.com/Wex0AOA6jj

— RTÉ Business (@RTEbusiness) February 24, 2017
The bank's defaulted loans balance also reduced, by a further €3.7 billion, to €6.9 billion (or 8% of gross loan volumes). This marked a 62% fall from the reported peak in June 2013.
It also noted that more than nine out of ten of its challenged owner occupier Irish mortgage customers with
restructuring arrangements continue to meet the agreed repayments.
The bank said it finished the year strongly with a net interest margin, a measure of the profitability of its lending, at 2.19% compared to 2.15% in September.
The bank, which is 14% owned by the State, said its Tier 1 capital ratio rose to 12.3% from 10.5% three months ago, helped by a narrowing of its pension deficit to €450m from €1.45 billion at the end of September.
Bank of Ireland said that underlying profit before tax for its UK retail division fell to £106m in 2016, compared to £140m in 2015. The division accounts for about 20% of the bank's total income and has over 3 million customers.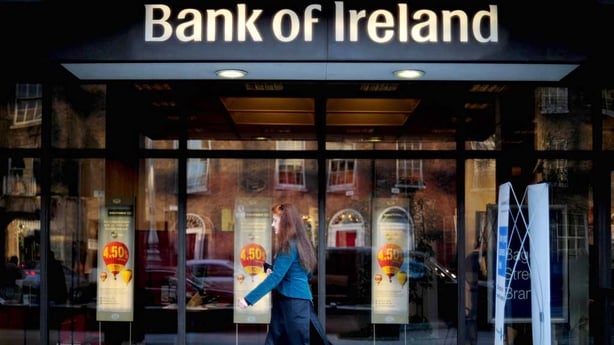 It provides banking services to consumers through partnerships with two of the UK's most trusted brands, the Post Office and the Automobile Association (AA), as well as other strategic intermediaries.
Looking ahead, Mr Boucher said that the economies of its main markets have performed well and are expected to grow in 2017.
He said the bank is cognisant of the potential impact from geopolitical events on its growth trajectory.
But "the quality of our retail and commercial franchises, the benefits of our diversified business model, our capital and funding strength, our commercially disciplined approach, the experience of our team and
our clarity of purpose all combine to give us competitive advantage," he added.
Shares in the bank, which fell 30% last year, closed nearly 3.5% lower in Dublin trade today.