Up to 15% of Irish homes do not have access to broadband services and fewer younger people are watching live scheduled TV programming, according to a new survey focusing on our relationship with technology.
The study, commissioned by ComReg and carried out by RedC, also suggests that consumers are paying less for TV, broadband and mobile services when compared with 2013.
Over three quarters (76%) of homes across the country have access to fixed broadband.
This figure rises to 89% for Dublin homes, while just 66% of homes in rural Ireland have broadband access.
The research indicates that although 96% of homes have access to TV services, 9% of households use Netflix and spend an average of seven hours per week viewing the video streaming service.
Moreover, 14% of online paid-for TV service users said they have stopped watching live TV.
The data also suggests that traditional TV viewing has declined among younger audiences, with 6% of 18-24 year olds having no TV subscription (compared with 2% across age groups).
Sky is most popular provider of TV services in the country, with a 49% market share. UPC is next with 23%, while Saorview has risen to third spot at 19%.
With regard to mobile phone usage, the ComReg research shows the ownership rate for a mobile phone among Irish people stands at 97%.
Women and those aged between 18 and 24 are the most likely to use social media and instant messaging on mobile phones, while 12% of respondents who use these services said they have stopped sending traditional text messages as a result.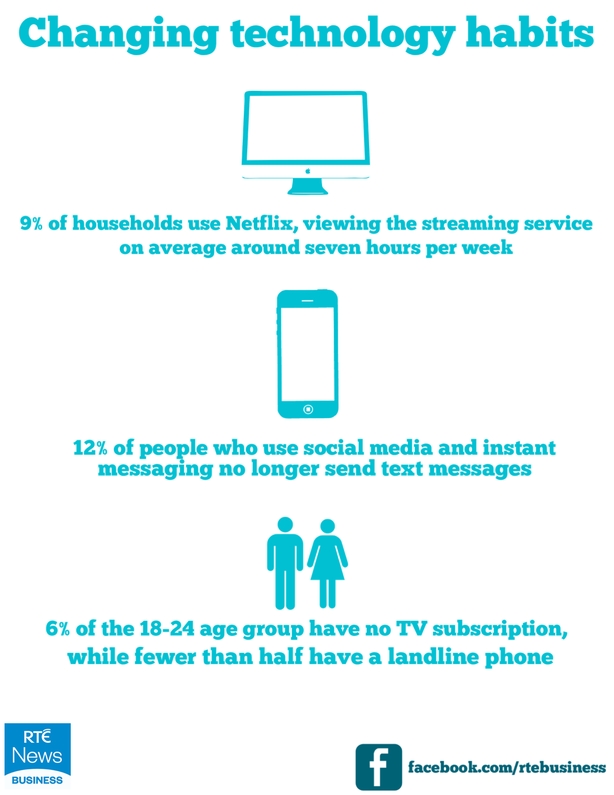 Vodafone has the largest market share among mobile service providers at 42%, followed by Three (28%), and Eir (23%).
Respondents say, compared to two years ago, they are paying around €7 less per month for mobile phone bills.
Fewer than half (46%) of people aged between 18 and 24 now use landlines at home, while 88% of those over the age of 65 still have a home landline.
From the 1,039 interviews conducted for the study, the vast majority of respondents (70%) purchase TV, phone, and broadband services in bundles. This rate falls to just 49% in rural areas.
Those buying TV, phone, and broadband services in a bundle claim they are now paying €4 less per month than they were in 2013.
The number of bundles sold that cover broadband, TV and phone has doubled since 2013, from 16% to 33%.
ComReg also commissioned similar research for Irish SMEs, with the results showing that 68% of firms use social media for business purposes, while Facebook is the most popular site.
Of the 500 companies surveyed by RedC, 55% of them use the social network to engage with potential customers.