Revenue at Vodafone Ireland rose by 2% year-on-year for the six months to the end of September.
According to the firm's half-year results, covering April to September 2015, revenue for the most recent quarter was €240.7m.
Data usage among Vodafone customers here increased by 22.3% between July and September, while it has nearly doubled when compared with the same period in 2014.
A "minor decline" in earnings before any deductions was attributed to significant customer acquisition and retention investment during the period, with the mobile operator mainly subsidising smartphone upgrades for customers.
Meanwhile, "significant enterprise wins" saw Vodafone Ireland revenues increase by 10.29% in the three months between July and September.
During the last year, the company also invested €60m in a European sales hub in Carrickmines in Dublin, which created 200 jobs and in August it announced a €7m investment in new data centre services for customers in Ireland.
Commenting on the half-year results, Vodafone Ireland CEO Anne O'Leary said: "Our performance this quarter demonstrates improved momentum with increased service revenue and growth in customer numbers, particularly in our contract base.
"We are also encouraged by strong growth in our enterprise division with significant customer wins during the period," she added.
Meanwhile, the entire Vodafone operation reported a better than expected acceleration in revenue growth in the second quarter, helping it return to earnings growth for the first half and nudge its annual expectations towards the top of its guidance.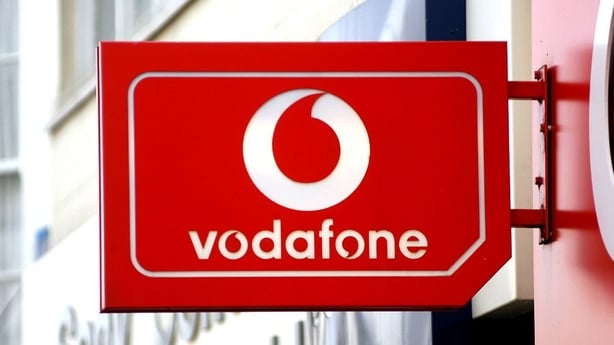 The world's second largest mobile operator posted second quarter organic service revenue growth of 1.2%.
This was an improvement on the 0.8% it saw in the first quarter and ahead of the 0.9% analysts were expecting.
Core earnings for the six months to end-September rose 1.9% to £5.79 billion, beating expectations of £5.69 billion, as investment in its networks started to pay off.
"We have reached an important turning point for the group with a return to organic growth in service revenue and EBITDA (core earnings) in the first half of the financial year," chief executive Vittorio Colao said today.
He said Europe was stabilising, with seven out of 13 markets growing organic service revenue in the first half, and southern Europe in particular showing a strong rate of recovery.
A steady improvement in the economic climate in Europe has coincided with Vodafone being able to offer 4G services to 80% of its customers after heavy investment in its networks over the last two years.
But markets remained competitive, Colao said, and European service revenue still fell in the second quarter, although the trend was improving.
Investors have refocused on Vodafone's performance in markets like Germany, Spain and Britain after talks between the company and cable operator Liberty Global about an exchange of assets were abandoned in September.
Vodafone's results on a reported level saw growth dampened by currency movements, and it said it would switch from reporting in sterling to euros for the 2017 financial year.
The company also said today that it had started preparations to float its Indian unit.
Vodafone added 4.4 million customers in India in the firs thalf of the year, taking its total in the country to 188.2 million.
Investors have been expecting Vodafone to float its Indian business but the plan has been delayed by a long-running tax dispute with the government and fierce competition in the market.