The number of traditional text messages being sent in Ireland has continued to fall, according to ComReg, with volumes dropping by almost 20% in the past year.
Irish mobile customers sent more than 1.83bn SMS-based texts in the three months to September, according to the regulator's quarterly report, compared to around 2.25bn in the same quarter of last year.
The use of SMS services have plummeted in recent years, as users opt for data-based messaging services like Whatsapp, as well as various social media platforms.
SMS usage in Ireland peaked at the end of 2011 when almost 3.25bn texts were sent. This means the latest quarterly figure is more than 43% lower.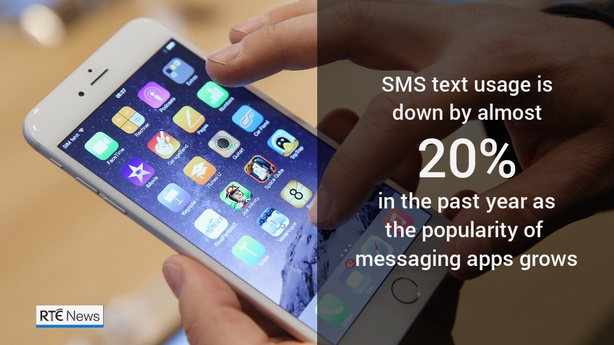 The use of Multi-Media Messages (MMS) has been less affected by this move to data-based services, however, and actually grew quarter-on-quarter, according to ComReg.
Despite this decline in text usage, mobile operators have seen the average revenue they generate from each customer increase in recent months, with the figure up by almost 50c to €25.35 per month.
The figure is around 82c lower than the same time last year, however, and is significantly lower than two years ago, when networks earned €29.39 per customer per month.
Part of the recently-recorded stabilisation in revenues comes from the introduction of higher-value services, particularly 4G connectivity for some customers.
ComReg says that 9% of all mobile subscribers used 4G services between July and September.
In the broader telecoms market, the number of broadband subscribers has continued to grow, as have broadband speeds.
The number of fixed broadband subscribers rose by 1.2% quarter-on-quarter, the regulator said, which represents a 6.9% increase year-on-year.
Estimated broadband penetration – which counts both fixed and mobile connections – was recorded at 67%.
More than 43% of all broadband subscriptions boasted speeds of 30Mbps or more in the third quarter – an almost 10% gain on the same time last year.
The majority of all connections – 61.8% - claimed speeds of 10Mbps or more by the end of September.
Meanwhile fixed phone subscriptions also grew despite there being a fall in the amount of traffic over the landline network in the same period.