In what has been labelled the Government's pre-election budget, Minister for Finance Paschal Donohoe has outlined a €1.5bn Budget 2019 package of tax cuts, welfare increases and other spending measures.
It is the third and final budget under the confidence-and-supply agreement between Fine Gael and Fianna Fáil.
The Government has allocated €1.25bn for the delivery of 10,000 new social houses.
A 50 cent reduction in prescription charges from €2.00 to €1.50 for all medical card holders over the age of 70 was also announced.
While there will be a reduction in the third rate of the Universal Social Charge (USC) from 4.75% to 4.5%.
We need your consent to load this rte-player contentWe use rte-player to manage extra content that can set cookies on your device and collect data about your activity. Please review their details and accept them to load the content.Manage Preferences
The Government has set aside €110m in Budget 2019 to combat the "political challenge of a generation" posed by Brexit.
However, Sinn Féin's finance spokesperson hit out at the Government and Fianna Fáil for claiming Budget 2019 is a housing budget while Labour's finance spokesperson Joan Burton said this was an election budget.
In outlining the issues facing the country, Mr Donohoe told the Dáil that the economy is again growing strongly and sustainably but warned that there are risks and challenges ahead.
In his Budget 2019 speech, Minister Donohoe said the Government is working hard to provide secure and affordable homes.
He said Brexit edges closer but the outcome is unclear and "increasing trade barriers are raising the spectre of protectionism".
He said a broad and stable tax base must be maintained to ensure that the economy "is as resilient in bad times as it is dynamic in good times".
Minister Donohoe described Brexit as the "political, economic and diplomatic challenge of our generation", but, he said, the Government has been clear in its objectives and Ireland will remain at the heart of the European Union and open to the world.
Mr Donohoe said the Government had been thoroughly planning its strategy for the UK's exit from the EU, including protecting "hard-won peace" in Northern Ireland.
"The most important next step is to conclude the negotiations on the Withdrawal Agreement, including the backstop to ensure no hard border in Ireland, and the political declaration on the future relationship between the EU and the UK".
An initiative worth €300m, and a Future Growth Loan Scheme for SMEs and the Irish agriculture and food sector were announced.
A provision of more than €110m for Brexit measures will be divided across a number of government departments and will see an increase in funding for the Peace programme, which funds community groups in the Republic and Northern Ireland.
---
Read more:
Live updates: Budget 2019
Budget 2019 at a Glance
A history of Irish Budgets
More Budget 2019 stories
---
Minister Donohoe said Ireland's ability to withstand economic shocks needs to be stronger and announced a Rainy Day Fund, which will be capitalised with €1.5bn from the Ireland Strategic Investment Fund and supplemented with an annual contribution of €500m from the Exchequer starting next year.
He confirmed that the 12.5% Corporation Tax will not be changing and, as widely reported, said VAT in the tourism sector is being raised from 9% to 13.5% from January 2019.
He said the measure will raise €466m in 2019 and will allow him to "reduce our reliance on increases in other tax heads, such as corporation tax".
The minister told the Dáil that €59.2bn will be allocated to current expenditure - a 4% increase - which will "be seen in every classroom, hospital and Garda station across the country".
The third rate of USC is being reduced from 4.75% to 4.5% and the hourly minimum wage will be increased to €9.80.
The ceiling of the second USC rate band will be increased from €19,372 to €19,874 so that full-time minimum wage workers will remain outside the top rates of USC.
The entry point to the higher rate of income tax for all earners is being increased by €750 - raising it from €34,550 to €35,300 in the case of a single worker.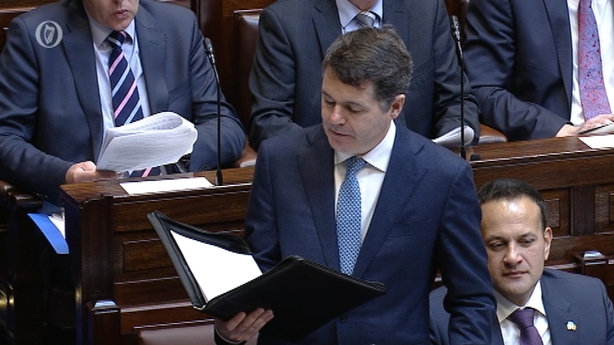 An additional €1.4bn for schools, universities, public transport and other infrastructure projects is being allocated, bringing the total expenditure on capital in 2019 to €7.3bn.
On housing, Minister Donohoe said "where we find ourselves today is not where we want to be" and said he is allocating €2.3bn to the housing programme, an increase of 26% on last year.
He said more new homes "will be provided this year than in any year in past decade".
10,000 new social homes are planned for 2019 through an allocation of €1.25bn.
The minister announced the removal of the restriction on the amount of interest that may be deducted by landlords in respect of loans used to buy, improve or repair their residential properties.
As expected the weekly income threshold for GP Visit Cards has been increased by €25, along with a 50 cent reduction in prescription charges for all medical card holders over 70 and a €10 reduction in the Drugs Payment Scheme.
Cigarettes are being increased by 50 cents, bringing the price of a packet of 20 to €12.70.
Minister Donohoe said he was increasing minimum excise duty on tobacco products so that all cigarettes sold below €11 will have the same excise applied as cigarettes sold at €11.
The Christmas Bonus this year will be fully restored and there will be a €5 weekly increase in social welfare payments, which will begin in March 2019.
A new paid parental leave scheme is being introduced to provide two extra weeks' leave to every parent of a child in their first year.
Funding has been committed to a number of transport infrastructure projects, including the N4 Collooney to Castlebaldwin and the Dunkettle interchange and the completion of the runway overlay project at Ireland West Airport, Knock in Co Mayo.
The tax-free threshold of the Capital Acquisitions tax will increase from €310,000 to €320,000.
This broadly applies to transfers between parents and their children and Minister Donohoe said he realises there are concerns about the potential tax burden, especially on the inheritance of the family home.
He also said he was retaining the 9% rate of newspaper publications and would reduce the rate for electronic publications from 23% to 9%, to assist national and regional newspapers to remain competitive and meet the challenges of the modern media landscape.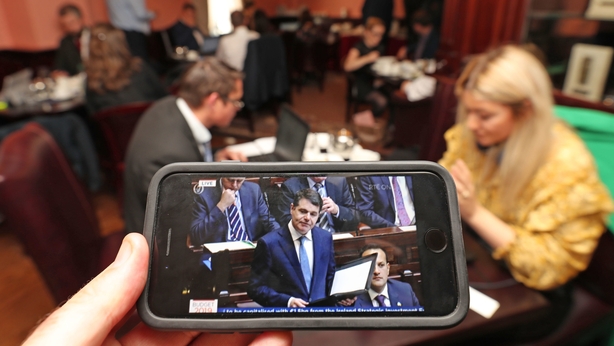 As part of Ireland's commitments to tackling climate change, the minister announced a number of measures, saying that €1 in every €5 in exchequer investment in the National Development Plan will be devoted to addressing climate change.
More than €164m will be invested in 2019 in targeted measures to achieve Ireland's energy efficiency.
The minister said VRT relief for hybrid vehicles will be extended to the end of next year, when it will be then reviewed and in line with several other EU states a 1% surcharge for diesel vehicles will be applied across all VRT bands.
The budget of An Garda Síochána is being increased by €60m or 3.5%, which will allow for the recruitment of up to 800 gardaí and an additional €60m will be allocated to be used across the justice sector including providing extra asylum accommodation and widening the Magdalene scheme.
In the Defence sector, an extra €29m is being provided to fund a programme of equipment replacement and infrastructural development.
The minister said he is committing €126m across range of sporting initiatives in 2019 and is retaining the 9% VAT rate for sporting facilities.
He said Budget 2019 secures the "shared progress we have made" and makes "us Brexit ready".
He described it as a caring budget, which will help those on low and middle incomes and will increase living standards for the less well off.
"It is a responsible Budget for a modern and caring Ireland that aims to be at the centre of a changing world".