The Government is increasing the entry point to the higher rate of income tax for all earners by €750, raising it from €34,550 to €35,300 in the case of a single worker.
Minister for Finance Paschal Donohoe said the third rate of the Universal Social Charge will be reduced from 4.75% to 4.5% to give a further targeted benefit to low and middle level incomes.
Minister Donohoe said the impact of these changes means that the top marginal rate on incomes up to €70,000 will be reduced to 48.5% and fewer people on incomes around the national average will have any income subject to the 40% rate of income tax.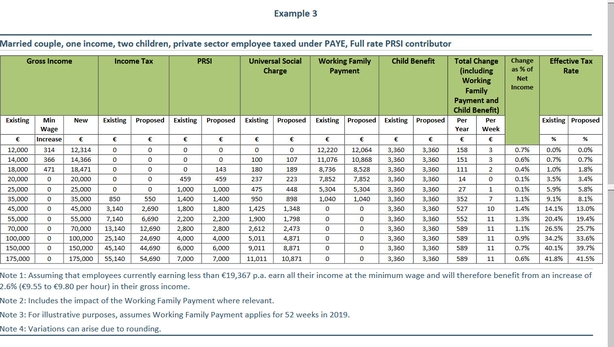 The minister said he is making some modest changes to give a particular support to minimum wage workers, all of which will take effect from 1 January 2019.
- the hourly minimum wage will be increased to €9.80 following the recommendation of the Low Pay Commission.
- the ceiling of the second USC rate band will be increased from €19,372 to €19,874 in order to ensure that the salary of a full-time worker on the minimum wage will remain outside the top rates of USC.
-the weekly threshold for the higher rate of employer's PRSI will be increased from €376 to €386 to ensure that there is no incentive to reduce working hours for a full-time minimum wage worker.
In Budget 2019, the Minister for Finance introduced other targeted measures which he said would help working families and the self-employed.
For the 80,000 families where one spouse works primarly in the home to care for children or other dependents, Minister Donohoe announced an increase to the Home Carer Credit of €300, bringing the value of the credit to €1,500.
For the 150,000 self-employed workers, the Earned Income Credit will be increased by a further €200 to €1,350.
Minister Donohoe said the income tax changes he has made are responsible, and provide targeted relief for people on lower and middle incomes.