The TUI has said it will be issuing guidance to its members on Monday directing that no member undertake any work normally done by ASTI colleagues.
This includes all teachers as well as school principals and deputy principals.
The union has acknowledged that its stance will possibly lead to additional schools being forced to close as a result of ASTI industrial action plans for the coming weeks and months.
The Department of Education has already acknowledged that widespread school closures are inevitable if the ASTI action goes ahead.
Around half of all second-level schools face inevitable closure next Thursday, 27 October, and perhaps indefinitely from 7 November, unless the planned ASTI action can be averted.
However, the fate of a further 200 or so schools with both TUI and ASTI teachers now looks uncertain.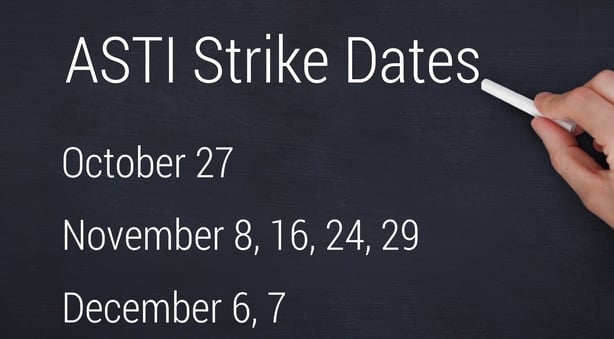 TUI President Joanne Irwin has said they are not in dispute so they will continue to do their own supervision and substitution roster but they will not do anything else like changing rosters or doing ASTI supervision.
Ms Irwin said they had to respect the ASTI strike.
The TUI has already said there will be no instruction to members as to whether or not to pass pickets, but that advice relates just to the seven official strike days.
Ms Irwin also said they want boards of management in so-called "dual union" schools - schools with both ASTI and TUI members  - to take an early decision to close schools, particularly if the strike could affect relations and morale between teachers.
We need your consent to load this rte-player contentWe use rte-player to manage extra content that can set cookies on your device and collect data about your activity. Please review their details and accept them to load the content.Manage Preferences
The General Secretary of the Joint Managerial Board has said that boards of management are facing a very difficult situation over the next number of weeks.
Speaking on RTÉ's Six One, John Curtis said that it is difficult to envisage that many schools will be in a position to open after the mid-term break unless the issue of supervision and substitution is addressed and resolved.
He said that contingency plans have been looked at, but it is difficult to see that any of them will work.
Mr Curtis has urged the Department of Education and the ASTI to reach an agreement.
"People on our boards of management are angry; they're upset; they're worried about the situation and I think at this time, all of the people concerned should look at what faces us and pull back from this.
"What's fundamentally unfair about this is that you will have a situation after the midterm break whereby some schools around the country will be open and other schools, invariably, will not. And there's an inherent inequity in that."
Meanwhile, Minister for Housing, Planning and Local Environment Simon Coveney has reiterated the Government view that a solution to both the teacher and garda disputes must be found within the parameters of the Lansdowne Road Agreement.
The Landsdowne Road Agreement was negotiated to reverse pay and pension cuts for public service workers imposed since 2008. It extends the Haddington Road Agreement until 2018.
Speaking to RTÉ's News, Mr Coveney said any move away from the LRA would open up a hugely difficult and unaffordable problem.