The Association of Community and Comprehensive Schools has said it is likely that many schools will have to close when ASTI members withdraw from supervision and substitution duties next month.
The ACCS represents 97 secondary schools around the country.
Principals, deputy principals and school board of management representatives from the Munster area have been meeting in Adare, Co Limerick to discuss the impact the industrial action will have.
The ACCS said that in around 160 dual union schools, where some staff are members of the Teachers' Union of Ireland and others are in the Association of Secondary Teachers, Ireland, it may be possible to make alternative arrangements.
However, as the ASTI has not given a derogation to members to put alternatives in place, schools with principals or deputy principals attached to the union will probably have to close.
In other cases, delays with Garda vetting and the requirement to train people to carry out supervision and substitution duties will make closures inevitable initially.
The ACCS says many dual-union schools could be closed for days after 7 November and perhaps for weeks.
Regional meetings involving principals from schools with teachers belonging to both the ASTI and TUI are taking place today and tomorrow.
Meanwhile, the General Secretary of the Joint Managerial Body has said it is not possible to put a contingency plan in place for the days of industrial action planned.
Speaking to RTÉ's News At One, John Curtis told said the time-scale to make arrangements was too short, but more fundamentally, there has been no cooperation from school management ASTI members, presenting severe difficulties.
Mr Curtis said the Joint Managerial Body, which represents boards of management in  half of the country's second level schools, is being put in an unfortunate, impossible and unfair position.
He said there needs to be an immediate resolution because after the mid-term break there will be no supervision and substitution cover.
ASTI leaders met officials at the Department of Education yesterday ahead of its planned strike action in protest over pay and conditions.
The talks, aimed at averting industrial action, will resume again on Monday.
The ASTI has planned seven days of strike action, which is due to begin next week.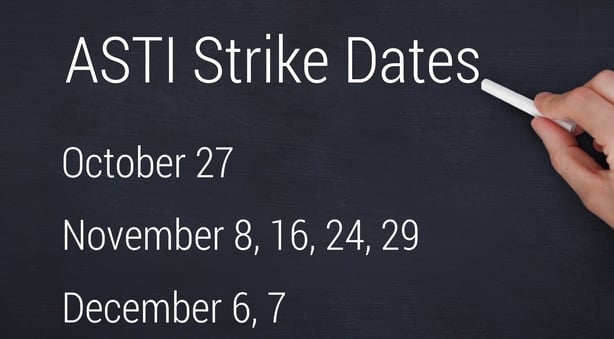 In addition to strikes between next week and December, ASTI members plan to stop supervision and substitution duties from Monday 7 November.
In an effort to avert this crisis, secondary schools are to advertise for supervisors in national papers.
Parents will also receive application forms in the post.
However, the Department of Education has already said it could take up to nine weeks to get personnel in place.
The TUI has said that advertising for parents to supervise during upcoming strike days at secondary schools is "fraught with difficulty".
Archbishop warns of 'compromised ethos' in catholic schools
The Catholic Archbishop of Dublin has said a pluralist society needs faith-based schools but that Catholic schools have in some cases suffered from a split personality.
Dr Diarmuid Martin warned that if Catholic schools feel that they can continue to be all things to all citizens then they may well end up with a compromised ethos.
Archbishop Martin made his remarks to a conference on faith-based schools in a secular society in Dublin organized by "The Irish Catholic" newspaper.
He told the gathering Catholics need to translate their vision from a language which springs from their faith into one of reason and dialogue, without losing its originality. 
He said the faith-based school must be one which fosters critical reflection and the societal conviction on the part of its students.
"As believers," he told his audience, "we have to identify aspects of our faith-language" which are understood and find resonance and attraction "in a more secular world where there is however still a sense of seeking for meaning." 
He said a pluralist society needs faith-based schools but that Catholic schools have in some cases "suffered from a split personality".
He warned that if Catholic schools which are also State schools feel that they can continue to be all things to all citizens, then they may well end up with a compromised ethos as they try to fit in with what he called "the scrambled ethos of the student and family mix around them".