Minister for Foreign Affairs Simon Coveney will meet the new British Foreign Secretary James Cleverly for talks for the first time in London tomorrow night.
They will have a bilateral working dinner ahead of a meeting of the British Irish Intergovernmental Conference on Friday.
Their meeting is due to take place after talks between UK and EU officials on the Northern Ireland Protocol are expected to resume.
It is the latest sign of an apparent thawing in British-Irish relations, which were seriously fractured during Boris Johnson's time as British Prime Minister.
The ministers will discuss a range of issues including the war in Ukraine, the UN Security Council and the Northern Ireland Protocol.
British Prime Minister Liz Truss did not mention the Protocol during her leadership speech at the Conservative Party conference in Birmingham yesterday, but UK officials are due to re-enter negotiations on the issue today.
Mr Cleverly spoke to Brussel's chief negotiator Maroš Šefčovič via a video call last Friday and afterwards said there were good signs around talks to resolve the ongoing dispute.
There has been increasing optimism about the prospects of a deal, with Minister Coveney saying during a visit to Northern Ireland last week that he believes the UK is up for serious dialogue.
Speaking in Co Donegal today, Mr Coveney said the mood music has changed fundamentally.
"This is a change of course, a very welcome change of course that the British government is engaging now seriously as opposed to moving ahead with unilateral action, which would certainly have caused an awful lot more problems than it would have solved," he said.
"The EU has shown a willingness to compromise to try to respond to legitimate concerns that have been expressed in Northern Ireland and it remains to be seen whether this new look British Government is willing to make compromises to get a deal done."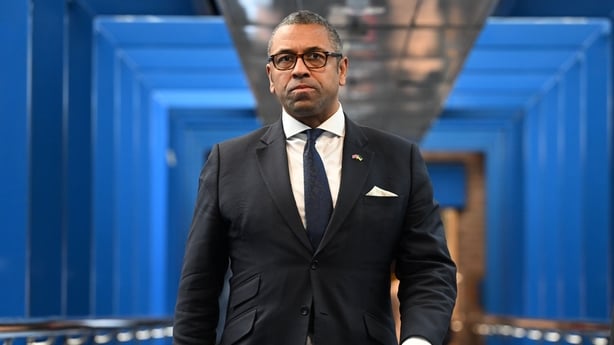 The DUP is refusing to re-enter the power sharing administration at Stormont until the dispute over the Protocol is resolved to its satisfaction.
The party has rejected statements by Liz Truss and Northern Secretary Chris Heaton-Harris that there is no reason why it should not return to the institutions now.
Mr Coveney and Minster for Justice Helen McEntee will have talks with the Northern Secretary and junior Northern Ireland Office minister Steve Baker at a meeting of the British Irish Intergovernmental Conference in London on Friday.
Protocol talks could begin tomorrow
The talks between EU and UK officials on the protocol could begin tomorrow afternoon, RTÉ News understands.
The negotiations will be via videolink, with face-to-face talks happening later.
It is understood a timetable being drawn up foresees discussions taking a number of months, rather than weeks.
A second source said a "confidential calendar" of talks is currently being drafted by both sides which foresees a mix of political and technical talks.
A source told RTÉ News that officials from both sides will work on a different theme, or set of themes, each week and then build towards progress.
These would include customs, agri-food checks, governance and other issues.
The first issues to be tackled include competition rules and energy, it is understood.
This relates to whether or not the protocol inhibits the UK from supporting businesses and consumers from the energy and cost of living crises.
It is understood the UK is pushing to have the role of the European Court of Justice (ECJ) on the talks agenda. However, it is understood other issues will be tackled first.
In terms of the timetable, there have been exchanges of views between Brussels and London this week.
"The Commission made a proposal to the UK about the sequencing of the meetings," said a third source.
There has been no formal acceptance of the Commission's "roadmap" by the UK yet. However, one source said: "It does look like it's happening."
Despite comments from Mr Cleverly that there were "weeks, rather than months" to reach agreement on the protocol, sources have said the timetable being drawn up was more likely a number of months, rather than weeks.
There has been speculation that the deadline of 28 October for Northern Ireland Assembly elections to be called could be an informal deadline to reach agreement.
"People are mindful of the end of October date in Northern Ireland terms, but they're not driven by that," said one source.
"Both sides at this stage are envisaging things taking a couple of months."
It is understood the talks will be technical in nature, with political input coming when technical progress has been made.
For this reason, the Northern Ireland Protocol Bill, which sets out to dismantle most of the protocol, is not part of the timetable for technical talks.
"The positions of the two sides have not changed on the bill," said one source.
"These are technical talks. When you're talking about the Bill, that's a political issue. The important thing is that these are being kept as purely technical talks, which gives more chance of progress being made."
With additional reporting by Vincent Kearney