Germany's ambassador to the EU has said member states will not change the mandate of chief negotiator Maroš Šefčovič to renegotiate the Northern Ireland Protocol.
Michael Clauss has said that EU capitals were unanimous in believing that the Protocol should not be renegotiated.
Speaking during a conference on post-Brexit relations with the UK, Mr Clauss said the current German coalition under Chancellor Olaf Scholz was taking a tougher line on the Protocol than his predecessor Angela Merkel.
He said UK access to the EU's multi-billion euro science funding programme Horizon would only happen in the "right political climate".
He told the London-based German correspondent Stefanie Bolzen: "It is part of the Brexit deal that the UK would participate in Horizon and there's a strong wish also from our side that that happens.
"But we also have to see that the political atmosphere needs to be right."
He said the European Commission would have to bring forward a proposal for the UK to join Horizon. "It's a little bit on ice because of the present situation. We shouldn't forget that breaching the Northern Ireland Protocol, which is the centerpiece of the Brexit Withdrawal Agreement, is no small thing."
The interview was part of a conference organised by the EU-UK Forum, a private organisation promoting better post-Brexit relations.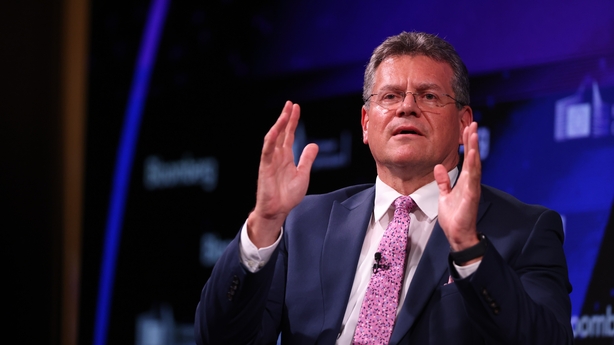 Asked what would happen if the UK bill to dismantle the Protocol became law, Mr Clauss said Maroš Šefčovič had made it clear that the EU had all options at its disposal, and that member states supported him in that position.
He said the new German coalition was "more clear" on its position, "when it says the Northern Ireland protocol is at the heart of the Brexit agreement, and when they say that all options are on the table.
"The Chancellor Angela Merkel has been less explicit on this. When the Northern Ireland Bill was tabled, you had quite [strong] reactions from Chancellor Olaf Scholz and also from Foreign Minister Minister Annalena Baerbock…much more clear than what you would have had as a reaction a year ago."