Hundreds of people took part in border protests today calling on British Prime Minister Boris Johnson to back off on this threat to invoke Article 16.
The five protests took place as talks continue in Brussels between the EU and British government to find an agreement on the operation of the Northern Ireland protocol.
The protest at the border at Carrickcarnon, Co Louth and Flurry Bridge, Co Armagh attracted up to 200 people and featured a recreation of the old customs huts that it is feared could return with a hard border.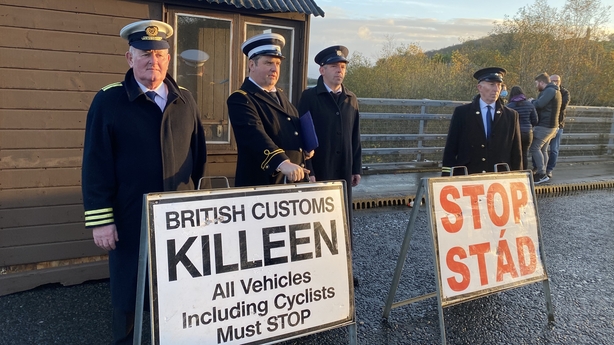 John Doherty of Re-Gen Waste Management said his Newry based company employed 250 people but would not be able to operate in the South if there were customs checks.
Local Sinn Féin MP Chris Hazzard said the protests were to call on the British government to drop its threat to invoke Article 16 and "let common sense prevail".
Fianna Fáil MEP Billy Kelleher said that the EU had shown flexibility but he said the British government was being "intransigent" and "dogmatic".
The protests were organised by Border Communities Against Brexit whose chairman Damian McGenity said that the Northern Ireland protocol was bringing economic benefit to both communities in the North.
Mr McGenity pointed out that North/South trade had increased by 61% while South/North trade had increased by 47%.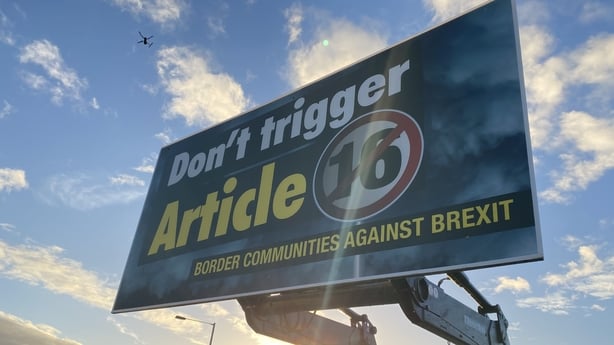 And that Coca Cola has announced a €200 million investment in a packaging plant in Belfast while pharmaceutical company Almac had announced 1,000 jobs in Northern Ireland.
The other protests took place at border points at Blacklion/Belcoo, Moybridge/Aughnacloy, LIfford Bridge and Bridgend/Derry.