The latest European Union proposal to address problems of post-Brexit trade in Northern Ireland provides a "sensible solution" and a bespoke arrangement which can provide a way forward, Northern Ireland's Deputy First Minister Michelle O'Neill has said.
The European Commission has laid out measures to cut 80% of regulatory checks and dramatically cut customs processes on the movement of goods, especially food and farming produce, between Britain and the island of Ireland.
The British government welcomed the announcement last night, signalling that it wants "intensive talks" to follow the EU's proposals.
Speaking on RTÉ's Morning Ireland, the Sinn Féin vice president said the announcement has been "warmly welcomed" by the business community in Northern Ireland, as she called for the plan to be "tied down" to give certainty to those affected.
Ms O'Neill said those who are calling for the protocol to be "binned" should bear in mind that it is an international treaty.
She branded the Democratic Unionist Party an "outlier" on the issue of Brexit, and claimed the party has internal issues, as well as a declining popularity in the polls.
"I am not convinced they have the best interests of the public at heart," Ms O'Neill said.
"Their position is more about internal challenges ... rather than a considered way forward to maintain protections and provide certainty and stability."
As she welcomed the EU proposal, Ms O'Neill said it demonstrates that they provided practical solutions to issues raised by the local business community.
She also stated that the British government "keeps moving goalposts" in their demand to remove the role of the European Court of Justice in overseeing the protocol.
"Northern Ireland is caught up in a battle between the British government and the EU," Ms O'Neill said.
"It is not good enough and not acceptable for the economy or local businesses."
---
---
DUP leader Jeffrey Donaldson has told European Commission vice president Maroš Šefčovič that proposed changes to the protocol "fall short of what is needed".
Speaking after a virtual meeting with Mr Šefčovič today, he said: "We had a useful and honest discussion. I welcomed the change of heart in Brussels with the decision to renegotiate.
"For so long we were told the protocol could not be reopened but the persistent pressing of our case has paid dividends.
"I also explained why the proposals fall short of what is needed.
"These negotiations must not be a missed opportunity. There is a window to get this right. To get a deal which can allow Northern Ireland to, once again, get moving forward."
Mr Donaldson said short-term fixes will not solve the problems "that have beset the United Kingdom internal market" and removing some checks today "does not solve the divergence problems of tomorrow".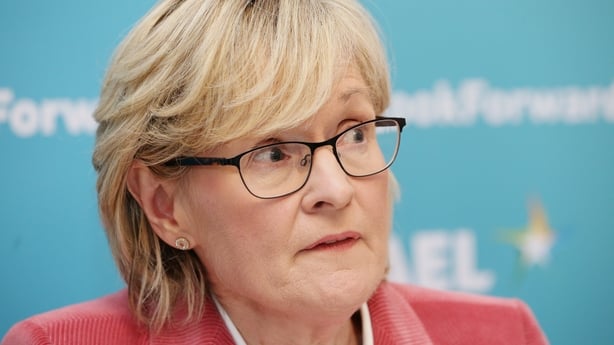 European Commissioner Mairead McGuinness said the priority on Brexit must be to "sort this out for the people of Northern Ireland".
Responding to claims made by the DUP's Ian Paisley on BBC's Newsnight that UK Prime Minister Boris Johnson told him he "would sign up to changing that protocol and indeed tearing it up", Ms McGuinness said: "I think we have to take it as true because it's been said and I presume could be stood over, but I don't think we need to dwell on it.
"I think there has been a lot of discussion about good faith, bad faith between negotiators but I mean our priority today, after the announcement by Maroš Šefčovič yesterday, is to get sit down for the next, whatever it takes, to sort this out for the people of Northern Ireland and for the businesses in Northern Ireland.
She insisted that Ireland "had every intention" of honouring the agreement.
Speaking on RTÉ's Today with Claire Byrne, Ms McGuinness said: "I would say on reflection that certainly our instincts, over, you know, many months since Brexit, effectively happened, and the protocol piece of it hasn't been implemented in the way we thought it would. We certainly thought that the UK wasn't quite compliant with what they had signed up to.
"That might speak towards the statement that the Prime Minister, maybe had no intention to implement it, but I suppose from our side we had every intention to honour our side of the bargain, and we would expect that of the British government."
She said that Brexit "creates problems for many sectors," particularly in Northern Ireland.
She said she believes the agreement that was reached is "a very good package, done in really good faith with the people of Northern Ireland in mind".
Business community's priority to stabilise EU-UK relationship
Business group Ibec has welcomed proposals by the European Commission on the Protocol on Ireland and Northern Ireland.
Ibec CEO Danny McCoy said the business community's priority is to stabilise the EU-UK relationship and ensure the continued seamless flow of goods north and south.
"Business welcomes the Commission's proposals for pragmatic solutions to ease the flow of goods from Britain to Northern Ireland which respect the integrity of the EU Single Market," Mr McCoy said.
He said that business is urging the UK Government and Commission to seize this opportunity to work together to ensure a sustainable implementation of the protocol.