Michel Barnier has revealed his frustration at the role that both the DUP and hardline Brexiteers played in hampering the quest to avoid a hard border on the island of Ireland as he negotiated two Brexit treaties over a gruelling four-year period.
In his book 'The Grand Illusion; the secret journal of Brexit 2016-2020', to be published in French on Thursday, the EU's chief Brexit negotiator describes exasperating meetings with the DUP, some of whose members, he claimed, wanted to use Brexit to prevent a united Ireland.
During one meeting the DUP delegation accused Mr Barnier of being the "puppet" of the Irish government, which, they said, wanted to put a border into the Irish Sea.
He also reveals that he had discussed on at least two occasions with Leo Varadkar what would happen on the Irish border if there had been a no-deal Brexit.
Mr Barnier writes that during a meeting with the then taoiseach and the former European Commission president Jean-Claude Juncker in February 2019, he told Mr Varadkar: "We must be clear between us. Controls to protect the single market must be put in place somewhere. Either around the island, or on the interior of the island. Or on the continent, which has the risk of excluding Ireland from the single market, which we don't want."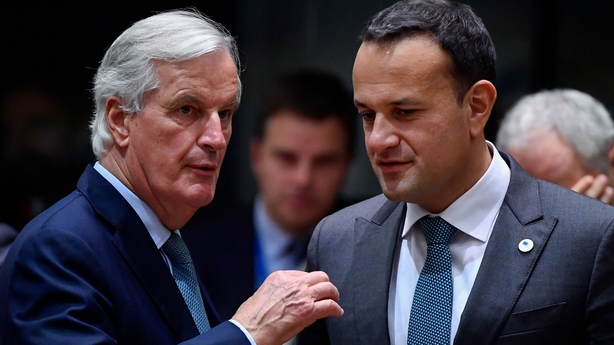 He says that in the event of no-deal in the autumn of 2018, the Irish government expected that a hard border could be avoided by building on sanitary and phytosanitary (SPS) controls at Northern Ireland ports, and in the hope that the European Commission would initially be flexible.
"In any case, they did not want to undertake visible preparations in restoring a physical frontier [on the land border]," Mr Barnier recalls.
The Grand Illusion, which takes its title from a 1937 Jean Renoir film, chronicles Mr Barnier's role as the chief negotiator both for the Withdrawal Agreement and the EU-UK future relationship treaty.
The book, in diary form, recalls scores of meetings with Theresa May, her successor as prime minister Boris Johnson, numerous UK officials and Brexit secretaries, David Davis, Dominic Raab and Steve Barclay.
Mr Barnier is frank about his association with, and love for, Ireland, both as EU regional affairs Commissioner in the early 2000s, when PEACE funding was being negotiated with John Hume and David Trimble, as well as through the link established by General Charles de Gaulle, who spent a sojourn in Co Kerry just before he resigned as French president in 1969.
"The images of the General, leaning on his cane, walking along the wind-swept strand of Derrynane, of [his wife] Yvonne and his aide de campe Admiral Flohic, remained somberly in the memory of all those who admired De Gaulle," Mr Barnier writes.
"He had chosen Ireland, a land in which the country folk, culture, and roughness corresponded to his own feelings."
In April 2018 he had hoped to retrace General De Gaulle's steps during a visit to Ireland, but had run out of time.
"I promised myself in these negotiations not to give in to controversy or to the attacks from British tabloids.."
Mr Barnier insisted that he had tried to remain dispassionate in his long dealings with Northern Ireland, but admits it was difficult.
He refers to the 2011 book, Return to Killybegs by the French writer Sorj Chalandon, a novel inspired by the murder of Denis Donaldson, a senior Sinn Féin member who had been unmasked as a British agent.
"For sure," Mr Barnier writes, "I promised myself in these negotiations not to give in to controversy or to the attacks from British tabloids, to be careful with language, to stick to the facts, figures, the legal basis, in short not to allow room for emotion or sentiment, for the sake of objectivity.
"But then, in Ireland, where I recall the terrible pages of the book Return to Killybegs..., it is difficult not to be affected by the sensitivity, the emotion of those who express it, the memories which remind me of this tragedy."
However, Mr Barnier is also less restrained in recalling his meetings with the DUP.
On 6 March, 2018 he hosted leader Arlene Foster, Diane Dodds MEP as well as MPs Nigel Dodds and Sammy Wilson, and advisor Timothy Johnson.
Mr Barnier noted that it was Ms Dodds, not Ms Foster, who spoke first, prompting him to observe that it was not easy to determine where the power in the party lay.
"Both of them don't like each other and it shows"
He described the delegation as having an inflexible line from the outset, and that they had accused the Commission of being "the puppets of Dublin, which they detest, and [that] we would like to create a border between Northern Ireland and the rest of the UK so as to avoid one in the middle of the island".
In October 2018, a month before Theresa May concluded her Withdrawal Agreement with the EU, in the teeth of fierce opposition from the DUP and hardline Conservatives, Mr Barnier again met Ms Dodds and Ms Foster.
"Both of them don't like each other and it shows," he writes, adding they had come to the meeting with "exaggerated" slogans and ready-made phrases.
"Listening to these two women, I had difficulty keeping calm and I wondered if Theresa May will have the courage and will not to give in to their demands. They are opposed to everything, want nothing to do with the concrete proposals we are making," Mr Barnier writes.
Mr Barnier recalls that he told the DUP: "It is your Brexit vote which creates the problem. We are waiting for you to bring forward ideas and proposals. You have produced none. When will you therefore assume the consequences of your own actions?"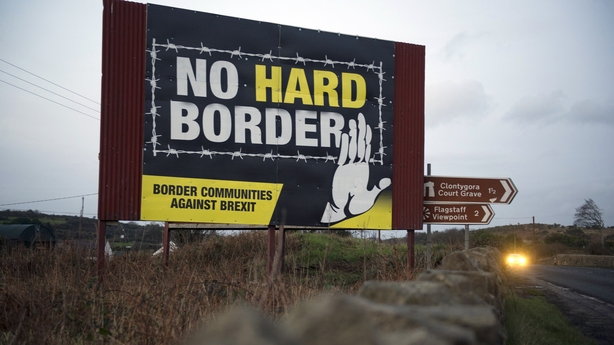 The former French Commissioner expresses his admiration for Mrs May, despite the gruelling negotiations over the Irish backstop.
In February 2019, the Withdrawal Agreement Mrs May had negotiated - which included the Irish backstop - had already been rejected by the House of Commons, which was paralysed between MPs who wanted no deal, who supported the Withdrawal Agreement, or who wanted a second referendum.
During a meeting with Mr Barnier on 7 February she told him she did not know which way to turn and that walls were going up and doors were closing.
"However, she appears unsinkable," Mr Barnier writes.
On the other hand, he is critical of David Davis, the former Brexit secretary whom, he said, would withdraw from negotiations if the UK was making concessions.
"He deliberately withdraws at every point of negotiation and compromise, does not want to be linked with regular and multiple concessions," Mr Barnier writes.
"On the other hand, he accepts each stage a package of compromises reached by our teams and finds the words to dress them up, downplay or enhance them."
But he is particularly scathing about Dominic Raab, the current Foreign Secretary who took over as Brexit Secretary after David Davis resigned over Theresa May's Chequers paper.
During one heated encounter with Mr Raab in August 2018, whom he described as having a "messianic glow", Mr Barnier threatened to collapse the Withdrawal Agreement.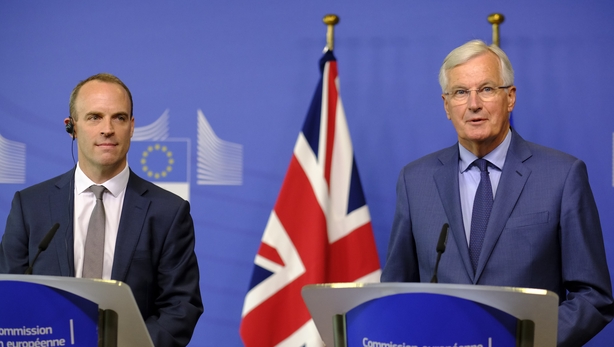 At the time Theresa May had proposed a UK-wide customs agreement with the EU as a way to avoid a customs border on the Irish Sea. However, the EU was not convinced at May's terms.
Mr Barnier reports Dominic Raab as saying: "The question of Ireland must be settled in the context of a larger agreement. That's why we want an overall solution for the UK, across a special customs arrangement and a common rulebook for exports. If you don't accept these proposals, then it will be no deal and that will be your responsibility, which will bring up borders. Not our [responsibility]."
The EU negotiator replied: "Theresa May never dared to make this threat; never, because she knew her responsibility and that of the UK. She recognised: that it is Brexit which creates the problem in Ireland, nothing else.
"We are searching for solutions together. And Dominic, if this threat is the new line of your government, then the negotiations can end immediately. And I will prepare myself in the coming days to inform the European Parliament and member states. We will regard the failure as being the fault of the UK."
Later, after Mr Raab admitted that he did not realise that most UK trade to the EU single market flowed through the Dover-Calais route, Barnier observed: "There is something decidedly crazy in the British system. Here we are nearly two and a half years after a majority of British people voted for Brexit, spurred on by politicians like Dominic Raab, and every day which passes shows that they have not weighed up the consequences or the stakes."
Mr Barnier also reveals that during a meeting Nigel Farage, the former UKIP leader revealed that he disagreed with the Vote Leave slogan, emblazoned on a red bus, that the UK could stop sending £350 million per week to the EU.
According to Mr Barnier, Mr Farage had told him: "Yes, that was a mistake, I had told Boris [Johnson] not to do it."