Just two months into Brexit, the EU-UK relationship is already facing a crossroads. Ahead lies either a relationship of perpetual tension, or a new and fruitful era of cooperation and friendship.
Since day one of Brexit the new era has been beset by problems: the Northern Ireland Protocol, the ban on some UK shellfish, the row over the diplomatic status of the EU ambassador in London (and vice versa), the revelation that citizens from Bulgaria, Estonia, Lithuania, Romania and Slovenia would not be eligible for reduced fees when seeking a UK work visa.
Some of these issues could be attributed to the teething troubles befitting a relationship that was turned on its head, literally overnight.
Senior EU figures fear, however, that the Conservative government of Boris Johnson may be tempted to keep the kettle strategically on the boil, preferring the domestic electoral gains spun out of antagonism rather an equitable relationship.
There are plenty of icebergs on the horizon: the Northern Ireland Assembly elections in May of next year, the prospect of a Scottish independence vote, the question of equivalence for the City of London and financial services.
Some within the UK government could see rolling conflict with the EU as a source of political adrenalin keeping the base, and pro-Tory newspapers, engaged.
As Guardian columnist Rafael Behr memorably put it this week: "For the true believers, a good Brexit is one that keeps the grievance alive; that makes foreigners the scapegoat for bad government; that continues to indulge the twin national myths of victimhood and heroic defiance."
London will argue that this is now a competitive relationship and its posture will be calibrated accordingly. Certainly, the appointment of David Frost to steer the relationship - just two days after Michael Gove was given the job - has been seen in that light.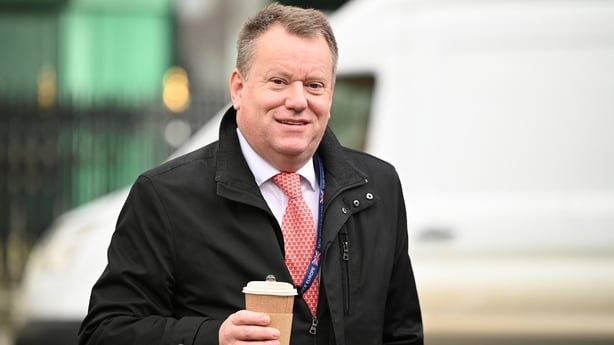 "Initially people were a bit surprised," says one EU diplomat. "Gove had been announced as the interim co-chair of the Joint Partnership Council [the EU UK forum for managing the future relationship], and two days later he wasn't. So, people were a bit taken aback." 
For now, officials are keeping an open mind. Frost took a confrontational approach during the Trade and Cooperation Agreement (TCA) negotiations, sanctifying British sovereignty over all else. 
He has tended to patronise the EU project in public, telling a House of Lords Committee in January: "The EU is still adjusting to the existence of a genuinely independent actor in their neighbourhood." 
On the other hand, as a cabinet minister with a civil service at his command, and a direct line to Boris Johnson, Frost will be in a good position to defend, and not denigrate, the treaty he negotiated. 
"He signed this deal, both of them initiated it, so he knows it very well," says a senior EU source. "He knows how difficult it was, he presented it to the Prime Minister, to the leaders in the UK Parliament. So, I think he should be fighting for this deal to be properly implemented." 
Frost is also replacing Gove as co-chair of the Joint Committee, set up to implement the 2019 Withdrawal Agreement, meaning he will be driving Prime Minister Johnson's policy on the Northern Ireland Protocol. 
His attitude to a bilateral veterinary agreement as a way to alleviate Irish Sea barriers to GB food imports will be instructive. As a champion of UK sovereignty, he is unlikely to agree to anything that constrains Britain's options when negotiating free trade agreements, simply to sweeten the Protocol. 
Gove and Maroš Šefčovič had developed a good working relationship on the Joint Committee. How will the chemistry between Frost and Šefčovič be?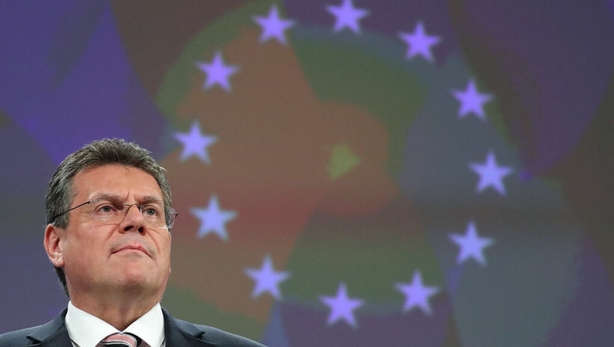 Both men worked together on the EU's seven-year budget during the UK presidency of the EU under Tony Blair in 2005. Frost was a UK diplomat in Brussels and Šefčovič was Slovakia's ambassador to the EU. 
But those were very different times. Frost subsequently embarked on his eurosceptic trajectory, while Šefčovič became a two-time European Commissioner. 
If Frost believes that a characteristically confrontational approach is the way forward on the Northern Ireland Protocol issue, he will not be making life easy for his new opposite number. 
Member states and the European Commission take an increasingly jaundiced view of the UK's position on the Protocol, believing that London deliberately instrumentalised the Commission's ill-advised move to invoke Article 16 over vaccine exports from the EU, and some suspect a pattern. 
"When it comes down to it, they will invoke some crisis," says one EU source. "They will put us under pressure as they did with the Internal Market Bill, or there will be something else. So, you'll end up with rolling problems." 
Within the European Commission there is growing resistance to more flexibility on the Protocol, not for ideological reasons but because, officials say, the internal market just does not function if it starts to resemble "Swiss cheese". 
Officials in some parts of the Commission are said to have been deeply dismayed that Šefčovič conceded to the UK's demand for no physical EU office in Belfast. Distrust has deepened over the UK's inability to implement the flexibilities and facilitations the Commission and member states did agree to in December. 
"Everyone is saying, OK, hold it right here," says one source. "As long as they are not even doing what they have committed to do we cannot dream of any more flexibility. We have already gone to the edge." 
So, Šefčovič is under pressure from all sides.
The flexibilities London is demanding of the EU on the Protocol relate to food safety and animal and plant health. UK officials insist they cannot see how importing Lincolnshire sausages to Northern Ireland, for example, can damage the internal market. 
But food safety scandals haunt European politicians. Trading food across EU borders can only happen if it is safe, and member states all sign up to the same rules to keep it safe. The UK is no longer bound by those rules, yet still wants to send the same food into Northern Ireland, which is effectively part of the single market.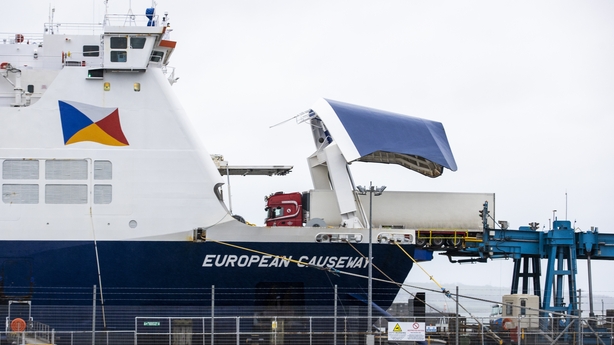 France and Germany are said to be taking a strong line on this. Other member states accept that there will have to be pragmatic solutions, but only if the UK abides by what it committed to in December. 
"If the UK fully implements the Protocol we are ready to examine technical solutions," says one diplomat. "But it is not possible to take risk for our internal market, in particular for the most sensitive products, which include food stuff and all the products that require [sanitary and phytosanitary] controls." 
But there is no disentangling such arcane controls from the doggedly tribal politics of Northern Ireland. 
The DUP has turned fully hostile towards the Protocol, joining other Unionist parties and some UK politicians in a legal bid to overturn it on the basis that it is contrary to the Act of Union (1800) and the Good Friday Agreement.
Michael Gove calmed speculation that the UK itself might trigger Article 16, or at least introduce legislation that might undermine the Protocol. But London has also aligned itself to the DUP's view that the EU is tending only to the north-south part of the Good Friday Agreement, and not the east-west part. 
At its worst, according to London, the EU will end up prioritising technical concerns over the matters of grave, constitutional sensitivity. 
"While it's understandable the EU wants to protect the single market, there's a danger you start to focus solely on North-South, and forget about the other aspects of the Good Friday Agreement," says a UK source.
"Taking the time to understand the needs of both communities in Northern Ireland, and the East-West dimension of the peace process, would help in finding pragmatic solutions to the issues we're facing."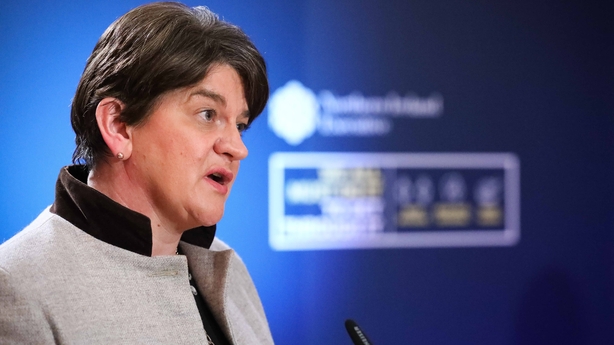 During the first full meeting of the Joint Committee on Wednesday night, Arlene Foster made what was described as a "powerful" intervention, accusing the EU of only caring about the north-south dimension, and insisting that the checks and controls carried out so far by EU and Northern Ireland veterinary officials at Belfast and Larne ports had shown that nothing at risk had got through to the single market. 
In other words, the DUP now believes that if there is no genuine risk to the single market, then the EU is wilfully neglecting unionist sensitivities. 
London therefore believes that the multiple apologies by the European Commission over the Article 16 affair still don't go far enough. 
"The EU demonstrating that it understands the complexities of the different communities would be something," says a UK source. "While they might not get the DUP to suddenly applaud the Protocol, they might feel like they are at least being understood." 
However, the EU does not share Foster's belief that things are fine at the ports. In his letter to Michael Gove on 10 February, Maroš Šefčovič complained that there were very few physical and identity checks, and that "all non-compliant consignments are accepted, even if destined for Ireland". 
One Commission source says: "There is real anxiety about this. What happens if we get some unsafe product somewhere and it is traced to Northern Ireland, and we didn't do our job? It's not good for anyone: not for Northern Ireland, not for Ireland, not for the UK."
So, these are very difficult discussions.
Both sides are attempting to broaden the scope of the process, and that appears to be helping. Šefčovič and Gove held virtual meetings with Northern Ireland business groups and the Ulster Farmers' Union, as well as the Brexit Stakeholders' Forum in Dublin.
"I don't say this lightly," says Aodhán Connolly, chief executive of the Northern Ireland Retail Consortium who attended the gathering, "but it was one of the first meetings with the EU and UK that I felt we were listened to and understood".
More meetings will follow.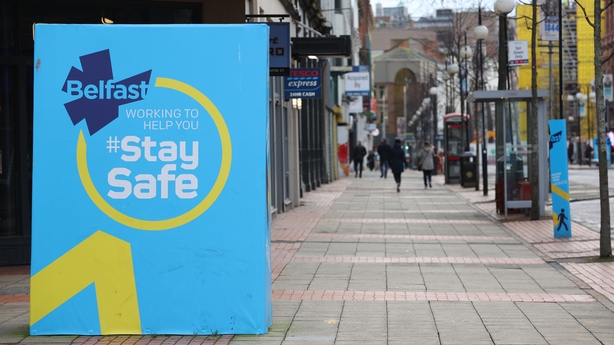 "We have to continue to gather business leaders from the different sectors, the ports, the operators, people working in the field of agriculture, the supermarkets - just to listen to them," Šefčovič told RTÉ News on Thursday. 
For the moment the focus is on supermarkets: London is looking for a holistic solution whereby supermarkets and the retail sector in general - with financial support - would upgrade their own product surveillance systems to such a degree that they might obviate the need for EU customs and food safety formalities, including export health certificates. 
The Northern Ireland Retail Consortium says an "auditable and certifiable" supply chain is what is required. There would be guarantees at the point of production (that goods are made to single market requirements), that customs regulations are adhered to, and that the receivers are "dead end hosts". 
In other words, the system would be able to show that the goods will not be going anywhere else once they arrive at the destination supermarket. 
"You have a warehousing place in GB," says Connolly, "the goods are sent on the ferry, they go to a distribution centre, and they're divided up and go to lots of different stores".
"We can trace how it came, but to do that we will need to prove that it is what it says it is." 
So, the EU would need to agree all of this, and also to agree that the customs and SPS burdens are lightened so that such a system can actually work. 
"We're not getting into a rolling period of extensions every six months or so"
Connolly says that in the beginning there could be more frequent and intelligence-led audits, with those audits happening initially, perhaps, twice a month, then quarterly, then six-monthly, then annually, and so on.
Such a system would mean a mixed load of food products moving across the Irish Sea, with perhaps 1,500 items in one container, would not need multiple export health certificates. 
"It's trying to find a way of providing the reassurance required [by the Commission] but in a way that doesn't mean needing a cert that has a thousand different things that need to be signed off on," says one source familiar with discussions. 
How is this idea being received in Brussels? 
The first problem is that such a model was pushed by London last year, and in the end the EU was unconvinced. Instead, both sides agreed to a three-month grace period for SPS and customs formalities, during which the UK promised to remain aligned to EU food safety rules. 
Following the Article 16 affair, Gove wrote to Šefčovič demanding that the three-month grace period - and a second six-month period suspending the ban on sausages and other non-frozen meats - be extended until at least 1 January, 2023. 
London is now linking an extension to the grace periods to doing the groundwork for the supermarkets idea. In other words, give us until - say - the end of the year to have this new system in place. 
EU officials have reservations, but are prepared to explore it on two conditions. One, that the UK implements what was agreed in December, and secondly, that London sets out clearly how the system would work. 
"We can't rule [extensions] out, and we would not like to exclude anything a priori," says one EU source. "But this is very much conditional on being given some reassurances as to the use of the existing grace periods and flexibilities."
On Thursday, Šefčovič told RTÉ News: "We need a very clear timetable [for the supermarkets proposal]. What are the concrete steps? What are the milestones?" 
However, if this is about a definitive fix, then it will attract interest. "If there were to be a further extension of grace periods it would have to be a bridge to the permanent settled state," says one EU diplomat. "We're not getting into a rolling period of extensions every six months or so. You get one extension and it's to a permanent state, and we have to agree that you will now move to that permanent state." 
But there remains a lack of trust. Why should the EU extend the grace periods, if the UK has not lived up to its side of the December bargain? A bargain which, according to EU officials, would make the Protocol more palatable? 
Brussels is concerned that, despite Arlene Foster's protestations to the contrary, checks and controls are not being done properly, that Border Control Posts are still not fully completed, that the EU still does not have real time access to the UK's customs IT system, that meat products are not being properly labelled, and that London has yet to produce simplified versions of the EU's export health certificates, all of which, officials say, the UK signed up to in December. 
Furthermore, the grace period for export health certificates was granted on the basis that the UK would provide a "restricted" list of large suppliers of food to Northern supermarkets who could be trusted to ensure that food was safe and traceable.
Officials say the UK initially sent - without consulting Brussels - a list of nearly 2,000 suppliers. A reduced list has been promised, but still not received. 
UK officials strongly contested these complaints at the Specialised Committee meeting on Tuesday. British sources say they are making best endeavours to comply with December's agreement, and that - given time - they can produce an audit and traceability model that will satisfy the European Commission and member states. 
However, Maroš Šefčovič has to convince increasingly sceptical parts of the European Commission, as well as national capitals, that creativity and flexibility are worth it.
For that he will need London to produce a clear plan on supermarkets, with milestones and verifiables. Sources close to the Commission vice-president say without these he will not have the "political space" to win the argument with member states. 
Officials speak of a potential "handshake" moment, involving Boris Johnson and EU leaders
If that political space is there, senior figures say, the Protocol issues could be subsumed into a grand reset of EU UK relations at the end of April, with a freshly negotiated package that could - in one fell swoop - resolve the other outstanding issues (the embassies issue, etc).
On 24 March, the European Parliament will formally ratify the TCA, paving the way for member states to formally adopt the treaty sometime in mid-April (the TCA has only provisionally been applied since 1 January). 
Officials speak of a potential "handshake" moment, involving Boris Johnson and EU leaders, that might inaugurate a new, less fractious relationship.
There is self-interest in this, beyond simply tying up loose ends and reducing tensions around the Northern Ireland Protocol. The TCA provides for 19 sub-committees of EU and UK officials to keep it operating, a massive bureaucracy that will draw on the resources of every part of the European Commission. 
It's understood the idea has been tentatively shared with London, which has been non-committal so far. David Frost would have to both recommend to Boris Johnson, and then facilitate, any such "happy" set piece, not something that is readily imagined. 
"The question is, do they want to do this or don't they?" asks one EU source. "Do they want to maintain this friction for some other political purposes?" 
Some officials entertain dark fears that maintaining friction is what the UK would prefer. They even worry that by keeping the Protocol in a state of perpetual turmoil, the UK could end up driving a wedge between Ireland and the so-called "coastal" EU member states (France, the Netherlands, Belgium) which take in Irish exports.
If those countries cannot depend on the checks and controls at Northern Irish ports, might they suggest imposing their own controls on food products coming in from the island of Ireland? 
Brexit has a way of keeping such mood swings alive.