The UK government has confirmed that British Prime Minister Boris Johnson chaired a meeting to take stock of no-deal plans and "post-December 31 readiness".
Michael Gove, the Minister for the Cabinet Office, and other senior officials in charge of Brexit planning joined the meeting, Downing street said.
Earlier, Mr Johnson warned it is "very, very likely" that the UK will fail to strike a post-Brexit trade deal with the European Union.
The UK Prime Minister said he was "hopeful" that progress could be made in talks but stressed that the two sides remained stuck on fisheries and the so-called level-playing field.
His comments came after European Commission president Ursula von der Leyen said the negotiating teams' positions remained apart on "fundamental issues".
The two leaders have agreed to make a decision on the future of the negotiations by the end of the weekend.
Speaking to reporters on a visit to Blyth in Northumberland, Mr Johnson said: "Unfortunately at the moment, as you know, there are two key things where we just can't seem to make progress.
"And that's this kind of ratchet clause they've got in to keep the UK locked in to whatever they want to do in terms of legislation, which obviously doesn't work.
"And then there is the whole issue of fish where we've got to be able to take back control of our waters. So there is a way to go - we're hopeful that progress can be made.
"But I've got to tell that from where I stand now, here in Blyth, it is looking very, very likely that we will have to go for a solution that I think would be wonderful for the UK, and we'd be able to do exactly what we want from January.
"It obviously would be different from what we'd set out to achieve but I have no doubt this country can get ready and, as I say, come out on World Trade terms."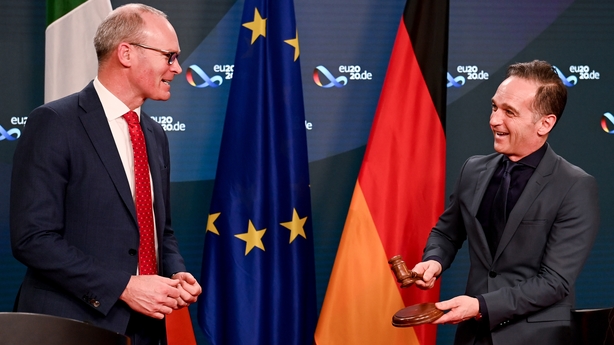 Meanwhile, the Minister for Foreign Affairs Simon Coveney said the Government "still believe it is possible to get a deal with a future trade agreement" between the UK and the European Union.
He also urged politicians to "try and dial down the language in terms of the division and differences of views and focus on the detail".
Speaking as he met his German counterpart Heiko Maas in Berlin, Mr Coveney said an agreement could be achieved in a way that protected the EU's interests in preserving the integrity of the single market, while respecting the UK's insistence on being an independent and sovereign country outside the EU.
"Both can be achieved, we need to find a way of designing a middle ground that can achieve both," he said, adding that this should involve partnership for the future.
Mr Coveney said that failing to secure an agreement would be an enormous "lost opportunity" and "both sides will be weaker as a result".
He also predicted that the UK would try to make whatever the outcome of the negotiations was work.
The minister's visit to Berlin was arranged to mark the symbolic "handover" from 1 January of Germany's seat on the United Nations Security Council to Ireland.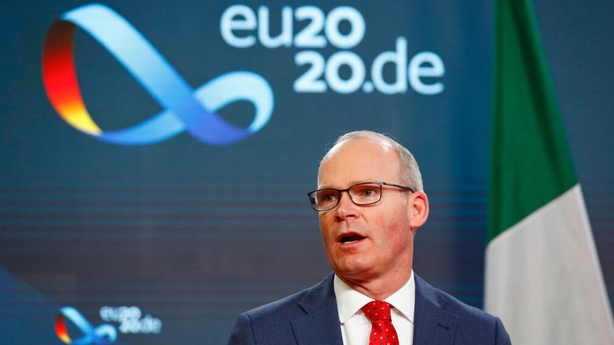 European Commission President Ursula von der Leyen has reportedly told EU leaders that there are "low expectations" that a trade deal with the UK can be struck.
She said that the "probability of a no deal is higher than of a deal" at a brief discussion of Brexit during a summit in Brussels.
The Taoiseach also said that the prevailing mood among EU leaders was that there was a "strong possibility" of a no-deal Brexit.
Micheál Martin told reporters: "People recognise the enormous challenges that remain now in terms of pulling off a deal.
"Suffice to say that people feel and believe across the member states that this is going to be a very challenging task."
Asked if he shared British Prime Minister Boris Johnson's view there was the "strong possibility" of a no deal, he said: "That's the prevailing mood right now".
EU and UK negotiators are continuing their attempt to break the deadlock over the key stumbling blocks towards reaching an agreement on a future relationship, including a free trade agreement.
Tanaiste @LeoVaradkar says he believes a Brexit deal is still possible and could still be reached at the last minute @rtenews pic.twitter.com/3SzI0a9YoC

— Aisling Kenny (@KennyAKE) December 11, 2020
Tanaiste Leo Varadkar has said he believes a Brexit deal can still be reached at the last minute. 
Speaking at Government Buildings he said that it was in the interests of Britain, Ireland and the EU that a deal is agreed. 
He said it is often the case that a deal like this is made at the last moment because both sides need to ensure it was the best deal possible and there is nothing left on the table. 
The Tanaiste said he would not be surprised if negotiations drag on for another few days and a deal is only clinched at the last minute.
He said that compromise would be needed on both sides and that neither side would want to see the opportunity of a deal being lost because anyone was being "too rigid". 
---
We need your consent to load this rte-player contentWe use rte-player to manage extra content that can set cookies on your device and collect data about your activity. Please review their details and accept them to load the content.Manage Preferences
---
Meanwhile, Northern Ireland's First Minister Arlene Foster said she hoped that a no-deal exit would not be the outcome.
She said: "It's very important indeed for the whole of the UK to get a deal. I know that some people think that they could deal with an Australian type of Brexit. But really, for us, it would be very good if we had a free trade agreement."
Asked about the significance of resolution to some of the uncertainties around the operation of the Northern Ireland Protocol, Mrs Foster said: "Obviously we voted against the protocol, it's not something that we wanted to have there.
"But we've been working very hard to try and change some of the worst excesses of it and to try to mitigate against some of the issues that have been there.
"We've seen some progress there. But, of course, it's a work in progress and there's still a lot of clarity that needs to come off the back of the protocol. Of course, if there's a free trade agreement that helps with all of that."
Deputy First Minister Michelle O'Neill stressed the importance of reaching a free trade deal.
She said: "There's certainly very negative mood music, which doesn't bode well.
"We've had some breakthroughs this week in terms of the protocol being clarified and the fact that the British government have pulled back their threat of breaching international law.
"However, what's going to happen on Sunday is yet to be seen and we need to have a deal, there must be a deal and clarity must be given to consumers and to the businesses."
---
Read More:
Wales fears Brexit delays at Holyhead
Johnson says 'strong possibility' of no Brexit deal
Latest Brexit stories
---
Last night, Mr Johnson said there was a strong possibility of a no deal, saying the EU wanted to keep the UK locked in the EU's regulatory orbit, a claim EU officials have denied.
Mr Johnson made his comments after a cabinet meeting during which, Downing Street said, he was given the full support from ministers on his Brexit strategy.
Despite the lack of any movement on either side during Wednesday night's dinner with Ms von der Leyen, Mr Johnson said he would travel again to Brussels, or to Paris or Berlin to try to secure a deal.
He also urged his chief negotiator, David Frost, to go the extra mile to reach an agreement with his counterpart Michel Barnier.
However, Mr Johnson said there was now the strong possibility of a no-deal exit, or what he euphemistically calls Australia-style terms.
He said the UK would prosper mightily in this scenario and it offered amazing possibilities.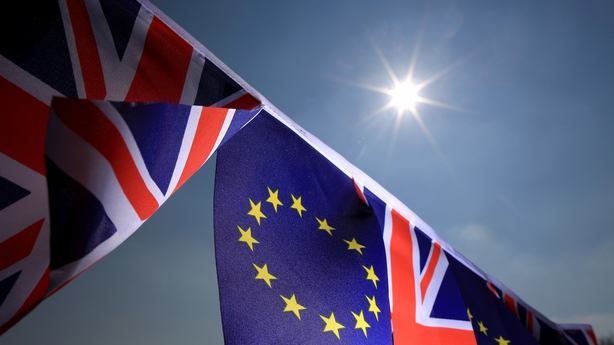 In reality, a no deal will mean two-way tariffs on a range of goods especially in the agrifood and automotive sectors and will mean all other areas of cooperation, such as extradition, fighting crime, research, education, decline to a trickle.
The UK's culture minister Oliver Dowden has said the lack of a free trade deal would cut both ways.
Speaking to the BBC, he said: "It wouldn't just be us that would be worse off by not having a free trade deal, exactly the same thing would apply to the Irish who export large amounts of beef to us.
"Or, for example, the Germans in respect of cars they send us."
While the talking in Brussels will continue, there are no new initiatives on the table to deal with the level playing field or fisheries questions.
Yesterday, the European Commission published contingency plans so that from 1 January, if there is no deal, planes could continue to fly and goods vehicles could continue to move.
Already, there are long tailbacks of trucks in Kent heading towards Dover as companies attempt to move shipments ahead of the 31 December deadline, in just 20 days' time.
Reporting by Tony Connelly, Aisling Kenny, AFP, PA