British Prime Minister Boris Johnson has warned there is a "strong possibility" that the UK will fail to broker a trade deal with the EU as he urged the public to prepare for the end of the Brexit transition period.
Mr Johnson urged the public to prepare for the end of the transition period on 1 January, even as talks are set to continue until Sunday.
He said the "deal on the table is really not at the moment right", saying it would leave the UK vulnerable to sanctions or tariffs if it did not follow the EU's new laws.
He said the current proposals would keep the UK "kind of locked in the EU's orbit", but insisted negotiators would "go the extra mile" to get a treaty in time for 31 December.
But Mr Johnson said he told his cabinet this evening to "get on and make those preparations" for a departure without a deal in place, or in an "Australian relationship" as he puts it.
"I do think we need to be very, very clear, there is now a strong possibility - a strong possibility - that we will have a solution that is much more like an Australian relationship with the EU than a Canadian relationship with the EU," he said in an interview.
Now is the time for the public and businesses to get ready for the Australian option on January 1st. pic.twitter.com/lLJfmIy9XI

— Boris Johnson (@BorisJohnson) December 10, 2020
"That doesn't mean it's a bad thing, there are plenty of ways that we can turn that to the advantage of both sides in the conversation.
"But yes, now is the time for the public and businesses to get ready for January 1, because believe me there's going to be change either way.
"There will be change whether there's a Canada-style deal or an Australia-style deal."
His comments come a day after crunch talks in Brussels with European Commission President Ursula von der Leyen.
Earlier, Ms von der Leyen said it would be "difficult" to reach a post-Brexit trade agreement, as she stepped up no-deal planning.
As she arrived at the summit of EU leaders this morning, Ms von der Leyen said: "I had a very long conversation yesterday night with Prime Minister Boris Johnson.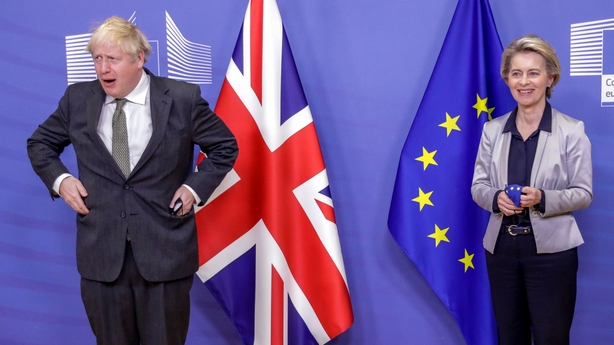 "It was a good conversation, but it is difficult. We are willing to grant access to the single market to our British friends - it is the largest single market in the world.
"But the conditions have to be fair. They have to be fair for our workers and for our companies, and this fine balance of fairness has not been achieved so far."
Taoiseach Micheál Martin has said there will be no winners or losers in the final stages of the EU-UK trade negotiations.
Speaking in Brussels, Mr Martin said it was positive that both sets of negotiators would keep talking, despite an inconclusive meeting between Mr Johnson and Ms von der Leyen in Brussels last night.
Mr Martin said both sides should approach the talks in the context of what was the right thing for citizens.
Europe Editor Tony Connelly and Business Editor Will Goodbody discuss the latest developments in the Brexit trade talks ¦ Read more: https://t.co/Og8VoZgH2q pic.twitter.com/msZLZ3663z

— RTÉ News (@rtenews) December 10, 2020
"There can be no winners or losers in these negotiations from now on. There has to be a common purpose in terms of getting a deal over the line, because it makes sense to get a trading deal," Mr Martin said.
"I didn't expect a breakthrough last evening. I think the fact that they met for quite a lengthy period of time and had that frank exchange of views is a good thing, and the fact that negotiators are mandated to go back in again and try and break the logjam is positive. Dialogue is key."
Mr Martin added: "The key to unlocking this is to stand back and look at the overall picture here. 97% of this is agreed. Are we saying we're going to lose out on a deal because of the 3%, notwithstanding the significance of the issue? 
"The bottom line is, a hell of a lot of work has been done, a lot of agreement has been reached on quite a lot of this. In my view one final effort is required here. There will obviously be a need for compromise."
Minister for Foreign Affairs Simon Coveney said the European Union is reasonable in insisting on free and fair competition and the protection of the EU single market after Britain leaves.
EU and UK negotiators will begin a final push to salvage chances of a post-Brexit trade deal after Downing Street warned the gaps between the two sides remain "very large".
Mr Coveney said the EU signed up to a level playing field last year, but now due to "some perceptions around sovereignty and independence, that seems to be off the table", he said. 
He said the EU is not questioning British sovereignty, and the EU's position has been consistent throughout - that it wants "the closest possible relationship with the UK, and free and fair trade." 
The minister said it is "not an unreasonable ask" for free and fair trade, and the protection of the EU single market.
Last night, Mr Johnson and Ms Von der Leyen agreed to make a "firm decision" about the future of the talks by the end of the weekend.
They asked their chief negotiators David Frost and Michel Barnier to reconvene in the city today.
---
---
However, in a statement following three hours of dinner and discussions in Brussels, a senior Number 10 source said it was "unclear" whether the differences between the two sides could be bridged.
The source said that Mr Johnson and Ms von der Leyen had a "frank discussion about the significant obstacles which remain in the negotiations.
"Very large gaps remain between the two sides and it is still unclear whether these can be bridged".
The source added that the pair have agreed "to further discussions over the next few days between their negotiating teams" and that Mr Johnson "does not want to leave any route to a possible deal untested" and they "agreed that by Sunday a firm decision should be taken about the future of the talks."
A Downing Street spokesman added that "any agreement must respect the independence and sovereignty of the UK".
Ireland's European Commissioner Mairead McGuinness said she believed "there is a deal to be done" with Britain in trade talks in the coming days, but that it was impossible to predict if negotiations would be successful.
"I hope that we all get a Christmas present over the weekend. An early one. And that there is a trade agreement, because I think from all our sides ... that would be the best possible outcome," the Commissioner for Financial Services said.
It was hoped that progress at a political level between Mr Johnson and Ms von der Leyen could pave the way for more talks between Mr Frost and Mr Barnier.
The statements from both sides suggested that while further discussions would be held, substantial movement on the key issues had not been made.
Mr Johnson and Ms von der Leyen discussed the potential trade deal over a three-course dinner featuring scallops and turbot.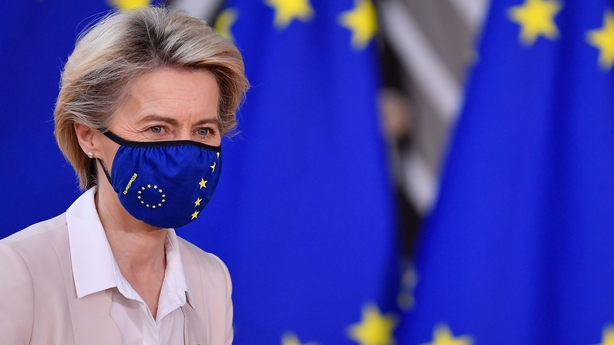 Negotiations have faltered on fishing rights, among other issues, and the Commission's menu will be seen as a pointed gesture by some but a sign that it has a sense of humour by others.
Other outstanding differences include the "level playing field" measures aimed at preventing the UK undercutting the EU on standards and state subsidies, and the way that any deal would be governed.
Before leaving London, Mr Johnson told MPs that no prime minister could accept the demands the EU is making, though insisted a trade deal was still possible.
Their meeting came ahead of a European Council summit today where Ms von der Leyen is expected to debrief the leaders of the 27 member countries on the state of play with the negotiations.
Just three weeks remain until the current transitional arrangements expire.
Failure to reach agreement would see tariffs imposed on UK exports to the EU, the country's biggest trading partner, and could also increase bureaucracy.
The Office for Budget Responsibility has suggested that a no-deal outcome could wipe 2% off gross domestic product, a measure of the size of the economy, in 2021.
Bank of England governor Andrew Bailey has warned the long-term damage caused by a no-deal situation would be worse than the economic hit from coronavirus.
Additional reporting PA