Northern Ireland secretary Brandon Lewis' admission that new Brexit-related legislation would break international law is "gravely concerning", Minister for Foreign Affairs Simon Coveney has said.
He described the UK's positioning as "hugely problematic and illegal" but called for calm.
"While we still await publication of the legislation, earlier this week we [expressed our concerns] on this issue with the UK through diplomatic and official channels," he told the Dáil.
"However, rather than being reassured, my concerns have been exacerbated by the additional comments deliberately made in the House of Commons today, openly committing the UK Government to legislate to break international law in relation to the Withdrawal Agreement.
"I have asked our ambassador in London to raise this directly with the UK Government this afternoon. Michel Barnier is also due to raise the issue with [UK Brexit negotiator] David Frost during their engagement today.
"Clearly, any unilateral departure from the terms of the Withdrawal Agreement would be a matter of considerable concern and a very serious step."
Mr Coveney added: "Our view is that such a departure could seriously erode and damage political trust, not only in the Brexit negotiations, but also within Northern Ireland at time of real sensitivity.
"Northern Ireland does not need this further uncertainty in relation to Brexit.
"The UK does have a long and proud tradition of upholding international law and advocating for the primacy for the rule of law.
"Any departure from this tradition, particularly on an issue as high profile as Brexit, would have serious implications, not least for the UK's international reputation.
"We and the EU will continue to take a calm and measured approach."
Minister Simon Coveney has said that NI Secretary Brandon Lewis' admission that new Brexit-related legislation would break international law is 'gravely concerning' | https://t.co/4dOc3ymtI5 pic.twitter.com/I9GkgeD3mp

— RTÉ News (@rtenews) September 8, 2020
Earlier today, Mr Lewis told MPs in the House of Commons that the UK government planned a new bill to override elements of Boris Johnson's Brexit deal with Brussels.
He said the legislation to ensure Northern Ireland could continue to enjoy unfettered access to markets in the rest of the UK would breach international law in a "very specific and limited way".
Downing Street has sought to play down the changes in the Internal Market Bill - to be tabled on Wednesday - insisting they were simply "limited clarifications" to protect the peace process if they failed to secure a free trade deal with the EU.
But pressed in the Commons by senior Tory MP Bob Neill as to whether they were consistent with UK's international legal obligations, Mr Lewis said: "Yes, this does break international law in a very specific and limited way."
We need your consent to load this rte-player contentWe use rte-player to manage extra content that can set cookies on your device and collect data about your activity. Please review their details and accept them to load the content.Manage Preferences

The Labour Party's Northern Ireland spokesperson Louise Haigh described Mr Lewis's admission as "negligent and worrying".
Speaking on RTÉ's Drivetime, she said it is "utterly baffling" that the British government would renege on international law "when we are so close to agreeing on final elements of protocol".
Ms Haigh said that while what is left to be agreed upon for a trade deal is significant, it is not insurmountable.
Alliance Party leader Naomi Long tweeted: "The Secretary of State for NI has just conceded in Parliament that Govt are about to break international law. His defence seems to be that 'it's only in a very limited way'. 
"I'm not sure you can be a little bit illegal. It's a bit like being a little bit pregnant." 
The Secretary of State for NI has just conceded in Parliament that Govt are about to break international law.

His defence seems to be that "it's only in a very limited way".

I'm not sure you can be a little bit illegal. It's a bit like being a little bit pregnant.

— Naomi Long MLA (@naomi_long) September 8, 2020
Former British prime minister Theresa May raised concerns over trust and said: "The UK government signed the Withdrawal Agreement with the Northern Ireland protocol, this parliament voted that Withdrawal Agreement into UK legislation.
"The government is now changing the operation of that agreement. Given that, how can the government reassure future international partners that the UK can be trusted to abide by the legal obligations of the agreements it signs?"
Mr Lewis replied: "We have worked with the EU in a spirit of good faith and I know we continue to do that.
"Both sides are working in a spirit of good faith to ensure we do implement the arrangements which uphold the fundamental principles that lie behind the protocol.
"Of course our first priority continues to be to secure agreement on the protocol for the joint committee and the wider free trade agreement," continued the Northern Ireland Secretary.
"But the Withdrawal Agreement and protocol are not like any other treaty - it was written on the assumption that subsequent agreements could be reached between us and the EU on the detail.
"That is the entire purpose of the specialised joint committee and we continue to believe that that is possible, but as a responsible government we cannot allow businesses to not have certainty for January."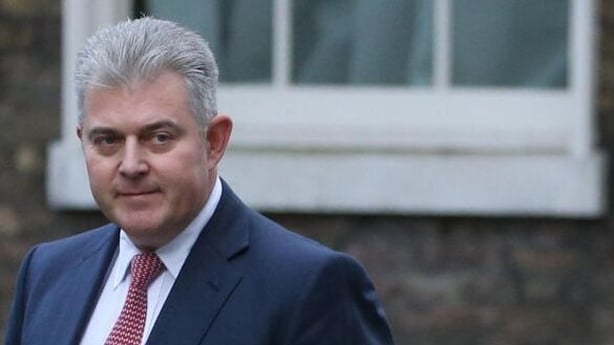 DUP MP Sammy Wilson said: "Ultimately this agreement, which damages the whole of the United Kingdom, this union-splitting, economy-destroying and also the border-creating agreement has to be changed, replaced and can be replaced and should be replaced."
Alliance MP Stephen Farry said: "Any unilateral change to the very necessary protocol risks undermining the Good Friday Agreement, risks a hard border returning to the island of Ireland and places Northern Ireland businesses in a very uncertain legal position." 
Boris Johnson's chief negotiator David Frost has said "progress must be made this week" if an agreement is to be reached by the end of a post-Brexit transition period in December.
Talks have been deadlocked for months over issues such as the extent of EU access to UK fishing waters, state aid and fair competition rules.
Both sides say a deal must be agreed by a mid-October EU summit.
Taoiseach Micheál Martin said the UK's trade talks with the EU would be rendered "null and void" if the Withdrawal Agreement it signed up to is not implemented in full. 
"The Withdrawal Agreement is an international treaty and we expect the UK government to implement and to adhere to what was agreed. We trust them to do so or they would render the talks process null and void", Mr Martin told the Irish Examiner. 
---
Read more:
UK seeks Irish intervention on NI Protocol in exchange for help with land bridge
Govt conveys concerns to UK over Northern Ireland Protocol reports
---
Mr Johnson agreed to the Withdrawal Agreement last year, but he now believes there is an "unforeseen" risk that it will leave Northern Ireland isolated from the rest of the UK, the Daily Telegraph reported. 
"I trust the British government to implement the Withdrawal Agreement, an obligation under international law and prerequisite for any future partnership," European Commission President Ursula von der Leyen said.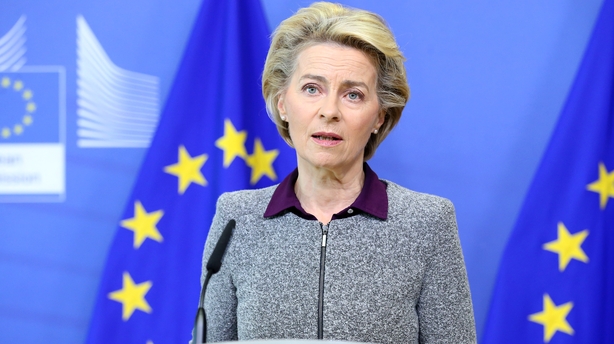 Belgian MEP Philippe Lamberts said that without an explicit commitment from the UK that they "intend to abide by their signature" and honour the Withdrawal Agreement in full, there is no point in negotiating another treaty on the future relationship with the UK. 
Mr Lamberts, who is a member of the European Union's Brexit Steering Committee, said conditions within the agreement that give "special treatment to Northern Ireland" are something UK Brexiteers hate but "that was the price of the deal". 
Speaking on RTÉ's Morning Ireland, he said the agreement was negotiated for more than a year under two British prime ministers, including a renegotiation with Mr Johnson, and has been "sealed and signed" by him and ratified by both the UK and the EU Parliament. 
Mr Lamberts said the UK cannot "unilaterally clarify" something that has been agreed between two parties. 
Tánaiste Leo Varadkar said the increased rhetoric from London and Brussels was inevitable "sabre-rattling" and "posturing" as the deadline approached.
Britain formally left the 27-member EU on 31 January but remains bound by EU rules until the end of December while it tries to thrash out new terms of its relationship.
Head of UK government's legal dept quits over Brexit deal threat 
The head of the British government's Legal Department has resigned amid anger over suggestions Mr Johnson is planning to override elements of the Brexit Withdrawal Agreement.
Jonathan Jones's departure was confirmed by the Attorney General's Office, which declined to comment on the reason for the latest exit in a string of resignations of top civil servants.
It was reported that Mr Jones was "very unhappy" with the plans to override elements of the Withdrawal Agreement in a breach of international law.
His is the sixth resignation of a senior civil servant this year amid growing tensions between officials and Downing Street as Mr Johnson and his top aide Dominic Cummings plan an overhaul of Whitehall.
Additional reporting: Mícheál Lehane