The Liberal Democrats party has toughened its anti-Brexit stance, formally adopting a policy to cancel leaving the European Union if it wins power at a national election in Britain.
The party holds just 18 seats in Britain's 650-seat parliament but has cast itself as the only 'Stop Brexit' party, hoping to pick up votes from the 16 million who voted to remain in the EU in 2016 and win enough seats to form what would be an unprecedented Liberal Democrat government.
British Prime Minister Boris Johnson has promised to leave the EU on 31 October with or without a Brexit deal.
But the policy has divided his own Conservative party, costing him his majority in parliament and making an early general election likely.
The Liberal Democrats party conference this afternoon voted to formally adopt a policy to revoke the 'Article 50' notice filed in March 2017 which notified the EU of Britain's intention to quit the bloc.
We need your consent to load this rte-player contentWe use rte-player to manage extra content that can set cookies on your device and collect data about your activity. Please review their details and accept them to load the content.Manage Preferences
This would effectively cancel Brexit.
The decision underlines how Brexit is reshaping the country's political spectrum, with the pro-EU Liberal Democrats now at the opposite end to the pro-Brexit Conservatives.
In 2010 the two formed a coalition government that lasted five years.
As a party which has never won more than 62 seats at an election, the prospect of party leader Jo Swinson forming a government is a long way off, even though British politics is at its most unpredictable juncture in decades.
Two different polls on Sunday put them 21 and eight points behind the Conservatives, and also trailing the opposition Labour Party.
Mr Johnson wants to call an election before the next scheduled one in 2022, but has so far been blocked by opponents, including the Liberal Democrats, who say they first want to make sure he cannot take Britain out of the EU without an exit deal next month.
---
Read More:
Sixth Conservative MP defects to Liberal Democrats
Brexit Gamble: Boris Johnson and the NI-only backstop
Cameron says Johnson only backed Brexit to boost his career
Latest Brexit stories
---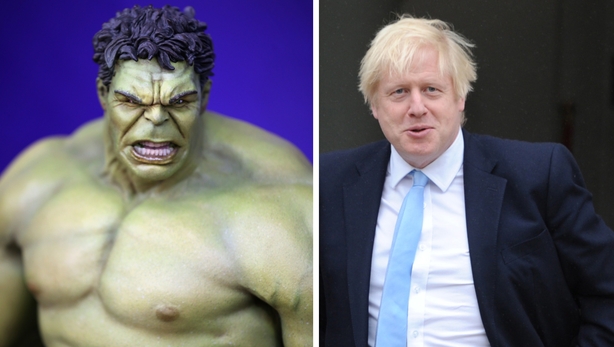 Meanwhile, Mr Johnson has said Britain will break out of the European Union's "manacles" like The Incredible Hulk if a Brexit deal cannot be struck by the end of next month.
In an interview with the Mail On Sunday, Mr Johnson - who will meet European Commission President Jean-Claude Juncker in Luxembourg tomorrow - likened Britain to the fictional scientist Bruce Banner, who transforms into the monstrous green Hulk when he is angry in the Marvel superhero comics and movies.
"Banner might be bound in manacles, but when provoked he would explode out of them...
"Hulk always escaped, no matter how tightly bound in he seemed to be - and that is the case for this country. We will come out on October 31 and we will get it done."
Mr Johnson said that a "huge amount of progress is being made".
He said: "I will be talking to Jean-Claude about how we're going to do it. I'm very confident.
"When I got this job everybody was saying there can be absolutely no change to the Withdrawal Agreement, the backstop was immutable, the arrangements by which the UK was kept locked in to the EU forever, they said no-one could change that.
"They have already moved off that and, as you know, there's a very, very good conversation going on about how to address the issues of the Northern Irish border. A huge amount of progress is being made."
Mr Johnson, accompanied by Brexit Secretary Steve Barclay and Brexit negotiator David Frost, will also meet the EU's chief negotiator Michel Barnier during the Luxembourg visit.
However, Downing Street has cautioned that tomorrow's meetings will not be a "big breakthrough" moment in the government's bid to strike a deal with Brussels.
Ahead of the trip, Mr Johnson added: "Don't be fooled by [Labour leader Jeremy] Corbyn and the ringleaders. On the one hand, they say I don't want a deal.
"On the other, they want to force me to extend. Both are wrong. I am straining to get a deal, but I will also end the uncertainty and take us out on the October 31."
Mr Barclay said earlier this morning that Britain is making progress towards a Brexit deal but significant work remains to be done.
"There's been a huge amount of work going on behind the scenes. We can see a landing zone in terms of a future deal but there is significant work still to do," Mr Barclay said.
On Mr Johnson's comments that Britain will break out of EU like The Incredible Hulk, Mr Barclay said: "The Hulk was a winner and was extremely popular and I'd rather be backing a character and a leader who is The Hulk rather than one who is on the chicken run as Jeremy Corbyn is."
Britain's Home Secretary Priti Patel said the UK has to leave the EU with a deal at the end of next month.
Speaking on BBC One's The Andrew Marr Show, she said: "We have to leave and we have to leave with a deal on October 31st, and there's no point right now trying to prejudge the discussions that are taking place." 
Meanwhile, Sam Gyimah, the former Tory minister who defected to the Liberal Democrats, said the Conservative Party no longer stood for "liberal values".
Speaking on Sky News, he said it "became very clear"  during the Tory leadership contest, which he stood in, that there were not enough moderate MPs left in the party.
He was later sacked for rebelling to vote take a no-deal Brexit off the table.
"It has done something unprecedented - it has withdrawn the whip from moderate MPs," Mr Gyimah said.
"The stark reality is that I had to face up to the fact that the Tory Party is in a different place.
"If I want to stand up for liberal values, then the Conservative Party is no longer the place to do that."