Former British Conservative minister and leadership contender Sam Gyimah has become the sixth MP to defect to the Liberal Democrats this year.
Mr Gyimah sat as an Independent after losing the Tory whip when he backed a move by opposition parties to prevent a no-deal Brexit earlier this month.
He has been a prominent advocate of a second referendum and was briefly in the race to replace Theresa May as Conservative leader in June.
Announcing his decision to join the Lib Dems on the first day of their annual conference, the former education minister said centrists were being "cast out of both main parties".
Mr Gyimah said British values that underpin liberal democracy are "under threat".
He said: "We cannot assume that our institutions and our democracy is immune from the corrosive effects of populism and nationalism that is sweeping other democracies."
He said the Lib Dems can "fight to defend" those values.
Meanwhile, Labour leader Jeremy Corbyn said he and opposition parties are determined to do all they can to prevent a damaging "no-deal crash out" from the European Union.
Mr Corbyn said that if the UK does leave with no-deal he is determined to hold the government to account to answer for their "irresponsible behaviour" over the last few days.
Prime Minister Boris Johnson is legally bound to ask Brussels for an extension to Article 50 if he cannot get MPs to back a deal by 19 October after parliament approved legislation designed to prevent a no-deal, but has said he would rather be "dead in a ditch" than ask for a delay.
This week he was forced to deny lying to the Queen in order to secure his five-week suspension to parliament as the Halloween departure deadline looms.
Mr Corbyn said: "Opposition parties have worked very closely on this. We will do all we can to prevent that no-deal crash-out because of all the damage that will do to jobs, living standards, supply chains, food supplies and medicine supplies, and if it happens we're absolutely determined to bring this government to account to make them answer for their irresponsible behaviour over the last few days.
"I personally, and my party, will have no truck with this sweetheart trade deal with the USA which would lead to intervention by American companies into our health service, into our public services."
The Labour leader was addressing workers and trade unionists at a rally following the Fighting For Our Future march in Kirkcaldy, Fife in Scotland.
Tory minister would vote remain in second referendum
A British cabinet minister has said she would vote to remain in the European Union if given the chance in a second referendum.
Culture Secretary Nicky Morgan insisted she did not support holding another poll and believed the original result needed to be "fulfilled".
But in an interview with BBC Breakfast, Ms Morgan, who backed the Remain campaign in 2016, said she would vote the same way in a second referendum.
"I would vote to remain," she said.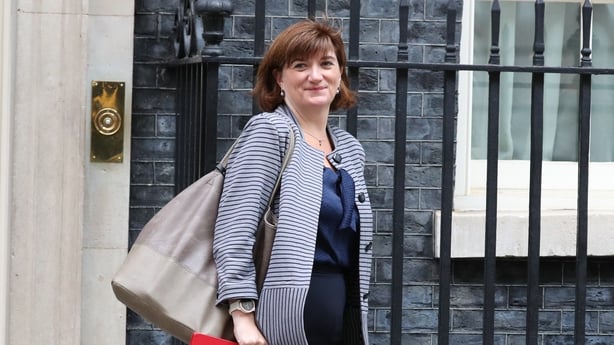 Pressed on the remarks in an interview on BBC Radio 4's Today programme, Ms Morgan explained: "I feel very firmly that the result of the 2016 referendum needs to be fulfilled and that's why I'm in the cabinet and that's why I support Boris Johnson's determination to make sure that we do leave the EU by October 31, preferably with a deal...
"My instincts are that I was sorry that the Remain campaign didn't win in 2016 and that really I'm sorry that we've seen all the division and uncertainty over the last three-and-a-half years."
---
Read More:
Brexit Gamble: Boris Johnson and the Northern Ireland-only backstop
Latest Brexit stories
---
She said she would vote to stay in the EU "for the same reasons that I felt very firmly back in 2016 and I campaigned for Remain" - which she said were both economic and geopolitical.
But Ms Morgan went on to insist that her views on the matter had "evolved" because she could now "see a way for the UK to leave the EU and to do it with a deal and to strike out in different ways in the rest of the world".