The Irish and British governments have formally signed an agreement that formally recognises the reciprocal rights that UK and Irish citizens have availed of for almost 100 years and will continue to enjoy after Brexit.
The Memorandum of Understanding is based on the range of rights and privileges that apply in the Common Travel Area agreement between the UK and Ireland.
They cover travel, as well as access to health, education, welfare, pension and other services.
The memorandum was signed in London by Tánaiste and Minister for Foreign Affairs Simon Coveney and British Prime Minister Theresa May's de facto deputy David Lidington.
Minister for Justice Charlie Flanagan and Northern Ireland Secretary Karen Bradley were also in attendance.
Mr Coveney said: "We are providing clarity and assurances for citizens of both countries that the way Irish and British citizens can live and work freely across these islands will not change".
He added: "It is a very clear statement of commitment. It is already backed up by legislation and by law so British citizens in Ireland can be reassured.
"Not only that, British citizens in Britain who may want to come to Ireland to study, to work, to live, to develop a career, can do so as if it was their own country."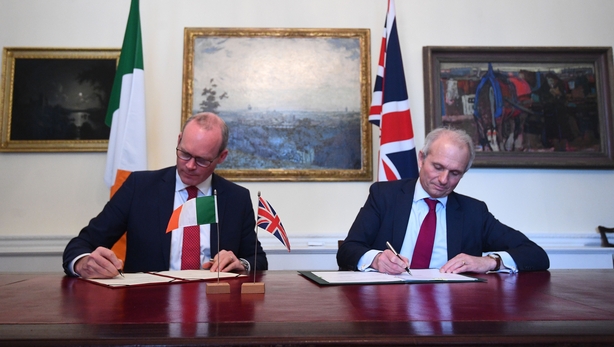 The development has been welcomed by Director General of the British Irish Chamber of Commerce John Mc Grane. He described it as "an important milestone for citizens across these islands".
He also said the memorandum "confirms the importance of the shared history and the shared understanding between the UK and Ireland".
The ministers travelled to London for a meeting of the British-Irish Intergovernmental Conference, a structure put in place as part of the Good Friday Agreement.
The forum is used by the two governments to discuss matters of mutual interest. Two such meetings involving the same four politicians were held last year.