The EU's chief Brexit negotiator Michel Barnier and his team are to visit Dublin for talks on Monday in advance of next Wednesday's meeting of EU leaders in Brussels.
The Department of An Taoiseach confirmed to RTÉ News that Mr Barnier will hold talks with Leo Varadkar, the Tánaiste Simon Coveney and Minister for Finance Paschal Donohoe.
The purpose of the discussions is to take stock of developments in London, as well as the ongoing planning for a possible no-deal scenario.
It comes as British Prime Minister Theresa May has asked the European Union to delay Britain's departure from the bloc until 30 June, with the extension ending earlier if parliament approves her Brexit deal.
We need your consent to load this rte-player contentWe use rte-player to manage extra content that can set cookies on your device and collect data about your activity. Please review their details and accept them to load the content.Manage Preferences
"The United Kingdom proposes that (the extension) should end on June 30 2019. If the parties are able to ratify before this date, the government proposes that the period should be terminated earlier," Mrs May wrote in a letter to EU Council president Donald Tusk.
The current deadline is 12 April, which has already been pushed back once from 29 March because of the UK parliament's failure on three occasions to back the deal Mrs May signed with the other 27 EU leaders in December.
In her letter, Mrs May said she wanted to make sure that Britain left the EU in an orderly manner, with an agreement that could help unwind intricate political, security, diplomatic and economic ties.
"The government's policy has always been and remains to leave the European Union in an orderly way, and without undue delay," Mrs May wrote.
"The government agrees that leaving with a deal is the best outcome," she said.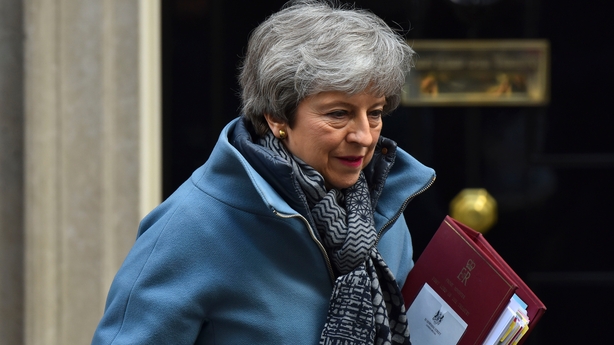 However, Mr Tusk is proposing to make an offer of a 12-month "flexible" extension to the UK's Brexit date, a senior European Union official has said.
The official said the option could be presented to Mrs May at the EU summit on Brexit on 10 April in Brussels.
If Mrs May accepted, Britain would have to hold elections to the European parliament in May, the official said.
Companies need to prepare for no-deal Brexit, says Coveney
Tánaiste and Minister for Foreign Affairs Simon Coveney has said that every business in the country should be thinking about the possibility of the UK crashing out of the EU without a deal.
Speaking on RTÉ's Six One News, Mr Coveney said that the Government has been preparing for some time now with the Department of Agriculture and the European Commission and the country will be prepared for this possibility, but individual companies need to prepare themselves as well.
He said it would be an enormous failure of politics if the UK were to leave without a deal, but if this did happen the country will be prepared as much as it possibly can be.
Mr Coveney said that as the British Prime Minister has asked for an extension and because there is a strong majority saying they want to avoid a no-deal situation, European leaders will look positively at an extension as long as there is a credible plan to get a deal across the line.
Earlier today, Mr Varadkar said the request from Mrs May for a further extension will be considered by a European Council meeting next Wednesday.
He said: "Ireland wants to avoid a no-deal Brexit as does the UK and the EU does not want a no deal either.
---
---
"They wanted to avoid a series of rolling extensions as this could cause continued uncertainty for agriculture and businesses, so a longer extension might make more sense," he said.
When asked about Mr Tusk's suggestion of an extension until next year, the Taoiseach said "all of these options are possible" but the uncertainty would have to end.
Speaking in Limerick, Mr Varadkar said everyone wanted to avoid a no-deal scenario, but the continued uncertainty that Brexit was causing for citizens by a series of rolling cliff edge extensions would have to stop.
"Perhaps a longer extension might make more sense but that's something I'd have to talk about with other heads of government and also Prime Minister May. We'll make a decision next Wednesday," added Mr Varadkar.
EU Commissioner Phil Hogan has said a lot can happen between now and next Wednesday.
"Well I think there are very serious negotiations going on for the first time since the referendum between the government and the opposition in London and I think it would be prudent to wait to see the outcome of the those negotiations in the coming days," said Mr Hogan.
"A lot can happen between now and the meeting of the European Council next Wednesday."
Asked if it is a good idea to offer the UK a 12-month extension, Mr Hogan replied: "No, well we can speculate on a lot of things between now and next Wednesday, but if we can reach a deal, or if London can reach a deal among themselves, which we were hoping for the last two years, well then of course we will know then what the strategy should be next Wednesday."
Meanwhile, Britain's main opposition Labour Party said it was "disappointed" after a third consecutive day of discussions with the government over Brexit ended without a breakthrough.
"We are disappointed that the government has not offered real change or compromise," a Labour Party spokesperson said.
"We urge the prime minister to come forward with genuine changes to her deal in an effort to find an alternative that can win support in parliament and bring the country together."
A Downing Street spokesman said: "We have made serious proposals in talks this week, and are prepared to pursue changes to the political declaration in order to deliver a deal that is acceptable to both sides."
DUP leader Arlene Foster says Theresa May request for #Brexit extension is "unsurprising but unsatisfactory" and process is "chaotic because of intransigence in Brussels and ineffectiveness in London" @rtenews

— Fiona Mitchell (@mitchefi) April 5, 2019
DUP leader Arlene Foster said Mrs May's bid to extend the Brexit process is unsurprising but unsatisfactory.
She blamed the "chaotic" EU exit on intransigence from Brussels and ineffectiveness in London.
Mrs Foster said: "The United Kingdom fighting European Elections almost three years after a clear majority voted to leave the EU sums up the disorganised and slapdash approach taken to negotiations by the prime minister."
The DUP's ten MPs had been supporting the minority government in key decisions, but have voted against Mrs May's proposed deal.
They adamantly oppose the backstop insurance policy, which they believe would redraw the border with the EU down the Irish Sea and threaten the integrity of the UK and Northern Ireland's place in it.
Mrs Foster added: "The Prime Minister's latest plea to Brussels for an extension to Article 50 is unsurprising but unsatisfactory.
"It should not have been like this. Exiting the EU has become chaotic because of intransigence in Brussels and ineffectiveness in London."
Additional reporting: Cathy Halloran, PA